2PM Weather Update:
Temperatures are still cold when you step outside but the rain has moved out of the area for today leaving behind mostly cloudy skies. Tonight will be a cold one with lows dipping into the upper 20s. With moisture gradually moving out of the area through today the threat for frozen precipitation is very minimal through tonight.
Saturday will be another cold one with highs staying in the 30s. There is a slight chance for light showers through the day tomorrow leading into the potential for wintry precipitation. If we see anything it will more than likely be frozen drizzle.
Since weather conditions are not favoring any inconvenient weather this will be the last update on this story. If any changes are expected in the forecast we will update you as necessary.
12PM Weather Update:
Temperatures have barely budged a degree or two since early this morning. However, with the rain moving out, temperatures are going to continue dropping into the lower 30s throughout the afternoon. Although, with cloudy skies and moist air sticking around, there is a chance for some freezing drizzle from time to time. Nothing is expected to stick to the ground though.
Falling PM temperatures will eventually lead into a freezing evening as temps dip into the mid-upper 20s overnight. Brrrr!

_____________________________________________________
10AM Weather Update:
The last of the showers are moving off to the Northeast. Our rain chances are expected to gradually decrease through today. A light drizzle will linger off and on due to moisture in the air. With temperatures remaining above freezing no accumulation is expected at this time.
______________________________________________________
9:30AM Weather Update
Winter Weather Advisory is cancelled for Brazos, Burleson, Grimes, Houston, Lee, Madison, Walker and Washington Counties. Ground temperatures are holding in the mid 30s and the chance for light rain is expected to dwindle through the afternoon. Our coldest time of day will be the late afternoon into the evening and with rain chances decreasing through today it is unlikely we will see any accumulation.
______________________________________________________
9AM Weather Update
Temperatures will continue to drop through today with afternoon temperatures staying in the mid 30s. Light showers are expected to continue off and on through today. Wind chills are coming into play today with winds gusting in from the North up to 25mph. Even though our temperatures are above freezing they will feel like we are in the 20s through most of today. Bundle up and stay warm!
______________________________________________________
8AM Weather Update
A batch of light rain is about to move into the area. Temperatures are just above freezing so the precipitation is primarily rain but there is a slight possibility for freezing drizzle mixed in. This is expected to be the case through most of today. There are currently no school closures or delays.
7AM Weather Update
Temperatures are sitting just above freezing, in the mid 30s.
However, freezing rain is causing some ice to form on portions of FM 112, FM 437 & FM 485 in Milam county. Take extra caution on those wet roadways, as well as all bridges and overpasses this AM. While the bulk of the showers will move through during the morning hours, falling temperatures could cause some freezing rain/drizzle throughout the day. A wintry rain/sleet mix is not out of the question as well before 3pm.
___________________________________________________
6AM Weather Update
Very light rain and drizzle is falling across the Brazos Valley this morning. With temperatures hovering just above freezing there is a good chance we will be seeing freezing rain/freezing drizzle off and on as well. Ground temperatures are too warm to expect any accumulation. Be careful on bridges and overpasses through today as temperatures slowly continue to drop.

_____________________________________________________
4AM Weather Update
A Winter Weather Advisory has now been issued for Brazos, Burleson, Grimes, Houston, Madison, Walker & Washington counties until 3pm Friday, for Robertson, Milam & Leon counties until 6pm Friday, and the advisory for Lee county remains until 2pm Friday.
Rain is beginning to increase across the Brazos Valley, ranging from light drizzle to a steady flow in some isolated areas. A mix of rain & sleet could develop in the counties highlighted below early this morning.
____________________________________________________
1am Weather Update
PinPoint Radar remain relatively quiet at this hour. There continues to be a very light mist falling across parts of the area. Rain droplets are so small and light that they cannot be picked up by radar.
There are a few indications that a steadier mist is falling across Western and Central Lee County, along with areas just north of the Brazos Valley.
Those areas of mist could be mixing in with freezing mist as well.
Reports in the Austin area are of freezing mist sticking to light poles and cars, but melting on contact with road surfaces.
Up to 1.50" of sleet and ice have been reported in parts of Fort Worth this evening.
1am temperature at Easterwood Airport has bounced up a degree from last hour -- currently sitting at 35°. According to short range computer models, we'll likely hold steady between 34° and 35° through sunrise.
_____________________________________________
12am Friday Weather Update
A light mist is falling across parts of the Brazos Valley this evening -- including in Bryan / College Station.
Temperature at Easterwood Airport checks in at 34°, with a wind chill making it feel more like 24° when you step out into the elements.
PinPoint Radar is showing some very light returns just to the north of the Brazos Valley:
Since the color of those returns is showing up pink, there are indications that a very light drizzle could be mixing with a freezing drizzle. We'll continue to monitor the situation as our rain chances slowly increase towards morning (especially with temperatures so close to freezing at the surface).
The latest can be found on Interactive PinPoint Radar.
__________________________________________
11pm Weather Update
Temperatures have fallen anywhere from the lower to upper 30s across the Brazos Valley, with wind chills making it feel like the mid / upper 20s.
We'll look for temperatures to fall to around 33° - 35° for most of the Brazos Valley, by 5am Friday.
Light rain is trying to develop across the Northern Brazos Valley as of 11pm. PinPoint Radar is indicating that a bit of freezing rain / sleet is trying to mix in with light activity just to the north and east of Waco.
We'll look for our scattered rain chance to increase overnight -- with the chance that a bit of wintry weather could mix in.
Here's a look at what is expected on Friday -- while freezing rain & sleet is possible, it will likely only pose a minimal threat. Thanks to our recent 70° and 80° weather, ground temperatures are well above freezing. Anything frozen falling from the sky is expected to melt on contact.
We will have to monitor bridges and overpasses for icy buildups before the precipitation comes to a close Friday afternoon.

_________________________________________________
9pm Weather Update
PinPoint Radar is starting to show a few, small blips over Leon & Northern Houston County. Light rain will continue to try to develop over the Brazos Valley.
Better chance for widespread rain will come pre-sunrise Friday morning (60% - 70% chance).
Should the rain fall, we still believe there will be a slight chance that freezing rain / drizzle will try to mix in during the morning hours. As mentioned, this will likely have minimal (if any) travel impacts on Friday. Here's a general outline for the day:

___________________________________________
8:15pm Weather Update
Evening computer model data convincing enough for a few tweaks to the forecast of the next 24 hours and 7 day.
Tomorrow We'll call for a low tonight of 35° -- expected to be reached around 5am. That 35° will also be our "high" temperature for the day. With our increased rain chance comes another push of cold air. That should help drop temperatures to just at or right below freezing by 5pm. Here's a look at your temperature timeline:
7 Day Forecast As we will continue to do over the next several days, there are a few minor changes to the temperatures in the 7 day forecast. Nothing drastic, but subtracting a few degrees here and there. Here's our latest thoughts:

____________________________________________________
7:30pm Weather Update
As of the 7pm hour, freezing rain continues to fall well north of the Brazos Valley. The bulk of the activity is falling from the I-10 corridor near Ozona to San Angelo, north towards Abilene, Wichita Falls, Fort Worth, Sherman, and Gainesville.
Scattered rain still looks possible overnight, ahead of another push of cold air for the Brazos Valley. We'll keep a 60% chance of rain tonight, and increase that slightly to a 70% shot on Friday (through the early afternoon hours).
Temperatures are expected to remain slightly above freezing overnight, so we'll look for what falls from the sky to stay primarily liquid.
We'll have to monitor rain Tuesday morning as it could start to mix into freezing rain / sleet. Regardless, ground temperatures are above freezing, so we'll look for anything that falls to melt.
_______________________________________
6PM Weather Update
Temperatures have fallen into the 30s for most of the Brazos Valley this evening -- get used to it. From this point forward, we expect the mercury to remain below 40° through late Sunday afternoon.
Wind chills are now making it feel like the 20s to low 30s for most of the area as well. Another piece of this weather puzzle to get used to -- we expect a blustery wind to keep us feeling like the 20s through Sunday morning.
6pm Wind Chills (click to enlarge)

Light, scattered showers are starting to form across Northeast Texas. We will likely start to see a light rain develop across the Brazos Valley during the evening hours -- which could linger through early afternoon Friday.
Icy conditions are rapidly developing across North Texas -- especially along the Red River and into the Metroplex. If you are planning on traveling across the Texas tomorrow or the weekend, TXDOT has a up-to-date website on what roads are open vs. closed across the state: Click Here
_______________________________________________
5PM Weather Update
Temperatures are finally starting to level out a bit as we head into the evening. We started off today with temperatures in the 70s and are wrapping things up in the upper 30s.
Tomorrow we are expecting a temperature dip as well with afternoon highs staying in the mid 30s. The coldest looks to be Sunday morning as our lows dip into the 20s. The graphic below is a visual representation of what we were dealing with today when it comes to temperatures.
4PM Weather Update
Now that the front has made its initial push through the area we are having a better understanding of what we can expect when it comes to rain vs wintry precipitation. Temperatures will continue to fluctuate between freezing and just above freezing for the next 48 hours allowing for the potential of freezing rain or a rain/sleet mix.
With ground temperatures staying just above freezing the precipitation is expected to melt once it hits the ground. The best chance for wintry precipitation is Saturday in the form of freezing drizzle.
3PM Weather Update
The bulk of the stronger winter weather will be to our North. The main threats will be in North Texas,Oklahoma and Arkansas. At this time there are no winter advisories in our area.
There is a definite possibility for wintry precipitation in our area Friday and Saturday but accumulation is very unlikely. Our ground temperatures are anticipated to be too warm for any frozen accumulation. Overpasses and bridges will be the main threat when it comes to icy roadways in the Brazos Valley.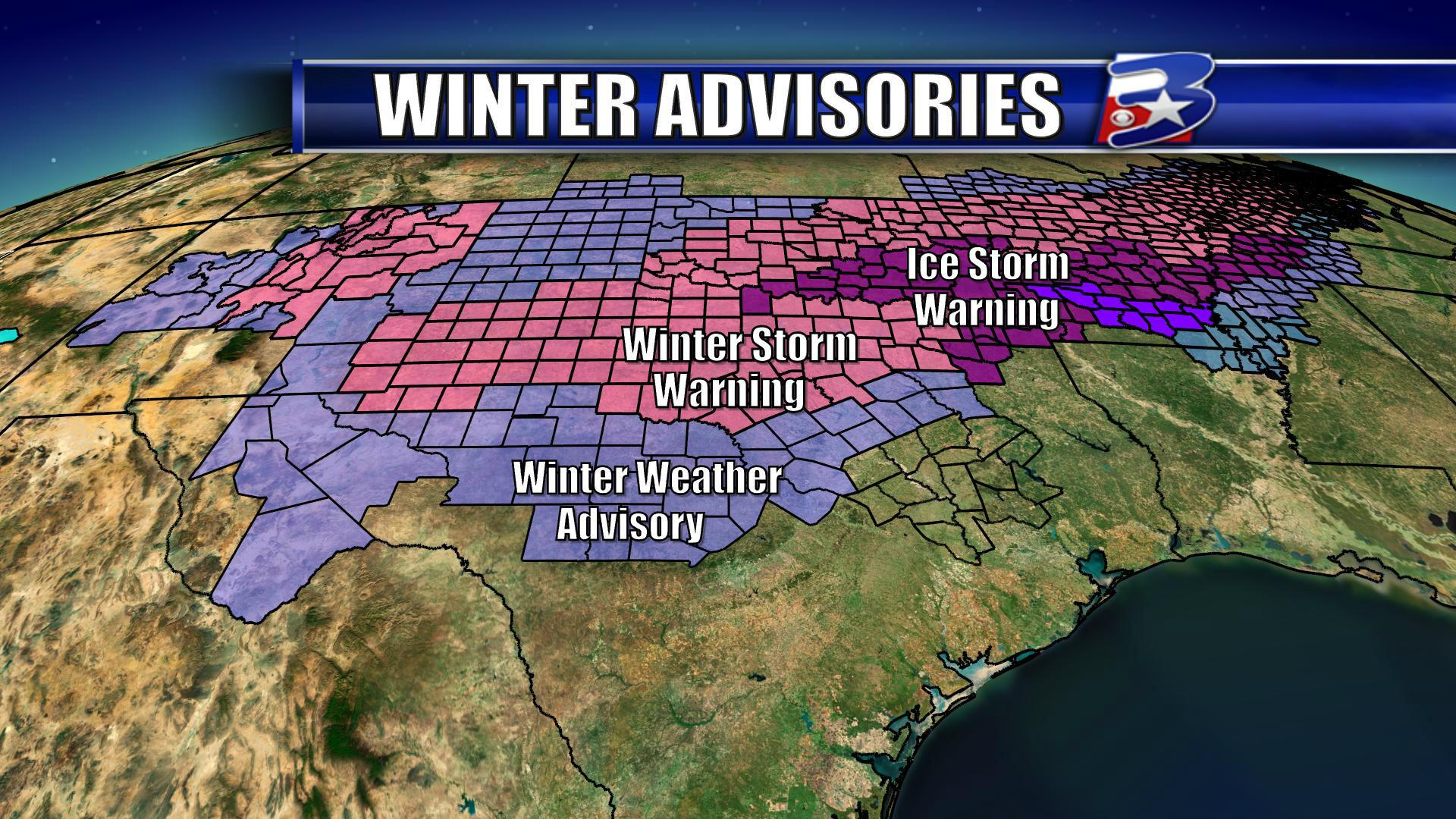 2PM Weather Update
Winds are continuing to rush in from the North allowing for our current temperatures that are in the low 40s to feel closer to freezing! Toss in a light mist and that is what we are dealing with this afternoon. For now, precipitation will be falling in the form of rain but that has the possibility to change late tonight into tomorrow. The best chance for freezing rain or sleet will be tomorrow morning into Saturday. Temperatures are expected to stay warm enough that we are not expecting any accumulation.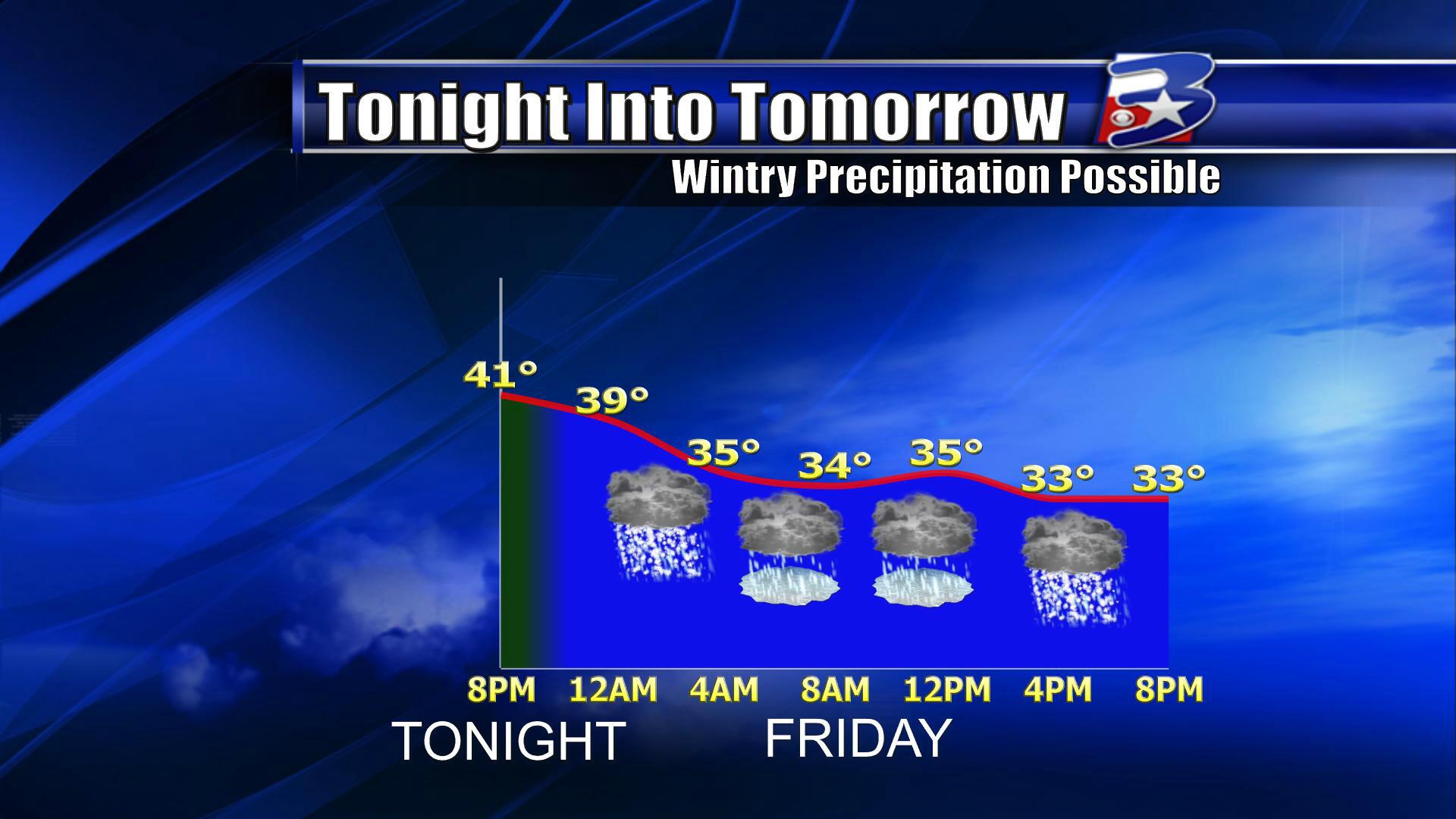 12PM Weather Update
Temperatures continue to fall off throughout the afternoon hours, meaning we could be looking at overnight temperatures to drop into the mid 30s. When we consider the breezy winds we have out there, wind chill values are expected to be closer to the upper 20s!
As of Noon, the threat of wintry precipitation is staying just north of the Brazos Valley, leaving us clear of any Winter Weather Advisories. However, that is less likely to be the case come Friday night, into Saturday night.
___________________________________________
11AM Weather Update
Temperatures have officially dropped below 50 degrees across the Brazos Valley. Nearly the entire area is currently spread throughout the 40s, with the exception of Centerville and Caldwell...both of which are sitting at 39 degrees.
Winds are also playing a big factor into how cold it feels on our skin. With winds flowing out of the North at 15-25 mph today, the wind chill is making it feel like it's more in the 30s...Yikes!

___________________________________________
10AM Weather Update
After a quick drop in temperatures early this morning, counties to our Northwest are already seeing temperatures falling into the lower 40s. As this strong cold front pushes its way Southeast through the Brazos Valley, temperatures are taking a little bit longer to drop as drastically in our Southern & Southeastern counties as they hover in the 50s from Bellville, through Hempstead and up to Conroe.
We are expecting increasing rain chances behind this front, in addition to those falling temperatures, through the day. A reinforcing shot of cold air will keep temperatures moving south towards freezing by Friday evening. There is a slight chance for possible sleet/freezing rain over the weekend with temperatures continuing to cool & rain chances hanging around.