Plans this weekend? The Texas Reds Steak & Grape Festival in Downtown Bryan, perhaps? You may want to bring an umbrella along, just in case.
A cold front will slide through parts of Texas this weekend. While that front doesn't look to have big impacts on our temperatures, here in the Brazos Valley, it will help bring passing showers and isolated storms to the area.
We aren't looking to wash out your weekend completely, but there is concern that much needed rainfall in the area may come at inopportune times. There continues to be a bit of uncertainty in just how much rain could fall on Sunday as well. That all depends on how storms progress to the north of the Brazos Valley and how far south our Texas cold front can travel.
Current Weekend Outlook
Saturday: 30%
The bulk of shower and thunderstorm activity will remain to the north and west of the Brazos Valley on Saturday -- staying along and ahead of the cold front.
Rain activity will pick up as we combine daytime heating and the southerly flow off the Gulf of Mexico. Morning mostly cloudy skies will try to give way to scattered, passing showers and a few possible rumbles of thunder / lightning strikes.
Any rain activity is expected to pass quickly and primarily be a quick batch of rainfall. If a thunderstorm can form it could bring some brief gusty winds and cloud-to-ground lightning, alongside heavy rain.
Best bet for rainfall will remain in the Western and Central Brazos Valley.
Sunday: 50%
By pre-sunrise Sunday morning, the cold front should sit just north of the Brazos Valley. If those storms can handle the loss of daytime heating, through the overnight hours, there will be showers and moderate rain possible for the Northern Brazos Valley -- Milam, Robertson, and Leon Counties, specifically.
As we add heating into the mid / upper 80s on Sunday, outflow boundaries & the nearby front could add more shower and thunderstorm development. Much like Saturday, due to the tropical nature of our air mass, a few strong thunderstorms could provide heavy downpours, lightning and gusty winds.
Sunday's rain chances will rely solely on two factors:
1) Thunderstorm behavior Saturday afternoon / night, north of the Brazos Valley
2) The location that our weekend forecast stalls out at
PinPoint Computer Forecast Model
Here was the latest data from the PinPoint Computer Forecast as of Friday evening. This data is trying to predict what the radar could look like as we continue through the weekend: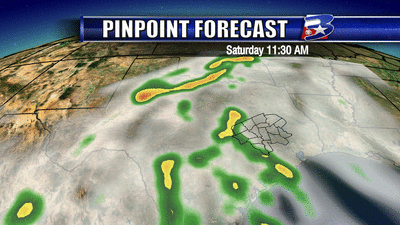 Stay up to Date with the Latest
The latest details on your forecast, plus current conditions, can be found anytime on the Weather Page here at KBTX.com.
You can find the PinPoint Weather Team on the Social Media Platform of your choice:
Don't forget you can download the new KBTX App, that includes full Interactive PinPoint Radar right there in the weather section of the app.
Enjoy your weekend and stay safe.