1pm Update
The last of the rain is quickly moving out of the far Southeastern Brazos Valley.
Here's an idea of how much rain fell across the Brazos Valley -- as reported by Weather Watchers:
--Carlos: 1.96"
--Snook: 1.94"
--Kurten: 1.00"
--Cameron: 6.50"
--Burlington (Milam County): 6.00"
--Between Centerville & Buffalo (Leon County): 4.40"
____________________________________________________
11:30am Update
A FLOOD WARNING has been issued for the following rivers:
-Menard Creek near Rye affecting Liberty and Polk Counties
-Navasota River near Normangee affecting Brazos, Grimes and Madison Counties
-Middle Yegua Creek near Dime Box affecting Burleson and Lee Counties
Minor to moderate flooding will be possible on these streams.
11:00am Update
Rain is gradually moving out of the area as our winds try to shift in from the Northwest. Skies will gradually clear out through the day. Light isolated showers will be possible as we head into the afternoon.
9:15am Update
FLASH FLOOD WATCH dropped in our northern counties thanks to rain slowly moving out of the area.
8:30am Update
Showers continue to move through the area towards the east. At this time we are primarily dealing with light widespread rain as the cold front moves through. We are already starting to see the shower activity clear out from Northwest to Southeast. Drier air is expected to slowly filter in through the afternoon. The bulk of the rain is expected to be out of the Brazos Valley by late afternoon. Shower activity should start to diminish in B/CS by the lunch hour.
7:30am Update
Light to moderate rain continues across Southeast Texas this morning as a cold front moves through. The main threat is localized flooding with isolated areas receiving 4"-6". Below is a look a rainfall totals as of 7:30AM.
6:50am Update
SCHOOL DELAY: Huntsville ISD delaying start of school two hours. Buses will still run.
6:20am Update
Strongest shower activity picking up east of HWY 30. Widespread rain is expected to hang around for the rest of us through today and gradually clear out by tonight. Localized flooding will be possible with isolated areas receiving up to 4 inches.
5:30am Update
The leading line is just now moving into Huntsville. Expect winds up to 45mph, heavy rain, and frequent lightning, Behind this line of storms the rest of us are dealing with widespread showers through the morning. Below is a look at the rainfall totals as of 5:30AM.
5am Update
Strong storms moving through the Brazos Valley. The leading line is currently moving into Navasota. The highest winds and heaviest rainfall will occur within the leading line as it moves further east.
Behind the initial line you can expect light to moderate rainfall along with possible localized flooding.
4am Update
Strong storms are moving through the Brazos Valley this AM. The main threat is heavy rainfall and localized flooding. Expect frequent lightning and gusty winds.
Flash Flood Warning is in effect for the areas in red through 6:15AM. Expect heavy rain through the early morning hours.
3am Update
Still monitoring a line of strong thunderstorms that is slowly moving through Lee County. Activity is working south through Dime Box and Central Lee County, towards Giddings. Estimated winds -- from radar -- are between 25mph and 40mph.
An AREAL FLOOD ADVISORY is in effect for Lee County until 5am, due to heavy rainfall that continues to fall across the county, moving south.
Another band of broken showers and thunderstorms continues to work northeast across the Southern and Eastern Brazos Valley.
Pockets of moderate to heavy rain are embedded in a large area of light rain over MIlam, Robertson, and Leon Counties. Additional rainfall could contribute to a few problem spots on area roads across the Northern Brazos Valley.

_____________________________________________
2:45am Update
An AREAL FLOOD ADVISORY is in effect for Trinity and San Jacinto Counties until 4:45am.
A FLOOD WARNING is in effect for the Navasota River near Easterly until November 1st.
Light to moderate rainfall continues across Milam, Robertson, and Leon Counties, while a line of strong (non-severe) thunderstorms continued to move northeast through Northern Lee County.
_______________________________________________
2:30am Update
Severe Thunderstorm Warning has been allowed to expire for Lee County.
Strong thunderstorms continue to drift to the northeast out of Bastrop County towards North and Northwest Lee County. While not severe, gusty winds, heavy rain, thunder, and lightning continue to be a factor with these storms.
_________________________________________________
2am Update
The Storm Prediction Center is monitoring the need for a Severe Thunderstorm Watch for the Brazos Valley -- as of their latest discussion, they are giving the possibility a 60% chance.
Main threats, should more severe storms form, would be damaging winds in excess of 60mph.
Here's is the latest discussion.

_______________________________________________
1:45am Update
A SEVERE THUNDERSTORM WARNING is in effect for Lee County until 2:30am.
PinPoint radar is indicating winds in excess of 45mph to 60mph along the leading edge of this line of storms as it moves East at 30mph.
________________________________________________
1:20am Update
A FLASH FLOOD WARNING is in effect for Milam and Robertson Counties until 4:15am.
Thunderstorms with heavy rainfall along a line extending from north of Bremond to northwest of Rockdale is dropping heavy rain, to the order of 4" over parts of Central Texas. The storms embedded in this line were slowly moving eastward. Rivers and streams could swell with flood waters flowing into Northern Robertson and Milam Counties. An additional 1 to 3 inches of rainfall can be expected over the next few hours.

_______________________________________________
1am Update
Slow moving doesn't do the speed of our line of storms justice. The line we've been tracking this evening / tonight continues to start to spread into the extreme Northern Brazos Valley.
Rainfall estimates of up to 14" (yes, 14") of rain are being indicated by Radar just to the west of Austin. Residents in the Crooked Creek area of Pflugerville are being evacuated from their homes due to high water.
The latest data is starting to come in from a short-range computer model run by Texas Tech University -- called the 3km WRF. Calling for our line of storms / possible heavy rain to reach the Central Brazos Valley and Bryan / College Station around 3am to 4am. That model also keep the line of storms around the Central Brazos Valley through 6am to 8am -- which, if true, could be cause for concern.

__________________________________________________
12:30am Update
Heavy rain continues to fall just north of the Brazos Valley -- although, heavier rain is starting to reach Ben Arnold (Milam Co.), Bremond (Robertson Co.) and Buffalo (Leon Co.).
Multiple road flooding reports have been called into the Freestone County Sheriff's Office (county to the north of Leon Co.).
Freestone County Radar Image as of 12:30am


____________________________________________
Thursday, 12am Update
While still heavy in pockets just north of the area, the rainfall rate has slowed a bit as light to moderate, steady rain starts to spread into the Northern Brazos Valley. Rainfall rates of close to 4" / hour were found around 10:30pm -- now the heaviest rain is dropping up to 2" / hour.
High water rescues and flooded roads are being reported just to the Northwest of Milam County in Holland (Bell County).
As this line of showers and thunderstorms spread out a bit, we'll look for rainfall to start to pick up across the Brazos Valley.
________________________________________________
11:30pm Update
Still watching and waiting as our line of strong storms and heavy rain makes very, very little progress to the south and east.
The edge of that heavy rain has now crept just inside the Northern Robertson County border, while rainfall rates have slowed a bit across Milam County (although a steady rain continues to fall there).
Per the National Weather Service: a coldpool has yet to be found (push of cool wind out ahead of this line of storms) that would allow for that south to southeast movement into the Brazos Valley. Due to that, it will still be a while before most of the area starts to be impacted by rain once again.
___________________________________________________
11pm Update
A line of heavy rain, strong thunderstorms, and frequent lightning continues to just just north of the Brazos Valley -- right along the Milam, Leon, & Robertson County lines.
While these storms are not severe, FLASH FLOOD WARNINGS are stretched along them due to rainfall rates approaching 4 inches per hour in some locations.
This line of storms will slowly continue to move into the area over the next hour, increasing the threat for localized flooding.
Here's the static image of PinPoint radar as of 11pm:


______________________________________________
10:30pm Update
A FLASH FLOOD WARNING is in effect for Milam County until 1:15am.
Heavy rain has already fallen across the county earlier this afternoon and evening. Any additional, heavy rainfall that is slowly working in from the northwest could cause areas of concern as rainfall rates remain high.

________________________________________
9:45pm Update
Training rains are falling along the line of thunderstorms that is curved around the Northwestern corner of the Brazos Valley and down I-35.
Flash Flood Warnings are issued along that line as heavy rain continues to sit over the same area across a good portion of Central Texas down towards San Antonio.
___________________________________________
9:20pm Update
The Storm Prediction Center is monitoring the need for a Severe Thunderstorm Watch across the Brazos Valley and a large part of Central Texas as we head into the overnight hours.
As of the time the discussion was issued, they placed a 40% chance on that need.
Monitoring trends on a line of growing thunderstorms, from the Northern Brazos Valley south along I-35, will determine if this need is necessary. Essentially, the severe threat is low, however the rich nature of our current air mass could lead to a few strong to severe thunderstorms.
__________________________________________
9pm Update
Thunderstorm activity in the Brazos Valley remains confined to Northern Leon County, where an AREAL FLOOD ADVISORY continues.
That same activity is part of a line of thunderstorms trying to piece together from there to North of Milam County to Austin to San Antonio, along the west side of I-35.
Short-range computer forecasts indicate that this will be the line that will eventually work into the Brazos Valley by early Thursday.
____________________________________________________
8:30pm Update
An AREAL FLOOD ADVISORY has been issued for Leon County until 11:15pm -- especially for areas between Marquez and Oakwood.
Heavy rainfall rates of 1" to 1.5" per hour (as estimated by radar) continues to fall over Leon Counties as storms train in the area. Areas of water over roads and ditches could be an issue or become an issue in parts of the area.
_______________________________________________
8pm Update
Low level instability is starting to fall off a bit across the Brazos Valley. That said, a line of strong thunderstorms continues to slowly drift to the northeast, along Northern Milam, Robertson, and -- especially -- Leon County, as of this post.
Strong storms will try to bring heavy rain, thunder, occasional lightning, and gusty winds.
While one line of thunderstorms looks to be slowly moving northeast out of the area, another line is attempting to develop just along the North and Northwest Milam County line.
That all said, we will continue to monitor trends as we moving from the evening to the overnight hours. Latest Storm Prediction Center Outlook leaves a slight, 5% risk of an isolated tornado threat over the Brazos Valley through Sunrise Thursday:

_____________________________________________
7pm Update
Strong (but as of this update) non-severe thunderstorms are stretched across the Northern Brazos Valley -- from Milam, to Robertson, to Leon Counties.
Gusty winds in excess of 30mph, occasional thunder, lightning, heavy rain, and possible pea size hail can be found with this line of storms.
Movement is to the east / northeast. Here's a look at our 7pm Radar shot:
_________________________________________________
6pm Update
Scattered showers and a few rumbles of thunder / occasional lightning showing up once again across the Northern Brazos Valley.
Quick look at some of the rain totals we've collected across the Brazos Valley, so far, today:
Other Weather Watcher totals from across the Brazos Valley:
--Centerville: 1.27"
--North Zulch: 1.25"
--Kurten: 0.80"
--Carlos, Benchley, Snook: 0.66"
_____________________________________________
5:00pm Update
Things are slightly calmer out now but are still anticipated to pick up this evening. Scattered showers and isolated storms are still moving through the area and are expected to become much more widespread late tonight into tomorrow.
The timing of this system is still on par with earlier forecast. Showers and isolated storms will continue through the evening as a line of heavy rain approaches from the Northwest after midnight. Showers are expected to linger in the area through the day tomorrow leading into potential localized flooding.
Below is a look at current rainfall totals as of 5:00PM: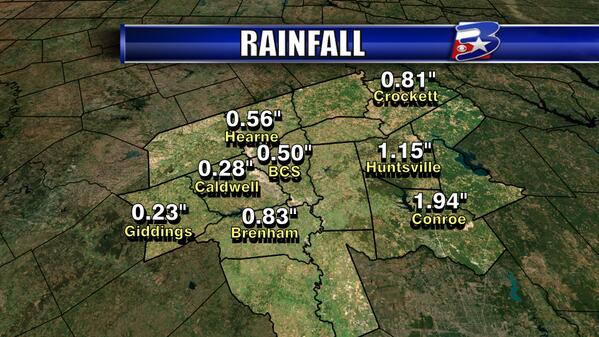 3:45pm Update
Weather Watcher from Carlos reported that the Navasota River was over the east bank at Hwy 30, between College Station and Carlos.
He also reported in 0.66" of rainfall in Carlos since this morning.
Afternoon run of our In-House PinPoint Computer Forecast Model is processed and in the PinPoint Weather Center.
Still looking like scattered showers and storms will be possible through the evening and overnight hours. Line of storms with heavy rain and small severe weather potential continues for Thursday Morning:

____________________________________________
2:45pm Update
A FLASH FLOOD WATCH has been issued for Austin, Brazos, Burleson, Grimes, Houston, Madison, Montgomery, San Jacinto, Trinity, Walker, Waller, and Washington Counties until 1pm Thursday.
With these watches issued, that will now cover the Brazos Valley in a Flash Flood Watch through tomorrow.

_____________________________________________
1:30pm Update
This morning's round of rain and thunderstorms has pushed east of the Brazos Valley, as of the noon hour.
A few scattered showers and patches of heavy rain continue to drift into the Brazos Valley from the Southwest. Overall coverage will remain widely scattered heading into the late afternoon and evening hours.
Due to that widely scattered nature, any isolated thunderstorm that can manage to form could become strong or severe. Main threats to be aware of will be winds in excess of 60mph and a very isolated tornado threat.
The Storm Prediction Center has placed most of the Brazos Valley in the 5% Tornado Risk area for the rest of today through sunrise Thursday morning.
As of earlier this afternoon, the Storm Prediction Center also called for a 40% chance that the Brazos Valley could be placed under a Severe Thunderstorm Watch, later today. We'll have to monitor storm development this afternoon to see if it will be needed. In the meantime, here is the discussion released earlier today.

_________________________________________________
Wednesday Midday Update
A FLASH FLOOD WATCH has been issued for Milam, Robertson, and Leon Counties until Thursday morning. That will grow the list from Lee County, which was issued with the same watch earlier today.
Rainfall amounts could total 2" to 5" across parts of the Brazos Valley -- with localized, higher totals possible -- by midday Thursday.
_____________________________________________
Wednesday Morning Update
Scattered showers and a few heavy downpours have made their way through the Brazos Valley, already, this morning.
As of 10am, most of the rain activity was found across the Eastern Brazos Valley (I-45 and points east), while the western half of the area has started to clear out.
Another round of scattered showers and a few thunderstorms is expected to roll in later this afternoon.
A FLASH FLOOD WATCH is in effect for Lee County from 7pm Wednesday evening through Thursday morning.
The Storm Prediction Center has placed most of the Brazos Valley under a "SLIGHT RISK" for severe thunderstorms later today / tonight / overnight.
While the threat will remain low -- especially with this mornings rainfall -- any severe thunderstorm that can form with later activity could bring strong winds in excess of 40-60mph.
____________________________________________
The Brazos Valley's next widespread rain and thunderstorm event is expected to start Wednesday afternoon and could last through late Thursday afternoon, as a Halloween cold front sweeps through the area. Heavy rain will be possible due to a very moist air mass in place over much of Central and Southeast Texas.
Shower and Thunderstorm Chance Increases Wednesday
Have plans, errands, or a Honey-do list to take care of on Wednesday? Probably want to get to them early. The later we go into Wednesday, the better the rain chance will be across parts of the Brazos Valley.
As of Tuesday evening, scattered thunderstorms -- some strong -- were already working northeast towards the Waco / I-35 area from a line west of Kerrville & Uvalde. Those storms are anticipated to move through Waco around Midnight Wednesday (if they can hold together) and then on to the Dallas / Fort Worth Metroplex.
Here in the Brazos Valley, we will keep a small, 20% chance for a few scattered showers by sunrise Wednesday morning.
That shower chance should turn into scattered areas of rain and isolated thunderstorms by the afternoon hours of Wednesday. As of Tuesday evening, the chance calls for a 60% to 70% coverage of rain for the middle of the week.
Important to stress that this activity looks to be hit-or-miss throughout the day -- meaning Wednesday won't be a complete washout, but rather a day with passing soggy periods.
Since Wednesday's activity is expected to remain scattered, we will be on the look out for a slim strong to severe storm threat. Overcast skies will likely limit instability for the day, however there will be a bit of spin to the atmosphere that an established thunderstorm may be able to tap into. If that were the case, our main threats Wednesday will be winds in excess of 40-60mph, small hail, and a possible brief tornado spin-up (although the tornado threat will remain very low).
Stronger storms could bring heavy passing downpours through the day as well.
Halloween Cold Front and Another Round of Rain Possible
No rest for the water-logged. While we aren't expecting to washout Trick-or-Treating plans, a good part of Thursday looks to be on the wet side.
A cold front will approach the Brazos Valley from the north by late Wednesday Night / early Thursday Morning. That front will pool our moisture filled atmosphere against it, leading to another widespread heavy rain chance.
Our rain timing will run from the early hours of Thursday morning through the mid-to-late afternoon.
Much like Wednesday, while the severe threat isn't through the roof -- it won't be completely out of the question. Since we are anticipating a more linear structure of rain and storms along our cold front, the main threat for strong to severe storms will be winds in excess of 40mph to 60mph on the leading edge of this system.
Another Soaking for the Brazos Valley?
Sure looks like the potential is there.
When it is all said and done, we'll forecast a widespread 2" to 3" of rainfall to have fallen between Wednesday morning and Thursday evening. Localized areas of 4" to 6" are not out of the realm of possibility, should heavy rain set up in similar locations both Wednesday and Thursday.
A brief, flash flooding threat may exists with any of the stronger storms that manage to roam the Brazos Valley over the next few days. The National Weather Service is monitoring trends on Wednesday to determine if a Flash Flood Watch will be needed for parts of the Brazos Valley on Thursday.
Halloween Evening
With our storm coverage expected to wrap up just before sunset Thursday, we should be able to get everyone out for their plans by the early evening hours.
A word of caution -- Heavy rain could lead to standing, high water in culverts and roads across pockets of the Brazos Valley. Soggy grounds and slick streets will be an obstacle for those milling around neighborhoods as well. Be sure to be aware of your surroundings as you lead the kiddos around to gather up candy.
Tuesday Afternoon Run of the PinPoint Computer Model Forecast
Keep Up To Date With The Latest
As activity begins to pick up in the Brazos Valley, we'll continue to update this story / blog as long as the weather continues to pose trouble.
Don't forget you can check Interactive PinPoint Radar anytime from your computer or smartphone.
You can also keep up with the latest on Twitter and Facebook.
-- Chief Meteorologist Shel Winkley