The WINTER STORM WARNING has been allowed to expire across the Brazos Valley.
12pm Friday Update
All counties have been removed from the Winter Storm Warning that had been in effect since Thursday night. While temperatures will struggle to climb into the mid 30s by the afternoon, driving conditions will be the biggest concern throughout the day and into tonight due to temperatures falling below freezing once again tonight.
While some ice on the roadways will be able to slowly melt throughout the day, the biggest hazard is the potential for that ice to re-freeze after sunset and cause icy patches on the roads once again into Saturday morning.
10am Friday Update
Temperatures are still struggling to climb into the 30s, but are expected to break that freezing mark over the next couple of hours. However, with winds flowing out of the South around 10 mph, our wind chill values are making it FEEL like we're in the 20s across most of the area!
8am Friday Update
As the morning continues the sun will struggle to slowly warm our temperatures into the thirties. Eventually the ice will start to melt through the afternoon once our temperatures get above freezing. At this time the precipitation has moved out of the area while drier air moves in. Roadways will eventually start to improve as our temperatures rise.
There is still plenty of ice/snow left on grassy areas. The ice/snow that has accumulated on grass or in shaded areas will last longer through today. Below is a look at the A&M Golf Course after last nights winter weather.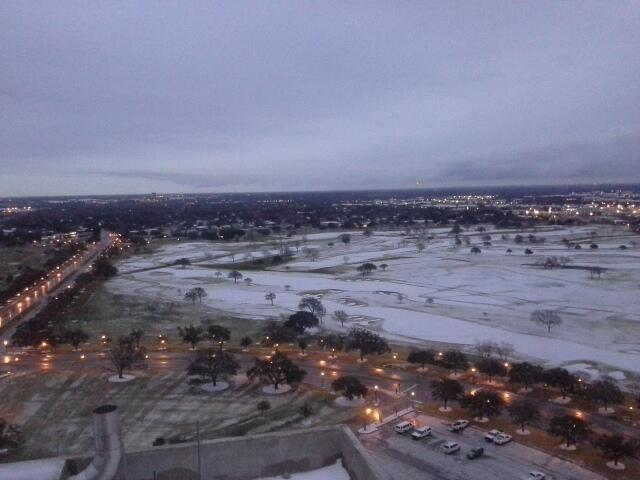 6am Friday Update
While the bulk of the sleet / snow mix continues moving to the east, some areas could still be dealing with some light freezing drizzle until sunrise. As the wintry precipitation moves out by 8am, temperatures are expected to remain below freezing all morning long, until Noon. Those freezing temperatures could keep roads slightly icy, especially on those bridges and overpasses.
4am Friday Update
The wintry precipitation is in the process of clearing out of the area from the west to east. Driving conditions are still a bit rough with temperatures remaining below freezing. Sleet/rain mix still off and on in our southern/eastern counties.
Through today we are anticipating temperatures struggling to break the freezing mark and skies slowly clearing out by tonight.
2am Friday Update
A large area of snow continues to fall across much of the Brazos Valley. Heavy accumulations of a 1 inch + have been reported across the far Eastern and Northeastern Brazos Valley.
Bryan / College Station and points to the west are starting to pick up a dusting of snowfall.
Weather Watcher pictures from:
Centerville

North Zulch

Bryan (KBTX Studio)


_________________________________________
1:30am Friday Update
Snow and sleet continue to fall for a majority of the Brazos Valley.
The Eastern Brazos Valley has picked up the highest total of sleet and snow.
Walker County Sheriff's Office if reporting less than 1 ince of heavy, wet snow accumulation across the county. All bridges are icy.
__________________________________________
1am Friday Update
Sleet that was falling across much of the Brazos Valley, since 10:30pm Thursday, is now starting to switch over to decent sized snow flakes.
With ground temperatures cooling and sleet sticking to surface streets, light accumulations are starting to show up on grassy and asphalt areas.
A majority of the Brazos Valley is finding sleet falling once again -- even those that had snow falling earlier in the evening.
The pink color below indicates a steady, moderate sleet -- mixing with some light snow. At the rate it is falling, accumulation is expected and those that have their cars parked outside will wake up to them covered in a layer of ice.
Snow is still falling for a small part of the area -- from Leon to Houston and Trinity County.
Bryan / College Station has blue (snow indicator) over head -- however, it is primarily sleet falling, as of the midnight hour.

_________________________________________
10:45pm Thursday Update
Scattered rain / sleet mix is moving to the east / southeast out of the Southern and Southeastern Brazos Valley, as we approach the 11pm hour.
A light to moderate snow continues to fall Houston, Trinity, Madison, and Leon Counties. More light snow is trying to work though Milam, Burleson, and Brazos Counties (including over Cameron, Rockdale, Caldwel, and College Station)
The snow working into the Western Brazos Valley is starting to mix with sleet once again as well. While this will be patchy areas of a wintry mix, it will continue to attempt to add slick spots to area bridges and overpasses -- along with some surface streets.
Expect on and off again precipitation through the overnight hours.
__________________________________________
9pm Thursday Update
A band of light to moderate snow is sitting over the Northern and Northeastern Brazos Valley (blue)
A sleet and light snow mix is falling from Austin to Waller, East Grimes, Walker and Montgomery Counties. (pink)
A few flurries are flying, but mainly dry (for now) from Milam, Burleson, and Brazos Counties.
This activity is moving generally east / southeast. With snow still falling north of the Brazos Valley, it will be possible to see spotty, light snow falling again before the night is over.
Precipitation is slowly moving south -- but the actual storm movement is drifting to the east. Heaviest accumulations are still expected in the North and Eastern portions of the Brazos Valley.
______________________________________
7:30pm Thursday Update
Sleet -- some heavy -- is being reported across a majority of Bryan / College Station. This picture came in from a Weather Watcher in West Bryan, of the accumulation on the back porch:
...and another from Hearne, earlier this evening
TxDOT crews are currently out in Bryan / College Station putting de-icing materials down on area bridges and overpasses.
___________________________________
7pm Thursday Update
Rain / Sleet line (freezing line) and Snow / Sleet line continues to move south, out of the Northern Brazos Valley.
Currently that rain / sleet line runs from Rockdale, to Caldwell, to Bryan / College Station to Wixon Valley (heavy sleet reported) to Madisonville to Huntsville to Trinity.
The snow / sleet line is currently trying to work south out of Milam, Robertson, and Leon Counties. It runs from Cameron to Hearne to Madisonville to Centerville to Grapeland.

________________________________________
6pm Thursday Update
PinPoint Radar indicating that the freezing line is attempting to slip south, out of the Northern Brazos Valley. Sleet reports have come in from Easterly (Robertson County), Bryan / College Station (TAMU Campus), Huntsville (Walker County), Snook (Burleson County), and heavy sleet at OSR & Hwy 6 (Brazos / Robertson County Line).
As of 6pm, no major road issues were reported (as of yet).
That freezing line is expected to continue to move south over the next couple of hours. Any ;precipitation falling from this point on has a fair chance to mix into wintry weather.
___________________________________________
5:30pm Thursday Update
The precipitation is just starting to transition to a sleet/rain mix in our Northern counties. Thanks to temperatures dropping close to freezing and wind chills in the 20s this process will continue through the evening. Conditions will be more favorable for a sleet/snow mix after midnight and into early tomorrow morning. In order to accommodate for the inclement weather in our Northern counties the National Weather Service has extended the Winter Weather Advisory to Leon County.
4:30pm Thursday Update
PinPoint Radar was starting to show a rain / sleet / snow mix over portions of Southern Leon County (around Normangee) to northern Madison County around the top of the 4pm hour.
A quick call to the sheriff's office in Leon County has a "ground truth" of only liquid rain falling in the Normangee area.
Precipitation has switched over to all snow in the Waco area as of 4pm as well. Just south of there, Marlin is reporting liquid rain -- as is the case from that area to the Brazos Valley.
Temperatures remain above freezing in the Brazos Valley (for the time being) but are still expected to dip to or below 32° by 8 or 9pm.
School delays are starting to add up across the area -- the link to closing and delays can be found here or on the homepage of KBTX.com.
___________________________________________
3:30pm Thursday Update
Showers are starting to become more widespread as we head into the late afternoon. With temperatures starting to drop through the evening the possibility for wintry precipitation continues to increase. The best shot for a snow/sleet mix will take place after 6PM and possibly continue off and on through tonight and into tomorrow morning.
2:30pm Thursday Update
The reporting sensor at Easterwood Airport (for College Station) was reporting light snow as of 2pm. Temperatures are still above freezing, therefore, it was a false report caused by a fine, heavy mist.
That said, light rain is falling across parts of the Brazos Valley -- as of last check it continues to look like the northern and Central half of the Brazos Valley should be at or just below freezing by 6 to 7pm. That will be the "magic hour" to start watching for our liquid rain to possibly turn to freezing rain / sleet / or snow.
___________________________________________________
1:15PM Thursday Update
Shower activity is expected to pick up through the afternoon and into the evening leading into the potential for wintry precipitation.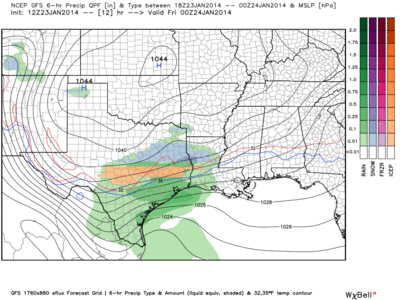 The image above shows that the rain could switch over to sleet at 6PM this evening and possibly a snow/sleet mix by midnight. The wintry precipitation is expected to move out of the area through tomorrow morning. Light ice accumulations will be possible early tomorrow with temperatures below freezing.
12:15pm Thursday Update
Temperatures are sitting in the low-to-mid 40s across the Brazos Valley, with wind chills in the low-to-mid 30s.
As the afternoon continues, temperatures are expected to steadily drop off to freezing by sunrise (or just after). Here is the forecast timeline for that plunge in temperatures:

__________________________________________________
11:30am Thursday Update
Light sprinkles continue off and on across the area. No accumulation is expected through today but with temperatures dropping below freezing by tonight we are anticipating wintry precipitation and possible accumulation through tonight and into tomorrow morning.
The Winter Storm Warning was extended through 12PM Friday due to possible precipitation hanging around. At this time it is still more likely for the wintry precipitation to clear out by early Friday morning.
Caldwell ISD, Snook ISD and Somerville ISD will begin at 10AM on Friday. Buses will run two hours late.
10:30am Thursday Update
Below is a look at the PinPoint weather model. The model shows that icy weather/precipitation could start as early as 6PM and clearing out by sunrise tomorrow.
10am Thursday Update
Somerville ISD has announced that classes will have a delayed start on Friday. Classes will begin at 10am.
Any other closings or delays, that are reported to KBTX, will be posted on the homepage or can be found here.
Light, spotty rain is starting to develop across the Central and Southern Brazos Valley. Dew points (measure of moisture in the atmosphere) are low. Majority of rain -- initially -- will evaporate as it falls. As the atmosphere saturates through the day, light showers will have a chance to pick up in intensity.
Should precipitation continue into the evening hours, that is when the potential for icy weather -- sleet / freezing rain / snow -- will begin.
__________________________________________________
9am Thursday Update:
Through today we are expecting temperatures to drop below freezing by the late afternoon leading into the potential for freezing rain/sleet/snow as early as 5pm. Light showers are expected to continue off and on through Friday morning allowing for the possibility of wintry precipitation. Light rain is already moving into the area and expected to become more widespread by this afternoon.
7am Thursday Update:
11pm Wednesday Update
The latest GFS Computer Model Forecast data has proceed and is in the PinPoint Weather Center.
Outlook remains unchanged -- temperatures are expected to fall steadily through the day on Thursday. Wind chills are expected to make it feel like the mid-20s by 5-6pm.
As for the wintry weather outlook -- that remains relatively unchanged as well.
We'll continue with a 40% chance of steady, light rain / drizzle (on-and-off) through the day on Thursday -- especially during the afternoon hours.
By Thursday evening (late), that rain could mix into sleet falling across parts of the Brazos Valley (orange color shown below). Accumulations are expected to be light -- but the potential will continue.
Updates will continue with the latest data sets on Thursday.
______________________________________________
What is a Winter Storm Watch?
Different parts of Texas and the United States fall under different criteria when it comes to the National Weather Service issuing a WINTER STORM WATCH or WARNING.
For Southeast Texas, that criteria is:
-- 2" of Snow or Sleet
-- 1/8" accumulated Freezing Rain
The current watch in place is there because the potential exists that those accumulations could occur Thursday night / Friday morning. As we move closer to Thursday evening, we could find that watch upgraded to a "warning" (meaning that the chance is good for such accumulation) or downgraded to an "advisory" (meaning that only minor accumulations of icy weather is expected).
More on what Winter Weather Advisories mean for the Brazos Valley can be found here.
Arctic Blast of Air Headed to the Brazos Valley
Putting the Winter Storm Watch aside for a second -- regardless of icy weather...bitter cold is scheduled to arrive in the Brazos Valley Thursday.
Above is an estimated timeline of expected temperatures (red line) vs. expected wind chills (blue line) for Thursday.
Note two things:
-- Temperatures slowly decline through the day
-- Wind chills come out of the gate in the upper 30s and only feel colder as the day progresses
We'll look for temperatures to fall to around freezing by the end of business Thursday, accompanied by wind chill (feels like) temperatures in the 20s.
Why the Need for a Winter Storm Watch?
Computer model data has suggested that a threat for freezing precipitation -- likely sleet or snow -- will be possible late Thursday / Thursday evening / early Friday morning.
While there is still a level of uncertainty in the forecast, that potential is enough to bring added attention to your Friday morning commute.
Below is a look at the PinPoint Computer Forecast Model for what the radar could look like over the next 36 hours, or so. Note that light rain (green) is possible, in patches, through the day on Thursday. By the evening hours and into Friday morning, snow / sleet (blue) will be possible for portions of the area.
While the potential is there for icy weather, accumulations are expected to remain light, at this time.
Issues that Could Arise
Should wintry precipitation manage to fall across the area, the concern would lie with:
-- area bridges and overpasses
-- area stop lights / intersections
We'll have to watch surface streets carefully -- ground temperatures are currently 20° above freezing. Any icy weather that falls should melt initially, but could accumulate should it fall long enough.
Our sleet / snow chance should pass by the Friday morning drive -- that is the good news.
That said, most people will be off the roads overnight between Thursday and Friday. Even if precipitation comes to an end before sunrise Friday, the damage could be done...with icy roads awaiting drivers.
Is this a Done Deal
Long answer short; NO--
To reiterate from above, this is only a watch placed to draw attention to the potential for slick weather Thursday night / Friday morning.
This is a developing weather situation, and should be treated as so. Dry air in the lower levels of the atmosphere could lead to the Brazos Valley staying just that -- dry.
For now, we'll only call for a 40% chance of a rain / sleet / snow mix.
Within that 40%, that could also mean parts of the area could receive wintry weather while others remain bone dry.
We'll continue to monitor the situation and bring you the latest right here at KBTX.com.
Running updates will be added to the top of this story as the event unfolds.