A WINTER WEATHER ADVISORY is in effect for Austin, Brazos, Burleson, Grimes, Houston, Lee, Madison, Montgomery, San Jacinto, Trinity, Walker, Waller, and Washington Counties until noon Tuesday. There is potential for sleet/snow mix leading to an ice accumulation of 0.10 inches during this event. Weather conditions will need to be monitored through Tuesday morning.
11:45am Update --Final Update
The National Weather Service has CANCELLED the Winter Weather Advisory for most of the Brazos Valley early.
Winter Weather Advisory continues for Austin, Waller, and Lee Counties for the afternoon hours.
Freezing Rain / Sleet is currently moving south through the Central and Southern portions of Austin and Waller Counties -- from Bellville to Waller and Prairie View.
Winter weather will continue to come to an end across the Brazos Valley, and it is possible that peeks of sunshine may try to appear by the late afternoon hours.
A running update on this winter weather event can be found in previous posts below.
________________________________________________
10:45am Update
Precipitation is now mainly in our southern counties, falling as a mix of rain and sleet. The line of showers will continue to push southwards and be out of our viewing area within the next hour or so.
Even with showers out of the majority of the area, the precipitation and ice from the storm system is still on the ground and could still cause some problems. Drive with caution if you are headed outside during the next few hours into the early afternoon.
That being said, our temperatures slowly getting warmer. Right now, College Station is sitting at 30 degrees, while our northern counties are still in the upper 20s and our southern counties are at freezing or slightly above.
After the precipitation moves through, skies will eventually clear out and we could even see some sunshine for part of the day today.
9:20am Update
The WINTER WEATHER ADVISORY for Leon, Milam, and Robertson Counties has expired. The rest of the Brazos Valley has the advisory in effect until noon today.
If you are driving around, in ANY part of the Brazos Valley, even if they have an advisory or not, please drive with caution. Just because the advisory is expired, it doesn't mean that roads aren't dangerous to drive on.
8:40am Update
The moisture is starting to clear out of our northern counties as dry air rushes in from the north. This will be the trend through the early portion of the day. Skies slowly but surely skies clearing from north to south through the afternoon.
The moisture will be the first to move out followed by cloud cover later this afternoon. Temperatures will remain chilly with highs struggling to reach the 40° mark.
7:40am Update
Freezing rain mixed in with sleet is falling over most of the Brazos Valley. As the morning continues, this precipitation will continue to fall and cause problems on roads, bridges, and overpasses.
Driving conditions have already caused some black ice to form, along with several accidents. For the latest closures, which will be updated throughout the day, click here.
6:30am Update
We are now getting reports of sleet falling in some cities, including Caldwell. Sleet and freezing rain, along with a few snow flurries, will continue to fall across a majority of the Brazos Valley this morning. Temperatures remain in the upper 20s for the northern half of the area, while we are seeing low 30s in the southern half.
With this frozen precipitation falling, roads are becoming more and more treacherous to travel on. Bridges and overpasses are the main concern, though black ice is starting to form in Leon, Milam, and Robertson counties. Continue to use caution if you are headed out this morning. It is advised to stay inside if you can.
For the latest radar look, check out our radar here.
5:30am Update
Some ice is starting to build up on a few bridges and overpasses at this time. The main band of precipitation is starting to expand southward a bit into Brazos county. We should see a slight increase in precipitation within the next hour or so.
For the latest radar image, check the above image or take a look at our Interactive PinPoint Radar.
4:30am Update
The National weather Service has cancelled the Winter Storm Warning given the current conditions. Most of the area is still under a Winter Weather Advisory through 12PM. The main threat is light ice accumulation on bridges/overpasses. There are no reports of any accumulation at this time.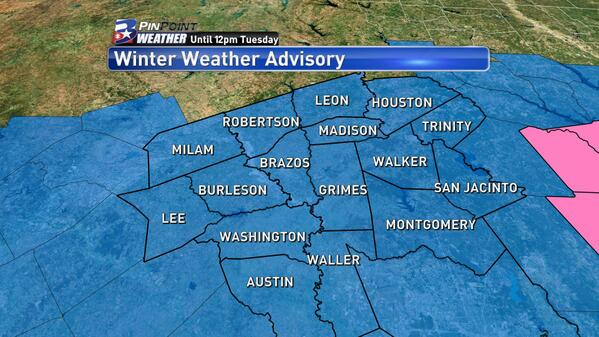 Dry air is quickly moving in pushing out any moisture that is still hanging around this morning. Temperatures will continue to drop through the day as winds continue in out of the North.
3:30am Update
Northern half of the Brazos Valley continues to fall below freezing, allowing precipitation to transition into more of a sleet / light snow mix. Southern counties are still seeing just (liquid) rain make its way to the ground due to temperatures still sitting above freezing.
2:30am Update
Precipitation has gradually begun its transition over into more of a wintry mix across the area. While freezing rain & sleet are the most common form of precip at the the time, things could change over into snow flurries as temperatures have already fallen just below the freezing mark in our northern counties.
1:30am Update
Light rain continues across Bryan / College Station.
While temperatures are a degree or two above the freezing mark -- elevated surfaces are starting to show signs of things to come.
Windshields and cars are starting to be reported as "covered in a light glaze of ice" as rain starts to freeze.
Picture submitted by @enriqueh0891 on Twitter

Along with that light glaze of ice on cars, a few elevated surfaces -- bridges and overpasses -- could start to collect icy spots soon.
This is where we start to watch the temperature and precipitation close. That mentioned -- this is the time of night where it is best to stay put and leave travel out of your plans. We'll have to monitor roads for the rest of the night to determine how the early morning commute will go.
_______________________________________-
1am Update
Light rain continues to fall across Bryan / College Station, Brazos, Madison, Houston, Trinity, Walker, Grimes, Burleson, and Lee Counties. A few reports of light sleet mixing in has been reported as well.
PinPoint Radar is indicating that a light sleet / freezing rain is attempting to mix in across Milam, Burleson, Robertson, and Leon Counties -- where temperatures have fallen below freezing.
Student with Texas A&M Atmospheric Science released an upper-air sounding at midnight:
Note the wide difference at the bottom of that picture (between the red and green line) -- very dry air remains in place in the lower levels of the atmosphere. With that dry air, a light rain / freezing rain / possible sleet mix is likely. It will take time for the atmosphere to saturate (as precipitation falls) to get heavier activity to fall.
For now, a light glaze could start to form on elevated surfaces for those with a temperature at or below 32°.
___________________________________________
12:30am Update:
Light rain continues to try slide into the south and southeastern Brazos Valley.
Light rain / sprinkles are falling for most of the area (those above 32°) -- while a light freezing rain / sleet / snow is potentially falling across the Northern and Western Brazos Valley.
According to radar trends, a light sleet / snow could be trying to mix together over Milam County (Cameron) to Robertson County (Calvert & Bremond) to Leon County (Jewett, Marquez, Buffalo).
Alight sleet / rain mix could be trying to mix together over Burleson County (Caldwell) to Southern Robertson County (Hearne) to Western Leon County.
We'll continue to watch temperatures drop to and then below freezing from the northwest to the southeast. As temperatures drop, any light precipitation that manages to fall will attempt to make the switch to wintry weather.
Latest can be found in the radar above, or by checking Interactive PinPoint Radar.
________________________________________
12am Tuesday Update
Light rain / sleet continues to try and fall across the Northern and Central half of the Brazos Valley.
While most of this is evaporating before it reaches the ground, some drops are making it through the atmosphere and to the surface.
Reports of light sleet are coming in from where a light rain / drizzle is falling as well. Temperatures at the ground are just above freezing for a majority of the Brazos Valley -- as of the top of the hour. Upper atmosphere temperatures are below freezing, so a few light & small sleet pellets are making it to the ground. Regardless, with temperatures above freezing for many -- anything frozen that falls will melt.
That said, temperatures are trending colder, from the northwest to the southeast, as the night continues. Over the next couple of hours, the Northern and Central Brazos Valley should expect to see temperatures drop to or below 32°.
_______________________________________________
11pm Update
Latest PinPoint Radar showing possible rain parts of the Brazos Valley. As mentioned in updates below -- the air is very dry across the Brazos Valley. Most of what is showing up on the radar screen is evaporating before it reaches the ground.
That said, where green is showing up is more likely to actually find a light drizzle / rain falling. That area stretches from Madisonville, to Bryan / College Station, to Caldwell, to just north of Giddings. A touch of light sleet was reported, briefly, in Centerville as well.
As we kick start Tuesday morning, we'll be on the look out for any patchy areas of sleet that could materialize. That will set the possibility of a few tricky travel spots. The absolute given to this forecast will be the very cold start to the day -- temperatures are expected to drop into the 20s, with wind chills in the teens for many.
_____________________________________
9:30pm Update
Radar returns are trying to pick up as a batch up upper-level energy nears the Brazos Valley.
While there is a decent amount of activity on PinPoint Radar, reports from out west have indicated that most of this activity is evaporating -- aka not reaching the ground.
Dry air is sitting in the lower levels of the atmosphere. As rain falls in the upper-levels it is hitting that dry air and disappearing. That said, as that rain evaporates, it helps saturate that drier air here at the surface. If that upper-level rain can hold together long enough, it should saturate the air above enough to create a rain / freezing rain / sleet mix overnight.
Freezing temperatures are not expected until around 3am to 4am for the Northern and Central Brazos Valley.
_____________________________________
8:30pm Update
Returns are starting to show up on PinPoint Radar along the southern Brazos Valley.
Reports from weather watchers between Somerville & Brenham -- in Washington County -- report decent raindrops falling (in liquid form).
We'll continue with a chance for areas of sleet by the early morning hours of Tuesday. Here's an outline of 5am to 7pm.
The main concern continues to be the morning commute, should sleet and snow mix in across parts of the area.

_____________________________________________
6:00PM Monday Evening Update
College Station ISD will open at 10:00 a.m Tuesday due to the forecasted weather conditions. For the lates on the school closing be sure to check out KBTX.com/closings.
At this time the models are pointing towards a weaker winter weather event compared to Friday. There is still the potential for winter precipitation but just not quite as much as Friday morning's event. Our southern counties have the potential to see the most accumulation. Regardless, everyone needs to be careful on the morning commute given the weather conditions.
5:00PM Monday Afternoon Update
Winds are continuing to gust in from the north allowing for temperatures to feel significantly cooler. Wind chills will come into play this evening as lows dip into the upper 20s. There is a slight chance for precipitation early Tuesday morning leading into the potential for a sleet/freezing rain mix.
3:00PM Monday Afternoon Update
Caldwell, Somerville and Leon ISD will open at 10:00 a.m. Tuesday because of the sleet/snow in the forecast. Huntsville ISD will be closed all day Tuesday due to the inclement weather. Click here for the latest closings/delays.
2:30PM Monday Afternoon Update
A WINTER STORM WARNING has been issued for the following counties: Brazos, Burleson, Grimes, Montgomery, San Jacinto, Walker, Waller, and Washington counties from 3AM through 6PM Tuesday.
As the afternoon model runs start to come out it is looking more and more like the event will primarily be taking place early Tuesday morning. Some models are trending slightly warmer keeping lows right near freezing rather than in the upper 20s. The main problem will be bridges and overpasses on Tuesday morning. As the system continues to approach Southeast Texas we will know more.
Round Two of Winter Weather
It has only been 3 days since our last winter weather event but another cold snap is already headed our way. Models are currently suggesting the potential for winter precipitation tonight into tomorrow morning. The situation is very comparable to what took place last week. A freezing rain/sleet mix will have the potential to pick up after midnight and possibly switch over to a snow/sleet mix before a switching back to a freezing rain/sleet mix.
Issues that Could Arise
Should wintry precipitation manage to fall across the area, the concern would lie with:
-- area bridges and overpasses
-- area stop lights / intersections
We'll have to watch surface streets carefully -- ground temperatures are currently 20° above freezing. Any icy weather that falls should melt initially, but could accumulate should it fall long enough.
Our sleet / snow chance should pass by Tuesday afternoon.
That said, please take caution on the roadways when you head out tomorrow.
What is a Winter Storm Watch?
Different parts of Texas and the United States fall under different criteria when it comes to the National Weather Service issuing a WINTER STORM WATCH or WARNING.
For Southeast Texas, that criteria is:
-- 2" of Snow or Sleet
-- 1/8" accumulated Freezing Rain
The current watch in place is there because the potential exists that those accumulations could occur tonight into tomorrow. As we move closer to Tuesday morning, we could find that watch upgraded to a "warning" (meaning that the chance is good for such accumulation) or downgraded to an "advisory" (meaning that only minor accumulations of icy weather is expected).
More on what Winter Weather Advisories mean for the Brazos Valley can be found here.
Running updates will be added to the top of this story as the event unfolds.