Brazos Valley This Morning's Barbara Smith and Steve Fullhart often have quite the discussions on a variety of topics. A lot of times, it's via e-mail. Now, they're giving KBTX.com readers a look at their regular back and forth in their blog series, appropriately titled "Back & Forth". Read what they've been chatting about, and chime in with your opinions!
STEVE: So all the new fall TV shows are about to roll out. I think I know the answer, but what's your favorite TV show ever?
---
BARBARA: Favorite...EVER??? That would be the Carol Burnett Show. You might have been thinking Seinfeld, which is a very close runner-up.
As a child, I can remember when the Carol Burnett Show moved its time slot to 9pm...past my bedtime. I begged to be able to stay up and watch it anyway. Mom and I had a deal: as long as I was completely ready for bed before it started and went straight to bed when it was over, I could stay up late. I remember watching the show, holding my pillow as though to prove my readiness to sleep immediately after the credits rolled. Carol would sing, tug on her ear, say goodnight, and I would turn around with my own goodnights and run to bed. I was not going to do anything to jeopardize my chances of seeing the show the following week.

And yes, I now own the DVD collection.

Whenever I get one of those questionnaires that asks which famous person I'd want to meet, I always answer, "Carol Burnett." She was such a huge part of my childhood. I often wondered what I would ask her if I had ever been in the audience when she would bump up the lights. I realized, though, that I wouldn't have asked anything. I would have just stuttered and stammered and giggled with excitement that she was actually talking to me!!! Granted, I was just a kid, but I'm not sure I wouldn't do the same thing today!

My cousin got to meet her a few years ago and sent me a picture of the two of them together. While I was quite excited for my cousin to have that opportunity, as she, too, is a great fan. I was soooo jealous!

Alright...that's out of my system. Probably a lot more information than you wanted.

And now, your turn.
---
STEVE: Thank you, Homer, for that Odyssey ;-)

I was always a Nick at Nike viewer growing up, so despite my age, I Love Lucy and Dick Van Dyke and Mary Tyler Moore were always big favorites. Plus, all the Nickelodeon shows from my childhood were great. But all-time, I'd have to say 24. It was such a groundbreaking show: the presentation, the real-time concept, the plot twists. Dare I say, the way dramas are done on TV changed because of that show.

I'd like to think I don't get star-struck meeting big names (they're just people), but Kiefer Sutherland is one of three people that I know I'd have a Babs-Burnett exchange with. While ratings were never consistently huge for the show, most everyone in America knows about Jack Bauer. The character came along at a time (post 9/11) when the country needed a no-nonsense hero, fictional or non-fictional. Plus, the show put the issue of torture on the table, forcing people to think about how much is too much, or if there even is a "too much" when it comes to getting information that could save lives.

Yes, I was thinking about Seinfeld with you. Never got into the show about nothing because...well...it was a show about nothing. That being said, we're both hooked on Wipeout!
---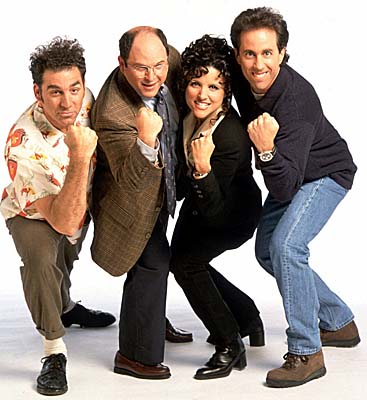 BARBARA: I do love Wipeout, but I'll never understand how you avoided being hooked by Seinfeld.

Sure, it's about nothing, but such wonderfully hillarious nothing! The banter was fantastic. For as much as you enjoy quippy banter, I would have thought it would be right up your alley. Have you ever thought about TRYING to watch the re-runs? There are so many Seinfeld episodes that are now a part of my family's vocabulary. I actually gave Josh a Festivus (for the rest of us) pole one year for Christmas. We've used it on more than one occasion for the airing of grievances. I really do think you should give it another chance. If not, you'll never know why you shouldn't take advice over the phone from a woman named Donna Chang, or how to avoid a low talker or a high talker or a close talker, or manhands. You'll miss out on knowing the likes of Putty, Papi and the Soup Nazi. And you'll never fully grasp an age-old question: is it a Manzier or a Bro?

I could go on with many more examples of why I love that show, but it probably still wouldn't change your mind. No more than your countless references to Family Guy episodes have changed my mind about that show.
---
STEVE: And I'm shocked that you've rarely laughed at a Family Guy clip I've shown you. The Maude theme song may have been the only time. It's ridiculous content and lots of pop culture. Kool-Aid Man busting through the courtroom wall...the ipecac competition..."It's gonna rain!"...anything with Mayor Adam West..."Reagan smash!"...Cool Whip. In a college journalism class, we watched the episode where Meg (the daughter) got an internship at the local TV station. That might be the first full episode I'd have you watch.

So if I have to watch one Seinfeld episode, which would it be? Oh, by the way, I've met the real Soup Nazi...refused to have his picture taken.
---
BARBARA: Of course the Soup Nazi refused to have his picture taken. He's the Soup Nazi.
As for which episode I'd have you watch, I have no idea where to begin. There are so many classics. Some of which I probably shouldn't mention here (keeping it kid friendly, and some of the subject matter is...well...not so much). Let's just say I truly believe if you gave Seinfeld a chance, I think you'd love it.
But please, stop trying to get me to watch Family Guy. It's just not going to happen.
So what's your favorite TV show ever?
Let us know by leaving a comment below.