(12:44) Isolated showers are trying to develop along the cold front in Burleson County northwest of Caldwell on Hwy. 21. As the front continues to push south, chances for showers and storms begins to diminish. That being said, as the upper level trough that this cold front is associated with swings through the state, a broken line of elevated showers and storms has formed west and through the DFW area. That is a possibility here as well through the later afternoon, with the severe risk being very slim, but could still find some strong, gusty winds and pea sized hail.
(10:12am) Wind shift (boundary between our warm, moist air mass and drier, cooler air) just northwest of Milam County pushing southeast. At this rate, looks like our front has picked up speed a bit and could intersect a line from Centerville to Bryan/College Station to south of Giddings around noon. Currently only a weak line of light rain with one lone severe storm at the south end of the front north of San Antonio. An earlier arrival time means less of a chance of rain/storms and bit more of a cool down and less clouds heading into the afternoon hours. That being said, keeping a close eye on this front.
-------------------------------------------------------------------------------------------
**Wednesday Morning Update**
Changes are on the way! Another warm and stuffy morning on hand as we await the arrival of our latest cold front currently (at 8am) situated from Dallas/Ft. Worth down into the Western Hill Country. There is some sunshine making an appearance through the clouds this morning, which...if it can hold on long enough...could take the lid off the atmosphere and allow for shower and thunderstorm activity as this cold front pushes through. That being said, it seems like the better moisture axis has been pushed east with still a bit of a dry, warm layer in the upper atmosphere, which on the other end of that spectrum could hinder thunderstorm activity.
So here's what we have: a 50% chance for a broken line of showers and thunderstorms to move through this afternoon and early evening. Broken line meaning some of us will get wet but not all of us. In fact the Pinpoint Forecast (to the right) is not too excited about our chances this afternoon, but does paint a small chance in.
Should showers and storms become well established today, there is a small chance one or two could become severe. (Storm Predicition Center slight risk area outlined in green to the left). Chances for rain are not the greatest, which in turn means the chance for severe weather not great either...but small chance does not mean no chance. Main threat: large hail, strong winds and cloud-to-ground lightning.
Best way to track the front through the day? Watch the dewpoint map. Notice areas ahead of the front remain with healthy dewpoints while behind the front sunny, cooler and drier weather is found. Right along that line where the airmasses are clashing...that is where thunderstorms and rain will be most likely to form.
--------------------------------------------------------------------------------------------------------------------------------
Classic spring weather across the Brazos Valley over the past couple of days...just not the "spring" stuff we love to get outside and enjoy. Muggy, stuffy, humid, walking into a wet paper bag, even "what it would feel like to live in a sock"...anyway you want to describe it, that's what it has been as we've started this week.
But that is about to change.
An upper-level trough is pushing across the Rockies this Tuesday morning and will be dragging a cold front into the Panhandle by the end of today. As we head towards Wednesday afternoon and evening, that front will be knocking on our door bringing with it a chance of showers and possibly even a thunderstorm or two. Not a bad thing either. There are plenty of folks out there who would love some rain on their newly planted gardens and lawns. Not to mention everyone who has a sniffly nose or a dusting of yellow on the car from all the oak pollen flying around with the breezy conditions as of late. If we get rain, it should help both of those problems out...at least for a short period.
So what are the chances? Well, honestly, not the greatest. As our front pushes through, there is a
chance that a broken line of showers and storms should blow through our backyard with it. However, the best dynamics with this system will remain well north of the area, leaving North East Texas, the Arklatex and points north and east with a better chance of precipitation. Dew points (a measure of how much moisture is in the air) are in the 60s across the area, which when slammed into by cooler and drier air along the front, should be enough to give us that small chance of scattered activity.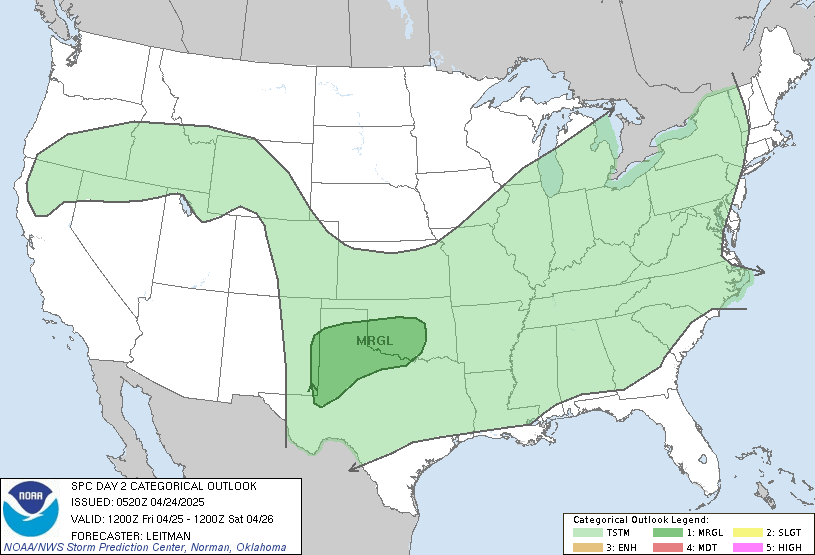 The Storm Prediction Center has the Brazos Valley and Southeast Texas under a "slight risk" for strong to severe storms late Wednesday. If a storm or two can materialize and root itself into some of these rich dew points, its not out of the question to see the possibility of large hail and strong, gusty winds...however, at this point that outcome doesn't look very likely considering confidence isn't high for the actual rain / storms to form. As always, we'll be watching in case anything tries to get a bit out of control tomorrow afternoon and early evening. Check back Wednesday as we nail down the timing and potential for this next cold front.
Until then, try not to let this pollen keep you down too much!