It is hard to escape the heartbreaking images and video coming out of the Southeast US over the past couple of days -- from the incredible video of a tornado ripping right through Tuscaloosa, Alabama to the unreal damage that is left over 5 states. Over two days, Tuesday and Wednesday, high risk areas were placed from Texas to Alabama -- and for good reason. In fact, Wednesday's tornado / severe weather outbreak will go down as the worst since 1974. Here are the storm reports from the Storm Prediction Center over those two days:
April 26th, 2011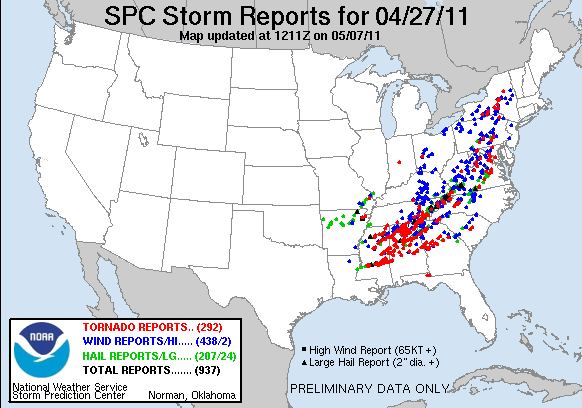 April 27th, 2011
If you have the time, below is just a couple of videos that I have seen over the past couple of days that can only begin to draw together the picture of what folks from Mississippi to the East Coast are dealing with in these days after Wednesday's severe weather outbreak.
4-27-11 Tornado Tuscaloosa, Al from Crimson Tide Productions on Vimeo.