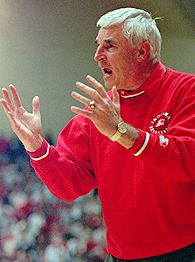 My Bob Knight blog quota will expire after this one, but when I was talking with Darryl last night about some experiences with the now-retired coach, he told me I had a blog on my hands. So here goes...
"All of us learn to write in second grade. Most of us go on to greater things." -Bob Knight
Why do I have such fond feelings for a guy that once called my profession a step or two above prostitution? I didn't always, that's for sure.
When I was a little one, I sat in the second row at famed Hinkle Fieldhouse (see: arena for the championship game in the movie "Hoosiers"; also, the real-life site of Indiana high school basketball championship games for decades). I watched as little Butler University upset the fifth-ranked Hoosiers and made Knight quite angry. I sat atop my aunt's shoulders as she, a Butler alum, ran us onto the court to celebrate (see: "Hoosiers"...you're a fool if you haven't).
I hated Indiana University basketball and their leader. The diploma that hangs next to me as I type this shows things change.
In three decades as IU's coach, Bob Knight donated an estimated $7 million to the school's library, one of the biggest in the nation. I lived in the dorm next to that library, spent many an hour in there, as did his student-athletes (note the order of those two words). Those who stuck with him (no coach is perfect for everyone) graduated...98%, in fact. Who in this day in age can claim that rate as a coach in Division 1?
That's not what he's remembered for by most. He is, at times, a brash, loud-mouth, angry ogre. Those who like the guy can neither dispute that claim, nor that he would cross lines a few times too often. He was a drill sergeant in a red sweater, but if you didn't want to be in his army or put forth the effort for that army, you could get out and let another sneaker-laced dreamer hit the court for The General. I don't believe he held it against anyone who didn't want to play for him.
The second time I saw Coach in person, I liked him, but he was leaving Bloomington (see photo on the left). Some 8,000 students packed Dunn Meadow near the student union and listened as Knight bid the Hoosiers farewell. A couple years later, he returned to Bloomington to sign copies of his biography. My friend had a press pass for the student newspaper, and I snuck onto press row with him, standing feet from Knight, a near-prostitute in the making watching a legend scribble his name.
I never got to see Knight coach as a fan of his work. I tried to get to Reed Arena for an A&M-Tech game, but work wouldn't allow it. Even the time I had a press pass, I was called to work on another topic. I now regret not getting there immensely.
He doesn't know me or of me, but he made my education better, and he gave me an example of how to lead...and how not to, at times. Thank you, Coach.
"Mental toughness is to physical as four is to one." -Bob Knight