I make it a point to tune into the Kentucky Derby every year. I've been to the tracks a handful of times, but by no means am I a racing enthusiast. I don't know the horse's stories until the day of the race (save for Don Adam's horse, Adriano, this year).
Unfortunately, this year was one I and many won't soon (or ever) forget. Eight Belles' collapse as she slowed her stride following the race was tragedy that trumped the triumph of the derby. Two ankle breaks meant she had to die on the track she had just finished second on.
In the wake of the race, there's a lot that's been said, some of which I whole-heartedly agree with, some of which I disagree with.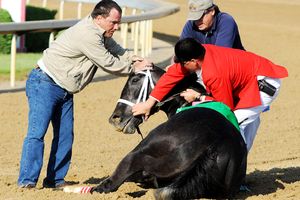 - "Eight Belles was a filly, and shouldn't have been running against the boys." - Disagree. It's the first time a filly ran at the KD since 1999. She finished second. She belonged. The accident happened after the race, and it was a freak accident to boot.
- "The surface of the track should be changed to be safer." - Eh. The vet at the derby said he'd never seen anything like what happened to Eight Belles' ankles. ESPN analyst Randy Moss said it was the greatest tragedy in Derby history. I've never heard of a horse being put down on any Triple Crown race track ever. And if horses were dying on the track at a fast rate, then I would hope I would have heard about it by now. But I guess if the quality of the racing could be maintained, sure, change the track. They can't race on Nerf Turf, though.
- "Horse racing is cruel and should be outlawed." - Disagree. If animals are being abused, it should be stopped, but everything I read from those who study, work with and train the animals say it's natural for them to run. Seems logical. What I have read is that young horses shouldn't be racing because their bones are still developing. I can agree there if expert vets back that up en masse. But again, if there are horror stories about elite horse racing, I haven't heard them. Doesn't mean there aren't any. I've heard a lot more about the circus.
- "NBC Sports coverage of Eight Belles' death was abismal." - Agree. I was pretty darn upset by how they handled it. Live television is a very fluid medium, and an out-of-nowhere twist to the story surely caught them off guard as it did the viewing public. It's not like I won't watch NBC Sports' coverage again (like some have said), but they didn't do well here. I remember their coverage of Barbaro's tragic stumble being very good. That horse didn't even finish his race. Eight Belles finished second, then had to die on the track, not months later like Barbaro. Yet 90 percent of what we saw was Big Brown's victory. They should have balanced their coverage much better. I didn't need to see such massive amounts of cheering when an animal athlete just died.
- "NBC shouldn't have shown the horse's body." - Disagree. They had one live shot of the downed horse, and it was a very long shot, not a close up. Kudos to the director for that. The next time they cut to that area live, trailers and ambulances had the body surrounded so it couldn't be seen. I believe there was only one replay of the horse going down. As far as what they showed, I'm fine with it. You can't cover the story on television without showing something. Barbaro's tumble was replayed over and over again, but no one complained that I remember. For some reason, there was an outcry of outrage on a number of message boards of showing Eight Belles. I wasn't offended.
So what are your thoughts on any of the above? Am I off base or on target? I would imagine there's strong emotion on both sides.