Check out pictures from Ladies Nite in our Eye on You section. If you went, feel free to upload your (appropriate) photos.
I called Dena Gaskin over at the B/CS Chamber of Commerce early Friday on a topic related to Ladies Nite that evening, and she said there had been a great number of people who had called the Chamber asking for tickets just to see what my outfit was going to be all about.
It's nice of Dena to have said that, and even after pressing her on the legitimacy of that bold statement, she maintained it was absolutely true. That's sad, folks. I know Barbara and I have been talking about it a lot for a week-and-a-half, but if you came just for me...how can I say this nicely? You have problems.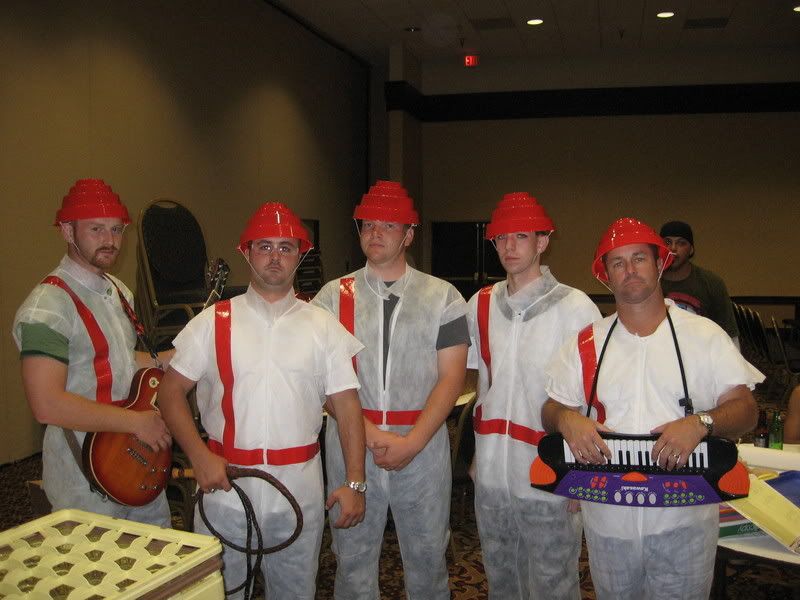 Regardless of why you went, hopefully you had a good time. As much as I made a big deal about the possible embarrassment, it lasted less than two minutes (at least for me). If you don't know, our photographer, Jordan, and I performed in Devo. "Whip It" was our song of choice, and we got a much bigger reaction than I expected. Plus, Prince, Carnac the Magnificent, New Kids on the Block (Jordan was in that as well) and the Chippendales' SNL skit were also center stage and got good reactions. There were probably north of 400 folks in attendance at the Hilton.
Folks, it's a night to loosen up, make new friends, strengthen current friendships, and hopefully not lose your belongings :-(. If you missed it, ladies, don't pass up the chance next year. Support your chamber and have a good time...and see a few guys act like complete fools.
Here's a list of the gents who took part in the entertainment portion of the program. Big ups to them for doing a great job.
Prince: Eric Wylie (Wells Fargo)
Devo: Tap Bentz (Outback Steakhouse), me, Shanon Martin (Wells Fargo), Jordan Meserole (KBTX Media), Josh Ortiz (Ambrose Furniture Works)
Carnac the Magnificent: Ben Downs (Bryan Broadcasting), Royce Hickman (B/CS Chamber)
New Kids on the Block: Chad Jones (Galvez & Jones Personal Injury Firm), Chris LeBlanc (Atmos Energy), Jordan Meserole, Antonio Ortiz (Agnitek), John Seigler (Brazos Valley Communications)
SNL Chippendale's Skit: Mike Connor (BTU), Charlie Lima (Train with Charlie), Josh Ortiz, Jason Pratt (College Station ISD)
Cheoreography by Wachovia Securities' Jarrod Hix, who somehow dealt with us.