<b>Afternoon Update</b>
A <b>SEVERE THUNDERSTORM WATCH</b> has been issued for Milam, Robertson and Leon Counties until 5pm this evening. Should a severe thunderstorm form (which most likely would occur late afternoon / early evening) strong, damaging winds are the main concerned along with the possibility of brief large hail.
_____________________________________________________________
Did you forget what humidity really feels like during the summer here in the Brazos Valley? If you did, a reminder smacked you in the face on Monday as heat index values ran between 104° and 106° by the late afternoon hours.
While it will be a few degrees cooler today (looking for highs around 95° this afternoon) -- those heat indicies are really our main concern from this point on. In fact, it could feel as hot as 101° to 103° yet again this afternoon. Here is an updated look at your temperature vs. anticipated heat index time line for the rest of this Tuesday:
Storms May Fire Up
Our early forecasts, including this morning's, held a 20% chance of a few showers and thunderstorms for today. Looking over the latest data and monitoring recent trends across the region, it looks like bringing that chance to a 30% won't be a far fetched move for this afternoon.
A SEVERE THUNDERSTORM WATCH has been placed through 5pm for much of North Texas,
which is in addition to the watch already in progress across far Southeast Texas and Southern Louisiana. Our northern watch box is in anticipation of a disturbance moving towards North Texas for the afternoon and the watch to our east is due to a complex of storms that are ongoing from activity that popped up to our north and west yesterday afternoon and evening. With both of these areas of activity in the neighborhood, that could be what the atmosphere needs to "lift" showers and thunderstorms over the Brazos Valley this afternoon (in fact we already have a few ongoing scattered showers in our eastern counties due to the complex moving south through Louisiana).
While our atmopshere is relatively un-capped (meaning there is more "positive" energy to build storms and hardly any "negative" energy that works against storm development), heavy cloud cover looks to be a hindering factor for thunderstorm coverage today. Don't get me wrong, that's not to say we can't find some rain in the area, but without that sunshine reaching the ground to fully de-stabilize the atmosphere and heat us up quickly, our rain chances will be limited if we were only focused on producing storms via daytime heating. Below is a look at your "negative energy" CIN (noted in the color shaded regions) along with your "positive energy" CAPE. (Red circles -- higher numbers indicate a more unstable atmosphere)

Slight Risk of Severe Weather
The Storm Prediction Center has place much of Texas, including all of the Brazos Valley, under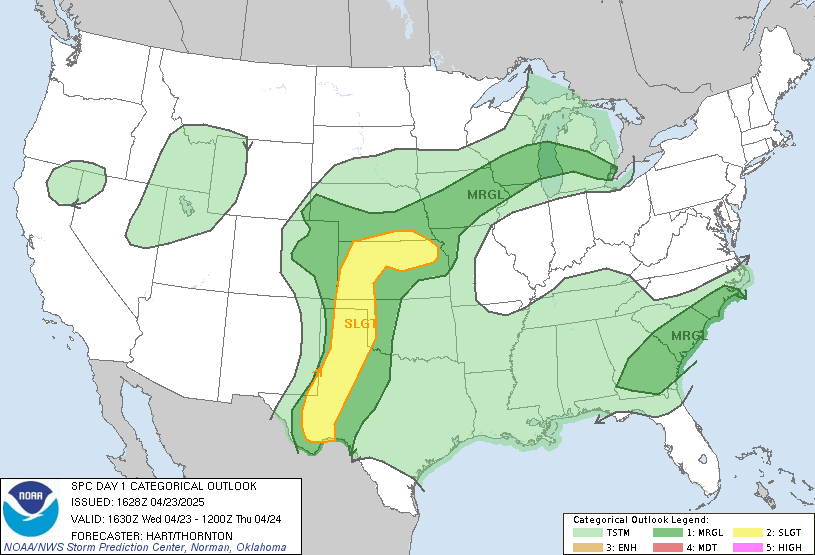 a SLIGHT RISK for severe weather later this afternoon and evening. Since the rain chance is only at a 30% shot, the severe threat isn't large -- however, it still remains.
Should a thunderstorm really fire up with the heat of the afternoon (convective temperatures look to sit around 92° to 93° today), a few may intensify enough to bring gusty, damaging wind possibly (main threat) and even a large hail threat (roughly between nickel and quarter sized hail). Many folks will stay completely dry today -- but those that do find some rain in their backyard could experience a brief patch of rough weather.
You can track the radar and monitor any afternoon development on our Interactive PinPoint Radar through out the day and of course by following @KBTXWeather, @KBTXShel, @KBTXKailey & @KBTXBob on Twitter.