More of a Spring-like weekend, rather than one typically found in October -- although, not out of the question by any means.
Saturday evening quickly escalated and became interesting as a strong storm in Lee County turned into a tornadic storm. The Austin / San Antonio National Weather Service issued the first tornado warning at 6:40pm for Lee County (where a tornado was spotted briefly on the ground in near Lexington), followed by a separate warning issued for Burleson County -- including Caldwell -- as the storm continued on it's east to northeast path.
Below are a few radar images captured with RadarScope (available in the Google Play and iTunes Store) as the tornado warning was at it's peak in Lee County.
The Outcome
Thanks to our friends with the Chaos Storm Team, KBTX brought you the video below a few hours after the touch down between Lexington and Lincoln. The tornado wasn't on the ground for very long -- in fact, chasers with Chaos Storm Team estimated it on the ground for around 20 seconds.
The good news is that only one property saw damage from this brief tornado -- and even better news is that the Rexroat family wasn't home as this tornadic storm barreled down on their property. News 3 Reporter Stephanie Ando had an opportunity to catch up with them on Sunday to see just how extensive the damage was.
Other Reported Tornadoes in Burleson County
The official Storm Report from the Storm Prediction Center also has a rain-wrapped tornado being reported into Texas DPS about 4 miles to the west of Caldwell. By 7:45 when the tornado warning was set to expire, while there was still a bit of an inflow notch on the storm, rotating winds were not as defined on radar and the warning was allowed to expire on schedule. A quick look around Caldwell showed most everything in place and unharmed as it should be after the storm passed through town.
Official Storm Report from Saturday, October 13th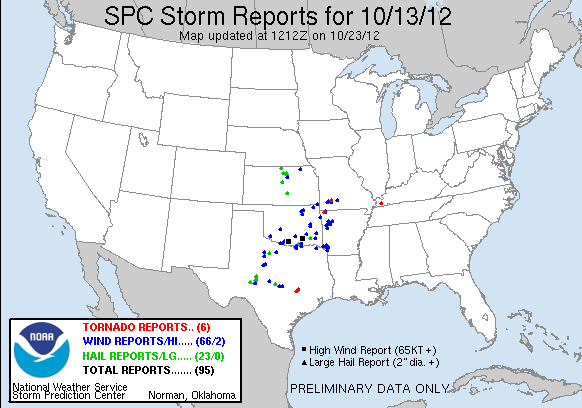 Rain Totals
Saturday was just a start to more rain and thunderstorms that moved through the area this weekend. After another line of storms pushed in (noisy for some) during the pre-dawn hours of Sunday morning, decent rain totals were reported in across the Brazos Valley.
Bryan / College Station (Easterwood Airport): 1.16"
Kurten: 0.70"
Benchley: 0.30"
Brenham: 1.29"
Caldwell: 1.81"
Hearne: 1.01"
Huntsville: 0.55"
FM 391 in Robertson County: 0.80"