Boy, howdy. Hope you were looking for rain, because we picked up quite a bit of it on Tuesday afternoon / evening. For the most part, everyone picked up at least a few tenths of an inch in the Brazos Valley, with the exception of Washington, Austin and Waller Counties.
With that rain, however, we had to take some of the rough stuff as well. As the event unfolded and severe thunderstorms warnings were issued from the National Weather Service, a slew of reports and pictures came in from Weather Watchers with branches and small trees knocked down. A wind gust of 58mph was reported about 1.6miles north of Cameron shortly before 6pm last night and a few pictures came into our inbox of a barn roof that was partially blown off in Milano. After the storms quickly fell apart, and what damage happened was done, everything quieted down with a full rainbow forming for some and for others a good look at a double rainbow. Below are some of the pictures that came in yesterday afternoon / evening:
As for rain totals -- the normal for most of us was between 0.5" and 2". That however, wasn't the case in Leon County near Centerville. Our Weather Watcher there reported in with rain starting to fall around 3pm and not stopping until around 6:30pm leaving an astonishing 6.33" of rain behind! Here are some of the other totals in the area:
Bryan / College Station (Easterwood Airport): 0.50"
Bryan (Austin's Colony): 1.50"
South College Station: 1.19"
College Station (Near the Mall) 2.00"
4 miles from Hearne (on FM 391): 2.00"
Kurten: 1.60"
Madisonville: 1.75"
Carlos: 0.70"
Benchley: 2.83"
North Zulch: 2.10"
Caldwell: 1.86"
Another Round of Storms Today?
If you ask our PinPoint forecast...not really. That being said, it's possible.
All that rain yesterday did a great job of stabilizing an "angry" atmosphere. This morning, instability is no where near as high as where we were sitting yesterday with CAPE values only running around 1500 to 2000 J/kg versus the 4000 to 45000 J/kg we had overhead on Tuesday. Clouds have hung tough this morning as well, which will keep the sun from de-stabilizing us for a while (which isn't a bad thing by any means -- sunshine plus a soggy ground would equal out to one steamy, muggy day).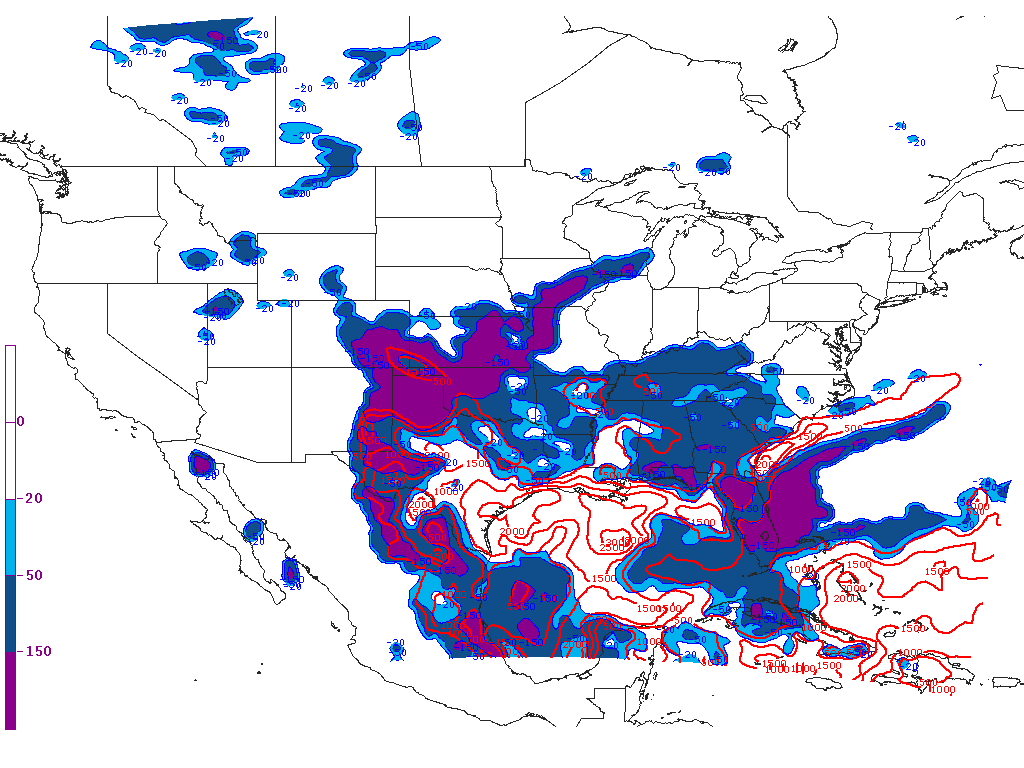 So why a rain chance of 20% to 30%? A ridge of high pressure is sitting over far West Texas and Northern Mexico which is allowing another disturbance, that started in the Panhandle, to roll around the edge of it and move towards Southeast Texas. The complex of showers and embedded thunderstorms that was associated with this disturbance this morning have all but fallen apart...for now. Should we get a bit of sunshine and destabilization later this afternoon mixed with this disturbance in the area, it could pop up a few more scattered showers and thunderstorms. Granted the threat isn't near as large as it was on Tuesday, but should a storm really grab hold and go today, we could be faced with the slight chance of an isolated strong wind gust or two.