Written by PinPoint Weather Intern Andrew Cook
We are all painfully aware of the dangers associated with destructive systems such as tornadoes and hurricanes, but there are other severe weather events that have more fatalities on average than both tornadoes and hurricanes.
Flash Flooding
Often one of the most overlooked severe weather event is flash flooding. Though less exciting than tornadoes and quieter than hurricanes, flooding causes more fatalities annually than both. Over 50% of these deaths occur when someone is trying to cross a submerged roadway in their vehicle, then becoming trapped as their vehicle floats away. Studies
show that it only takes 2-3 feet of water to float most vehicles, and only a foot of moving water to sweep a person off of their feet. Flash flooding is the most dangerous of flooding events because it comes on much more quickly than large flooding events and affects areas that are not usually subject to flooding. The most highly affected areas for flash flooding include urban areas and small creeks. These areas can handle a smaller amount of rainwater, so when large storms pass over dropping several inches of rain in a short time creeks tend to overflow their banks and storm drains in cities tend to clog with debris, leading to flooding.
Turn Around Don't Drown
When approaching a flooded area it is easy to assume that the water is only a few inches deep, but the actual depth of the water is not discernible from the surface, so it is extremely dangerous to
cross over no matter how much time would be saved in crossing. The best option, to avoid KBTX from filming you being plucked from your new car/boat, is to find an alternative route to your destination, and then to call the local non-emergency line and alert the authorities to the problem. Though it is an inconvenience, your family and your insurance company will be grateful to you for the detour.
Lightning
Though beautiful, lightning is also extremely dangerous and annually kills more people than hurricanes. Lightning is formed after a charge imbalance develops between the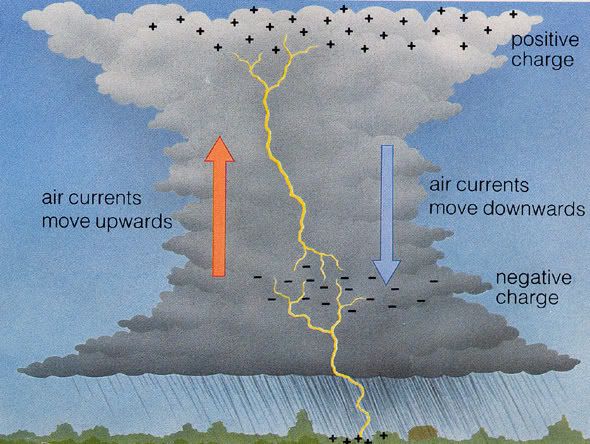 cloud and the ground. This imbalance is due to the knocking together of ice crystals in the cloud forming an overall negative charge on the base of the cloud and a positive charge at the top of the cloud. This negative charge at the base of the cloud pulls positive charges up on the ground surface. When enough charge has built up an electric current forms to connect the positive and negative charges, thus creating lightning. Lightning has been measured to approach 53,540 degrees Fahrenheit, which is pretty hot especially when compared to the surface of the sun, which is at a balmy 10,340 degrees Fahrenheit.
Lightning Safety
When thunder roars go indoors, is a cute phrase coined by the National Weather Service and it definitely speaks the truth. Lightning is able to strike from upwards of 10 miles away, so a way to know when to head inside is the 30 second rule. When you seen lightning, count 30 seconds,
and if you hear the thunder before 30 seconds is up head inside. Also, contrary to popular belief lighting does not always strike the tallest object nearby, instead lighting strikes wherever the path of least resistance connects, which may be the antenna of a cell tower or the tree next to it, so even if you are surrounded by taller objects you are still not in the clear. The best place to be during a lightning storm is in a building, but if caught outside head inside a vehicle with all of the windows and doors closed. If no shelter is nearby at all make yourself as low to the ground as possible, though you may get wet it is better than being chicken fried!
For more information on all severe weather and preparedness tips go to the National Weather Service Severe Weather Awareness page by following the link below: