Today's Weather Blog written by our PinPoint Weather Intern Max Crawford
High Pressure
You know that "3:30" feeling? No, I'm not talking about feeling groggy, or needing an afternoon pick-me-up. I'm talking about the second you step outside your house or office, and the afternoon heat seems to just envelope you. The air feels heavy and dense, and you can't wait to get back inside and cool down in the AC. That's an all too common feeling for this time of year in the Brazos Valley, as August is just around the corner, and it certainly feels like it. In the summer months, the jetstream that tends to dip down and bring us our thunderstorms and cooler air very rarely makes it down into our part of the country. Instead, what we're stuck with most of the time is plenty of heat, and a possible chance for relief with an afternoon shower or thunderstorm. You can attribute much of these weather conditions to high pressure.
In the summer, the jet stream migrates north and isn't usually a factor in Texas weather.
High pressure quite literally means that the air around you is heavier than in another area with lower relative pressure. Technically, there is "more air" around you than in said low pressure region. The atmosphere doesn't like this. In fact, it is constantly trying to 'even out' the differences in pressure, so that there can be just as much air in one place as there is in another. Because of this, air particles like to move from higher concentrations to lower concentrations. You happen to feel this air moving to regions of lower pressure all the time when you feel a breeze. In other words, wind is the action of air moving from higher pressure to lower pressure.
When there is a centered build-up of high pressure, that extra air wants to escape and move to areas of lower pressure. This causes a thing called divergence. Without getting too scientific, divergence is a general "spreading out" of air over an area. This also causes the air in a high pressure region to "sink". This is bad news for thunderstorms, which requires air coming together and rising in order to decrease in temperatures and condense to form clouds, and eventually, thunderstorms. In an area close to or right under high pressure, divergence creates little chances for rain and allows for temperatures to surge. This is one of the reasons why you can tell where a center of high pressure might be located by looking at a map of temperature, and without having to look at pressure readings!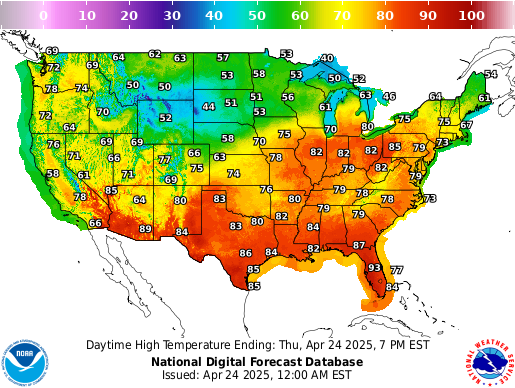 The current high affecting The Brazos Valley is centered right around the Oklahoma panhandle, which is evident from the higher temperatures in that area seen to the left.
The high was slowly building and headed toward our area last week, which allowed temperatures to slowly increase and for rain chances to decrease.
We're still expecting that high pressure center to hang around for the better part of this week, meaning at least the first few days of August will be Hot, humid, and likely without rain. As the high moves back to the north and west, you can expect rain chances to slowly return to our area as onshore flow from the Gulf plays a more prominent role in our weather.
Tropical update

The tropics have been pretty quiet thus far this year, even as experts have predicted for an "average" season in the way of named tropical storms and hurricanes. While we haven't seen much development at all for most of the month, The National Hurricane Center has noted a small disturbance just off the coast of Africa that has a chance for developing into something bigger.
This tropical wave coming from off the coast of Africa has about a 20% chance of becoming a tropical cyclone within the next 48 hours.
If you want to continue to track this tropical activity, you can log on to our Hurricane Center Page and don't forget there is still time to pick up your 2012 Hurricane Tracking Chart at Bryan / College Station H-E-B or Batteries Plus. Don't have time to run out, no worries -- you can download the same tracking chart here.
--Max Crawford