A westward moving disturbance in the Gulf of Mexico will help reignite rain chances, across the Brazos Valley, through the weekend.
Gulf Disturbance
Tuesday brought attention to the Gulf of Mexico. The National Hurricane Center pinned a 10% chance of development on a ragged area of low pressure, just south of the Upper Texas Coast.
By Wednesday, that chance was bumped up to a 20% shot and Hurricane Hunters were scheduled to fly in and investigate that rolling area of showers and thunderstorms. Once they did, an area of well-defined circulation could not be found -- so no upgrade occurred.
Shower and thunderstorm activity has been sparse around that loose area of low pressure. That said, there is the very slim chance that an upgrade to a depression could occur before it moves inland on Thursday.
Here's the latest location and satellite image from The National Hurricane Center: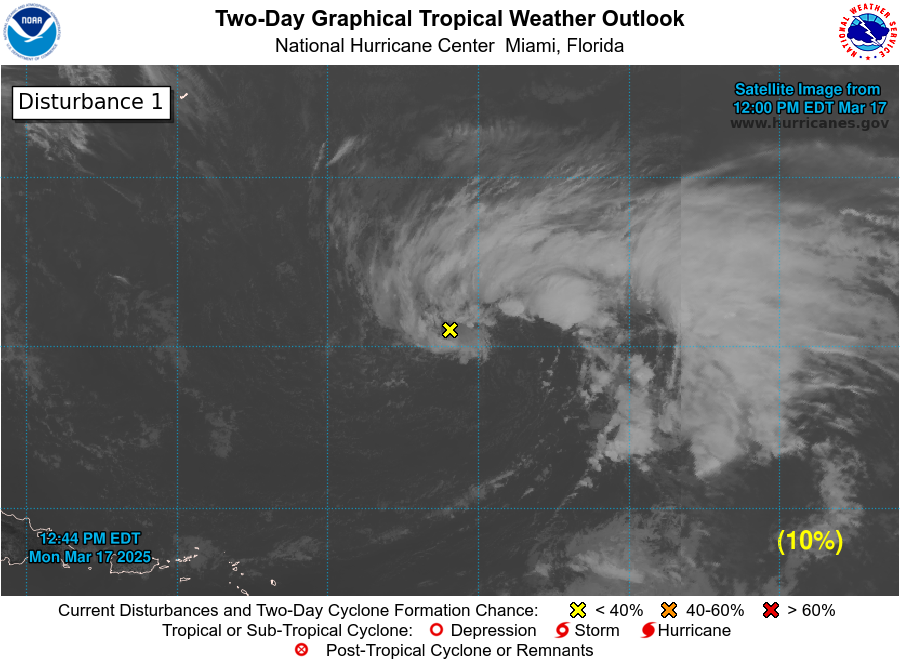 Right Side of the Low -- Literally
Even with that area of low pressure -- tropical development or not -- moving west, away from the Brazos Valley, we'll fall into a more favorable position to find rain and thunderstorms here at home.
With a counterclockwise flow around low pressure systems, the Brazos Valley will find a south to southeasterly flow back in place on Thursday.
Morning showers and thunderstorms are expected to develop over the open waters of the Gulf of Mexico and drift north towards the Upper Texas Coast. After lunch, those showers and thunderstorms should be scattered here-and-there across the Brazos Valley.
We'll call it a 30% chance of passing rain and downpours by the afternoon hours.
Will everyone find rain? No. But the chance will be there for a good soaking for about 20 to 30 minutes at a time.
Afternoon run of PinPoint "Future Radar" for Thursday:

Umbrellas Through the Weekend
If you are looking for rain and don't find it on Thursday -- or are just greedy and want ALL THE RAIN!!! -- no worries, we've got plenty of chances over the next 4 days.
Scattered showers and passing thunderstorms will be likely somewhere in the Brazos Valley each day through Sunday. The highest concentration and best chance to find rain in your backyard looks to be Saturday.
Keeping an Eye on the Gulf
Even in a season that was forecast to be, and has been, quiet -- we still need to keep an eye out for passing tropical waves.
There is a small disturbance working towards the Caribbean Wednesday night, which the National Weather Service has a 10% chance of development on over the next 5 days.
Extended computer forecast models are placing this system in the Southern Gulf / Bay of Campeche by the middle to end of next week.
Nothing to concern us at the moment -- but still worth monitoring over the weekend.