If you joined us on yesterday's blog, we talked about an upcoming cold front set to reach the Brazos Valley on Wednesday.
As we get closer, computer model solutions are starting to come into better agreement on what should happen as the front approaches followed by the cool down expected as it passes us by.
Here's the latest...
Storm Chance
The Storm Prediction Center continued with a SLIGHT RISK for severe weather across most of the Brazos Valley on Wednesday. That being said, while it is not out of the question to see a few severe thunderstorms in the area tomorrow -- should our storms actually fire up and get going -- the better bet looks to be to the northeast of the Brazos Valley.
Should a storm manage to become strong to severe, large hail and damaging winds are the main concerns that we'll be watching for through mid-afternoon Wednesday.
Storm Prediction Center Outlook - Wednesday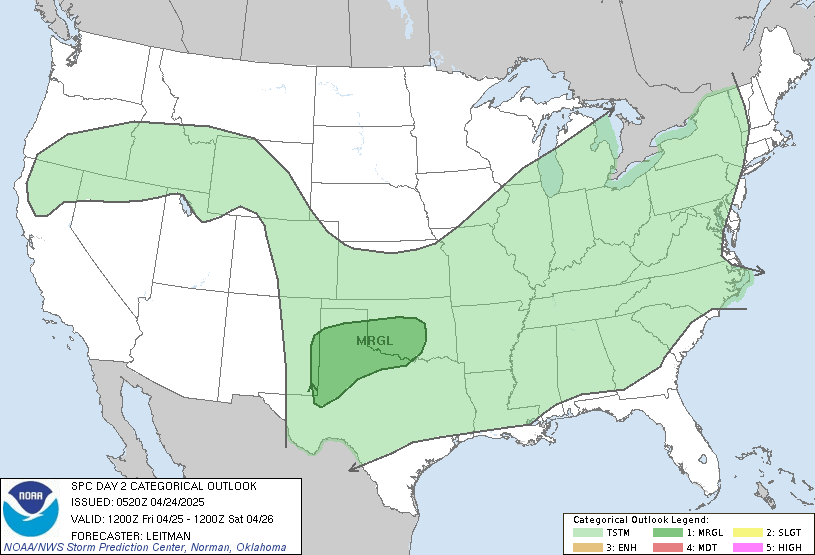 PinPoint Forecast - Morning
PinPoint Forecast - Midday
PinPoint Forecast - Afternoon
Quite the Cool Off
Once our thunderstorm chance / severe thunderstorm threat passes us by, cloudy skies and northerly winds will be left behind.
As those north winds howl through -- 15-20mph, with gusts upwards of 30mph at times -- cooler and drier air will filter into the Brazos Valley.
As it looks this morning, temperatures will start out near the 70° mark Wednesday morning ... which will be WARMER than how the afternoon will end. It looks like our northern counties could be into the upper 50s by 5pm, with most of the Brazos Valley falling between the low-to-mid 60s.
Here's a look at the PinPoint Computer Forecast for Wind and Temperatures with this cold front:
PinPoint Forecast - Morning
PinPoint Forecast - Midday
PinPoint Forecast - Evening