Click here to submit your severe weather and damage pictures.
Use #bvstorms on twitter to report weather happening in your backyard
The PinPoint Weather Team will continue monitoring showers as rain chances slowly drop off from west to east through the afternoon. A few resources that you can use to catch up on today's severe weather:
--News 3 PinPoint Interactive Radar
--Views around the Brazos Valley courtesy of our LiveEye Network
--Follow Pinpoint Weather on Twitter:
@KBTXWeather
@KBTXShel
@KBTXBob
@KBTXKailey
Wednesday Afternoon Update
Here are a few rain totals from across the area today:
--Montgomery: 2.0"
--Copperfield (Bryan): 2.5"
--Snook: 1.90"
--Lake Limestone (Leon Co.): 2.11"
Milam County
--Cameron: 2.42"
--Thorndale: 3.30"
Robertson County
--Hearne: 2.46"
--Round Prairie: 2.15"
__________________________________
11:15am Update
Severe thunderstorms have cleared the News 3 viewing area but continue just off to our east.
In regards to damage around Somerville and rumors that a tornado occured earlier this morning is NOT CONFIRMED. The Houston National Weather Service office will be sending a survey team out later this afternoon to determine if the damage there is in fact related to a brief, tornado touchdown or rather straight-lined winds like the rest of the Brazos Valley experienced.
____________________
10:33
The Tornado Watch that was previously issued for the Brazos Valley has been allowed to expire early as severe thunderstorms continue to move off to the east of the area.
Showers will be coming to an end, slowly, from west to east through the afternoon -- but until then expect light to moderate rain to continue and the occasional rumble of thunder to roll through the sky.
Since midnight, and as of the top of the hour, Bryan / College Station's official rainfall (thus far) is 1.25".
_________________________
10:20am Update
New SEVERE THUNDERSTORM WARNING in effect for Eastern Montgomery, Southeastern San Jacinto County and Eastern Trinity County until 11am.
As storms continue to move out of all three counties, 60 mph winds are still possible on the leading edge of this line of thunderstorms. Storms motion is to the northeast at 30mph.
Places to watch for impact are: Splendora, Shepherd, Corrigan and Cleveland.
___________________________
10am Update
Severe Thunderstorm Warnings continue for Austin County until 10:30am and Montgomery, San Jacinto and Eastern Trinity Counties until 10:15am. Strong damaging winds are still likely with these storms along with heavy rainfall.
Good news: Leon County has now been added to the list of those cleared early from our Tornado Watch. While most of the Brazos Valley is still under the current watch, the severe weather threat has shifted to the east -- therefore, more counties should be added to that "cleared" list soon.
Thunder, occasional lightning and light to moderate rain will continue for most this morning, but we are starting to see a clearing line (in terms of the rain) through Milam, Lee and Burleson Counties.
________________________________
9:30am Update
Great news...the Tornado Warning has expired for our viewing area. A Severe Thunderstorm Warning is still in effect for Houston, Montgomery, San Jacinto, Trinity, and Walker County until 10:15AM. We are still under a Tornado Watch until 11AM.
________________________
8:55am Update
A Tornado Warning has been issued for Montgomery, San Jacinto and Walker County through 9:15AM. A strong storm is located near New Waverly moving East at 30mph. A Severe Thunderstorm Warning is still in effect for Houston, Montgomery, San Jacinto, Trinity and Walker Counties through 9:30am.
__________________________
8:30am Update
The leading line is about to hit Huntsville. Expect high winds, heavy rain and frequent cloud to ground lightning. A Tornado Warning is still in effect for Grimes, Montgomery and Walker Counties until 8:45AM.
___________________________
8:20am Update
A Tornado Warning is still in effect for Grimes, Montgomery and Walker Counties until 8:45. A Severe Thunderstorm Warning has been extended for Grimes, Madison, Montgomery, San Jacinto, Trinity, Walker and Waller Counties through 8:45AM.
____________________________
7:45am Update
If you are unable to watch us on dish you can watch us on digital at 3.1
____________________________
7:35am Update
The Tornado Warning has been extended through 8:15AM for Brazos, Grimes, and Madison Counties.
_____________________________
7:15am Update
A Tornado Warning has been issued for Central Brazos and Eastern Burleson County Until 7:30AM. The storm is located near Snook moving northwest at 40MPH towards Wellborn, Wixon Valley, College Station and Bryan.
___________________________
6:55am Update
A Tornado Warning has been issued for Burleson and Washington Counties through 7:15AM. This storm was located 11 miles west of Lake Somerville Dam moving northeast at 50mph. There is a second storm with possible rotation located 5 miles southwest of Caldwell.
____________________________
6:35am Update
The Tornado Warning has expired in Robertson County. A Severe Thunderstorm Warning has been issued for central Lee County through 7:15AM. This line of storms has potential to produce quarter size hail and winds in excess of 60 mph.
________________________
6:20am Update
A Severe Thunderstorm Warning has been issued for Brazos, Burleson and Washington Counties through 7:15AM. This line of thunderstorms is expected to produce winds around 60mph and very heavy rain.
____________________________
6:10am Update
Tornado Warning Robertson County
DEVELOPING TORNADO 16 MILES SOUTH OF MARLIN...MOVING NORTH AT 35 MPH.
____________________________
5:55am Update
The storms are expected to bring winds greater than 40mph, frequent cloud to ground lightning, and brief moderate downpours. The Tornado Watch is still in effect allowing for the possibility of an isolated tornado through the morning. Some areas could also experience hail as the leading line passes through this morning.
Austin area is dealing with flooding this morning as the line of storms pushes through Texas. As of now Hwy 969 from Travis County to Upper Elgin River Road is reported as not passable and cannon road is under 2-3 feet of water.
____________________________
5:30am Update
A Significant Weather Advisory has been issued for Burleson County. There is a strong line of thunderstorms extending from 14 miles northwest of Caldwell to 56 miles southwest of Caldwell. The system is moving northeast at 45 mph.
____________________________
5:15am Update
The Severe Thunderstorm Warning for Milam County has expired. The strong line of storms continues to approach the area from the west. Be ready for high winds and heavy rain as the system moves in.
______________________________
4:30am Update
A SEVERE THUNDERSTORM WARNING has been issued for Milam County until 5am. Winds in excess of 60mph on the leading edge of thunderstorms moving into the county will be likely.
Expect to experience these winds in:
--Rockdale around 4:35am
--Cameron around 4:55am
Ample lightning and heavy rain can also be expected as strong continue to move to the northeast at 40mph.
_______________________________
4:00am Update
A few scattered thunderstorms have pushed in from the south around Burleson County.
Larger line of storms is now starting to knock on the door of Lee County. While the storms that will be impacting the area are not severe -- as of this time -- there are radar indications of winds between 30mph to 55mph on the leading edge of these storms. For Lee County (From Lexington to Giddings): expect gusty winds to move in soon followed by heavy rain & lightning.
____________________________
2:45am
We are monitoring two areas of thunderstorms this morning. The first extends from San Antonio to Austin and right up along the I-35 corridor. Small hail, ample lightning and heavy rain is associated with these storms.
Heavy rainfall while this storm cluster was over San Antonio prompted a Flash Flood Warning for Bexar County -- with multiple news stations reporting some water rescues and city streets being blocked due to flooding.
Another area of storms (the main batch that once it passes the Brazos Valley will significantly decrease our rain chances) is farther to the west in a line from Mineral Wells to Uvalde and points south. A few severe thunderstorm warnings have had to be issued over the past several hours due to strong winds with bowing segments in the storm.
Concerning the Brazos Valley -- storms could very well start to move into our far western counties (Lee & Milam) by the 3am to 4am time frame. A Tornado Watch is in effect for Lee County until 5am -- however, the Storm Prediction Center has made mention that they are watching over the need to extend that watch farther east -- over us -- through the morning hours. Details can be found here.
More to come as storms move into the area / as information is handed down from the National Weather Service should any storms be severe.
______________________
12:25
As of the midnight hour, scattered light showers with fog and drizzle remain over the Brazos Valley. However, storms are getting organized to our west, and the activity is likely to enter the Brazos Valley around daybreak if not a little before.
A very large line of thunderstorms has developed from Del Rio to San Angelo, and another cluster of storms has formed to the southwest of San Antonio. Movement is toward the northeast, but the entire system is shifting to the east. Some of those storms have already become severe, and the threat of more severe storms will increase as they move eastward into a more moist and unstable environment.
A Tornado Watch is in effect for a large portion of south central Texas until 5:00 a.m., and the watch includes Lee County. As the storms move into the Brazos Valley, likely between 4:00 and 8:00 a.m., they will bring a threat of large hail and damaging winds. An isolated tornado or two will also be possible.
Heavy rainfall is also possible, and another two to three inches is not out of the question. If heavy rainfall persists or if training of storms occurs, then flash flooding could also be a threat.
_________________________
9:35
The warm front pushing across the region this evening is making for some hazardous travel conditions due to widespread fog, drizzle and some patches of light rain. While there are no thunderstorms in the area at this time, we still expect shower activity to increase after midnight with strong thunderstorms likely heading into Wednesday morning. Heavy rainfall is likely, and there will also be a slight risk for severe weather with a few of the storms. The primary threat will be strong winds or isolated tornadoes, although hail is also possible as we saw on Monday. The time frame for the heaviest storms appears to be about 4:00 a.m. to noon.
_________________________
7:25
The warm front is slowly pushing through the Brazos Valley allowing for scattered showers to continue through most of the night. The storm is expected to become more organized in the early hours of tomorrow morning. Heavy rain, thunder, lightning, and high winds are all expected.
_________________________
5:55pm
Scattered showers will continue through tonight leading into stronger storms early tomorrow morning. As of 5:55pm Bryan/College Station has seen a total of 0.81 inches of rain. We can expect this number to gradually climb as the upper level low approaches our area.
_______________________
2:30pm
Moderate to heavy rain is moving northeast through Robertson County. Weather watcher has reported through twitter that there is some minor street flooding around SH 6 and Market Street in Hearne due to the heavier rains that moved through. This area of rain will continue to move through Franklin, Easterly, Bald Prairie and Marquez.
Since noon today, Bryan / College Station has officially picked up 0.62" at Easterwood Airport. Other rain reports across the Brazos Valley:
--Wixon Valley (as of 2pm): .50"
--Between Snook & Caldwell: 1.9"
________________________
2:00pm
Another strong storm is currently moving through North College Station and most of Bryan. Unlike the storm that pushed through earlier today, hail is less likely, although heavy rain, thunder and lightning will continue to be a possibility.
_______________________
1:45pm
A strong thunderstorm continues to stand over Snook at this time. Movement is slow -- roughly 30mph -- towards the northeast. Heavy rain, lightning and possibly even more small hail looks to be en route to West Brazos County and Bryan / College Station once again.
_____________________________
1:32
Thanks to the storm that blew through shortly after 12:30pm, Bryan / College Station officially picked up .60" of rain in just a matter of 30 minutes or so.
1:10pm
Two areas of strong thunderstorms continues across the Brazos Valley (same storms as listed below)
--Strong storm located over NE Brazos County right over Kurten at this time. Storm will continue NE towards Normangee, Marquez and eventually Centerville, Jewett & possibly Buffalo.
--Strong storm located over Somerville moving north to northeast towards Lyons, Snook & Merle with moderate rain (possibly some lightning) falling in Caldwell.
__________________________
12:50pm
A non-severe thunderstorm is currently moving through both Bryan & College Station. Pea sized hail has been reported in many locations across BCS, as well as here at the KBTX studio where it fell fast enough to cover the ground pretty decently.
Another strong storm with lightning, small hail and heavy rain is moving into Burleson County. Places near or between Caldwell to Snook should expect this non-severe storm to blow through over the next half hour as well.
________________________________________
A large upper-level system will continue to move east over the next 24 to 48 hours, bringing a wide spread rain opportunity to much of Texas, including the Brazos Valley.
Late Sunday / Early Monday, a cold front pushed through Southeast Texas leaving sunny skies and mild temperatures. That same front is now working back to the north as a warm front today, which will help set the scene for rain and thunderstorms as our upper level rain maker continues on it's path. That being said, southerly winds pushing that front northbound will help bring instability in the atmosphere, which in turn will allow for storms -- some of which may be on the strong to severe side.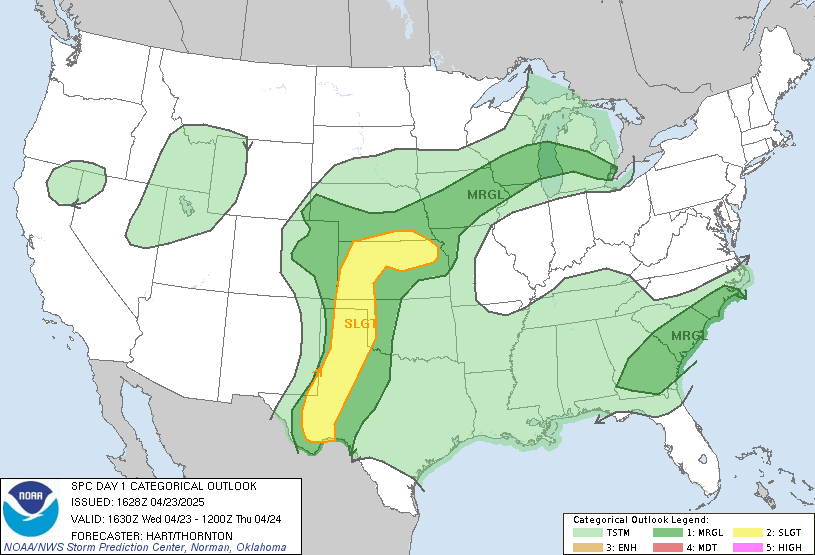 The Storm Prediction Center has placed the Brazos Valley and surrounding counties under a "SLIGHT RISK" for severe weather today and Wednesday. While widespread severe weather is not anticipated for everyone, a few storms may be stronger, which will warrant a concern for a few damaging wind gusts and a slight end chance of isolated, brief tornadoes. Should severe thunderstorms form, we expect the bulk of it to take place overnight through roughly mid-morning Wednesday.
Other than severe weather, the amount of available moisture being held in the atmosphere over the next two days is at a "historic maximum for this time in January" as stated by the Houston / Galveston National Weather Service. Basically, on paper, this looks like it will be a decent and much needed rain event for the drought-stricken Brazos Valley. Computer estimates as of Tuesday morning were predicting the possibility of a widespread 1" to 2" of rain for the area -- from Tuesday afternoon to Wednesday afternoon -- with a few localized areas of 3" to 5" possible.
While this rain is needed, should training of storms occur or heavy downpours create rain fall accumulations too quick and too fast, there could be a few areas where flash flooding will become an issue. Something to remember as you head out, especially anytime 7am and 3pm Wednesday.
PinPoint Computer Forecast Model:
Forecast Images from the National Weather Service: