Fight the winter blues with a colorful photo shoot at Instaland BCS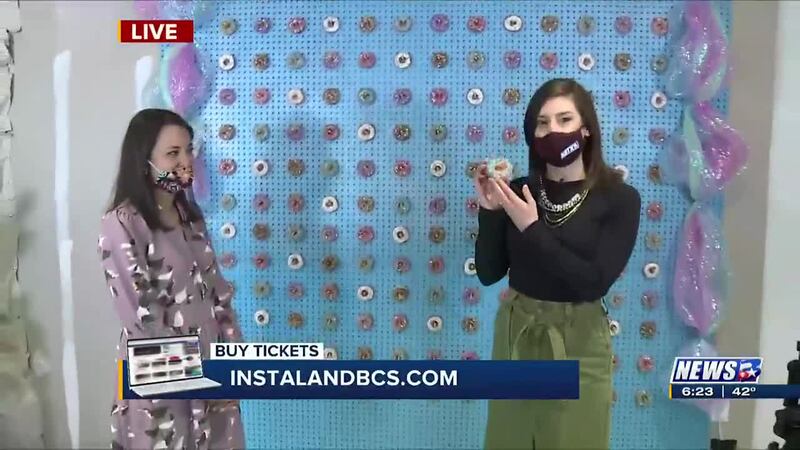 Published: Jan. 5, 2021 at 10:45 AM CST
COLLEGE STATION, Texas (KBTX) - 'Selfie museums' are popping up all over the state, and now, Bryan-College Station has its very own.
Instaland BCS is now open at Century Square in College Station.
Every Tuesday through Sunday, 11 a.m. - 6 p.m., patrons can pay $10 for 20 minutes on six unique, creatively designed photography sets.
The popularized term "selfie museum" is a bit of a misnomer, as patrons are encouraged to bring a friend with whom to share both the model and photographer roles. However, smartphone tripods are available to capture "selfies" on your own.
Ashley Seigert, creative director of Siegert Media, says it's the perfect way to fight the winter--or pandemic--blues.
"The biggest thing I hope people come away with is, 'That felt normal, and that felt fun, and that was something that I could just leave the stresses and just come in and enjoy,'" said Siegert.
"We wanted to do something for everyone," said Seigert Media's Carla Ponder, the lead set designer for Instaland BCS. They also partnered with Basecamp Farms for a rustic dried flower display.
The studio is family-friendly, too. One child younger than 10 is allowed for free with a paying adult.
Instaland BCS is a pop-up in Century Square, meaning it is only around for a limited time. Right now, Siegert has committed to keep the studio open through the end of February. She and Ponder are already planning new set designs for Feb. 2.
Patrons are required to wear face masks except when actively posing for a photo. Crowds larger than three are not allowed on a set at one time. Hand sanitizer is available throughout the studio. Props and tools are limited and will be sanitized between users. Sets have been specifically designed to encourage social distancing and discourage hands-on interaction, all while providing an interactive feel.
To book your time slot at Instaland BCS, go to InstalandBCS.com.
Copyright 2021 KBTX. All rights reserved.