Tropical Storm Grace approaches Lesser Antilles, Fred expected to re-develop over the Gulf
Fred could re-gain tropical storm status Saturday night or Sunday.
Published: Aug. 13, 2021 at 4:31 PM CDT
|
Updated: Aug. 14, 2021 at 10:50 PM CDT
BRYAN, Texas (KBTX) - While the remnants of Fred move into the Gulf of Mexico, impacts from Tropical Storm Grace are spreading across the Lesser Antilles Saturday night.
Remnants of Fred
Here is the latest information on the Remnants of Fred as of the Saturday night update from the National Hurricane Center:
| Location | Maximum Wind Speed | Movement | Minimum Central Pressure |
| --- | --- | --- | --- |
| ~ 530 miles SSE of Mobile, Alabama | 35 mph | WNW at 9 mph | 1012 mb |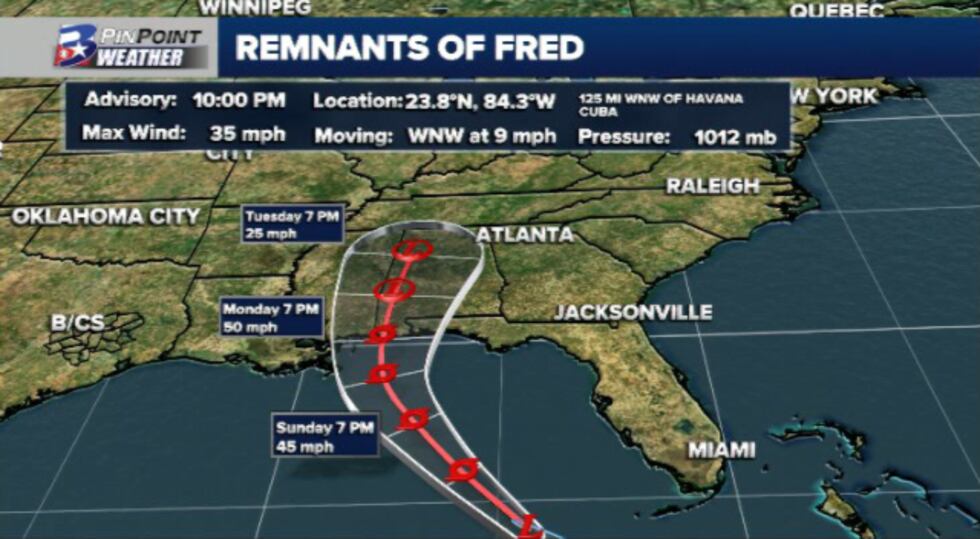 According to the National Hurricane Center, data received Saturday night shows that the circulation has become a little more defined since Saturday afternoon, but still lacks a well-defined center. The system is expected to cross the southeastern Gulf of Mexico Saturday night, the central and northern Gulf of Mexico Sunday and Monday, and then move inland along the northern Gulf Coast Monday night. Forecasters at the NHC note that Fred is expected to re-develop into a tropical depression Sunday, and could become a tropical storm again ahead of landfall.
The system is still expected to stay farther east of the Brazos Valley, meaning no impacts or concerns are expected locally in Southeast Texas.
Tropical Storm Grace
As of the Saturday evening update from the National Hurricane Center, a poorly organized Tropical Storm Grace is now impacting the Lesser Antilles as the system tracks westward.
Here is the latest information on Grace:
| Location | Maximum Wind Speed | Movement | Minimum Central Pressure |
| --- | --- | --- | --- |
| ~ 265 miles ESE of San Juan, Puerto Rico | 40 mph | W at 20 mph | 1010 mb |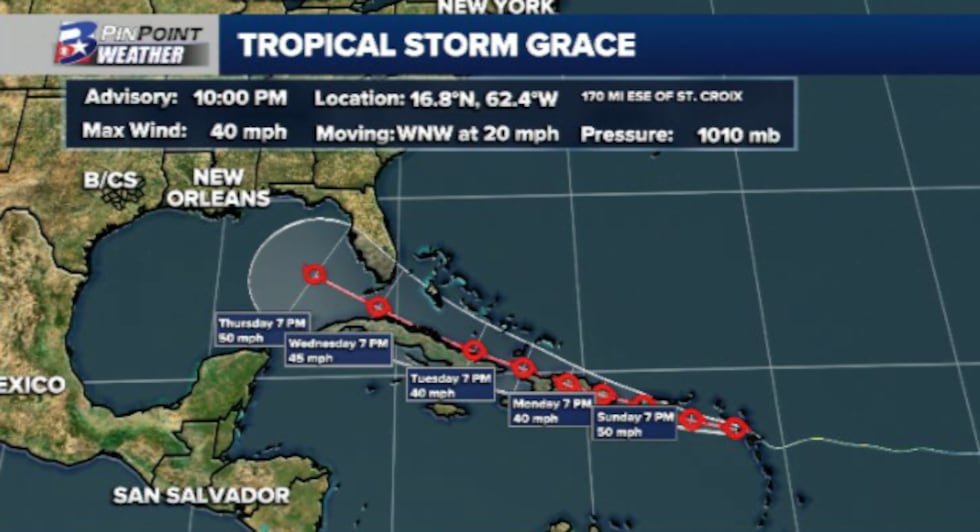 Grace is expected to move near the Virgin Islands and Puerto Rico Sunday, and then near or over the Dominican Republic on Monday.
Tropical Storm Warnings are in effect for places like the U.S. Virgin Islands, Puerto Rico, and the British Virgin Islands.
While there is still plenty of room for changes to both the forecast track and intensity of Tropical Storm Grace, this is a system worth watching over the next several days as it tracks through the Caribbean. A high level of uncertainty remains due to the lack of tight low-level circulation, and any interaction with land could shift the track of the storm. While this is no immediate concern for the Brazos Valley, it's something we'll keep eyes on through the upcoming week.
Copyright 2021 KBTX. All rights reserved.