Tropical Depression Nine forms in the Caribbean, Ten in the Eastern Atlantic
Impacts to Texas not expected
Published: Sep. 23, 2022 at 6:00 AM CDT
|
Updated: Sep. 23, 2022 at 7:04 PM CDT
BRYAN, Texas (KBTX) - Before sunrise Friday morning, the National Hurricane Center officially named Tropical Depression Nine in the Caribbean. As of 10 a.m., Tropical Depression Ten was added to the map off the coast of Africa. These two systems join Category 4 Hurricane Fiona moving away from Bermuda and Tropical Storm Gaston near the Azores.
Tropical Depressions Nine and Ten are both forecast to become tropical storms as early as later Friday. The race is now on to see which system will do so first. The next names to be assigned are Hermine and Ian.
TROPICAL DEPRESSION NINE
As of 10 a.m. CDT, Nine was still being battered by northerly upper-level wind caused by the broad flow around Hurricane Fiona. This is keeping storm activity confined to the west side of the circulation, which could tug the system the same direction until the atmospheric wind relaxes. This is also causing small circulations to take shape around the larger low pressure center of the system. Both of these will need to be monitored in the event a new center forms. This system is expected to move into lighter upper-level wind early in the weekend which will help it become a more defined system and allow strengthening to being. From there, forecast guidance broadens a bit, but there is growing confidence that states in the western Gulf of Mexico (including Texas and Louisiana) will not be impacted by this storm. More clarity will come over the weekend. No impacts to Texas, the Western Gulf, or the Brazos Valley are anticipated.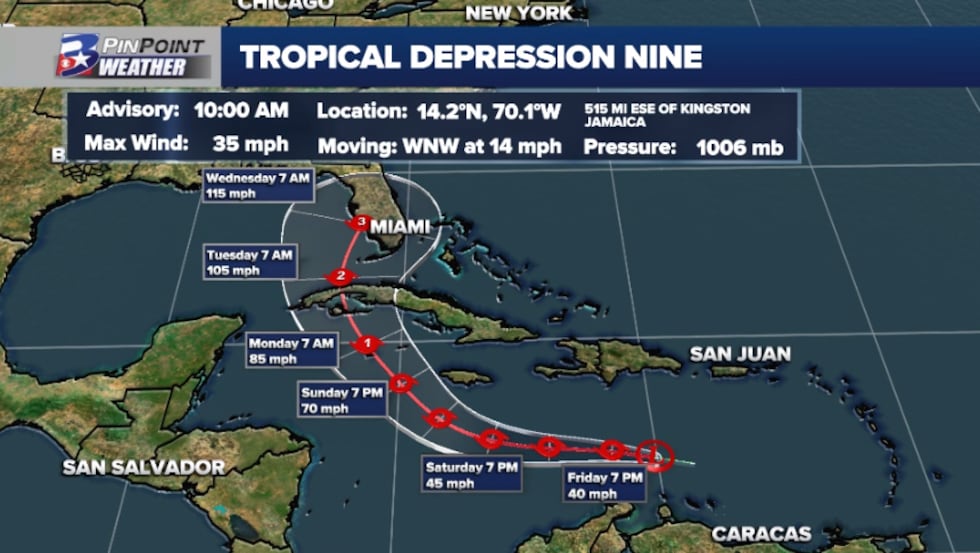 Copyright 2022 KBTX. All rights reserved.