Bryan ISD Habitat home build initiative exceeds fundraising goals
"To watch the kids buy in, to see them not only believe in it but bring their piggy banks. To donate money that they've saved the entire year, they've collected and to donate that and to say that they want to do more. I mean it just inspires you."
Published: Dec. 15, 2022 at 7:17 PM CST
BRYAN, Texas (KBTX) -The Bryan Independent School District is putting its Essential 8 character traits into action through a partnership with the Bryan/College Station Habitat for Humanity.
For months Bryan ISD students, teachers, staff, and community members have raised awareness and money for the Bryan ISD build initiative which will build a home for a deserving family in the community.
Bryan ISD held two special board meetings this week to update stakeholders on the project that is set to break ground in January.
Bryan ISD Superintendent Ginger Carrabine announced at Thursday's meeting that more than $80,000 was raised to exceed their goal.
At Thursday's meeting, the district and Habitat for Humanity also introduced the Qunitero-Mendez family that will be moving into their dream home.
The Quintero-Mendez family said in a statement that they're grateful for the generous support from Bryan ISD, Habitat for Humanity, and other community members that have made their goal of home ownership more attainable.
"Our kids will finally have a home and their own rooms that they can decorate to their liking," said Adriana Quintero-Mendez.
At Monday's school board meeting the family of Ruth Clearfield was honored for their $40,000 matching donation for the project. Prior to her passing in 2015, Clearfield devoted more than four decades of service to the Bryan-College Station community. Clearfield was actively involved in making her community a better place through her leadership roles in philanthropic and civic organizations including the Brazos Valley Symphony Orchestra, Hospice Brazos Valley, MSC/OPAS, League of Women Voters, and the Arts Council of Brazos Valley.
Corgan Architecture Firm, based out of Houston was also recognized at Monday's meeting for its $5,000 donation toward the home build.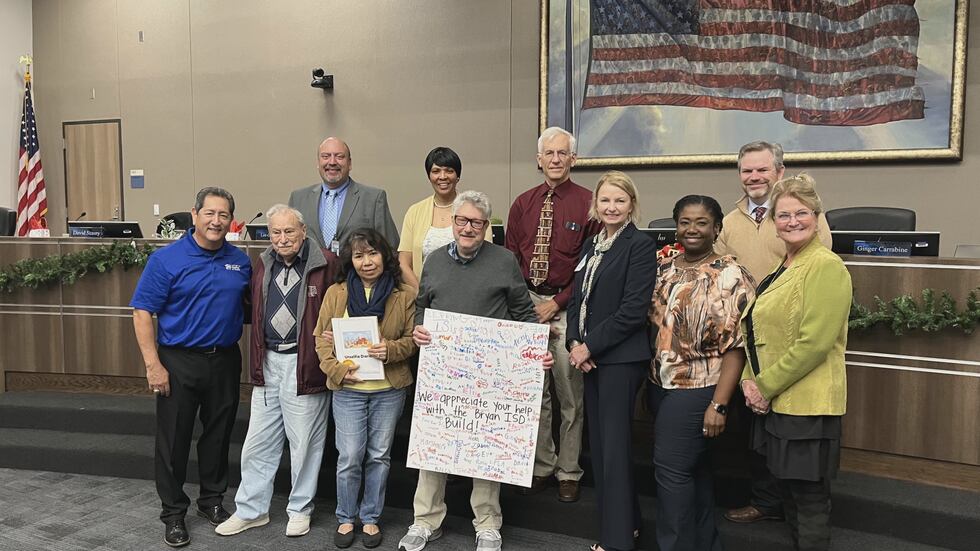 The Bryan ISD Home Build is a first-of-its-kind partnership between Bryan ISD and the Bryan/College Station Habitat for Humanity.
Bryan ISD Superintendent Ginger Carrabine says the district is excited about showcasing its Essential 8 character traits. Those character traits include; Kindness, Tolerance, Gratitude, Philanthropy, Work Ethic, Optimism, Courage, and Leadership.
Copyright 2022 KBTX. All rights reserved.