Quick round of rain, storms expected overnight
Very isolated chance for strong/severe storms remains before sunrise Tuesday
Published: Dec. 31, 2022 at 8:17 AM CST
|
Updated: Jan. 2, 2023 at 9:21 PM CST
BRYAN, Texas (KBTX) - After a day with rounds of scattered rain and non-severe thunderstorms across the Brazos Valley, one last chance for rain is expected to pass by overnight. While the overall severe weather concern is low, it is not zero before the alarm rings Tuesday morning.
Monday Night Update
Bands of rain have been persistent with off-and-on wet weather for parts of Trinity, Walker, San Jacinto, and Montgomery Counties Monday evening. The attention is focused to the north as a west-northwest wind shift arrives between 12 am and 5 am.
This broken line of rain and embedded thunderstorms may be noisy but generally is expected to remain non-severe as it rumbles across the area overnight. Still, a stronger storm capable of wind gusts 30-40mph, small hail, heavy rain, and perhaps a very brief spin-up concern is not ruled out. Rainfall totals should generally amount to a few tenths to half an inch (in stronger thunderstorm activity).
The Storm Prediction Center still has the Brazos Valley placed in a 2 out of 5 risk for a "scattered" strong-to-severe storms -- although that threat seems to have greatly diminished and is more prominent in parts of Southern Arkansas and Northern Louisiana tonight.
The National Weather Service and the Storm Prediction Center have placed portions of the ArkLaTex region under a tornado watch until 9 PM tonight. This does not include any Brazos Valley counties. The counties included are just Northeast of Houston and Trinity counties.
You might wake up to lightning tonight, but the second round of storms should remain relatively calm. Just in case, however, it is always a good idea to have the KBTX Pinpoint Weather App handy. Weather alerts (watches, warnings, and general information) are sent directly to your phone.
Monday Morning Update: Thunderstorm development starting a tad ahead of schedule. We are now waiting to see if any of the storms are strong enough to erode the cap. Here's a look at the latest radar and model run as of 10 AM.
The worst of the storms look to still remain to the northeast of the Brazos Valley. Latest model runs show development in Lee, Austin, and Washington counties around 11 AM, and quickly exits the Brazos Valley around 3/4 PM to the Northeast. Once again, if the storms do break the cap, an isolated severe thunderstorm is not out of the picture.
Sunday Evening Update: Weather models are starting to shift storm coverage across Texas even further eastward, causing the Brazos Valley to miss out on the first round of severe weather. However, there is growing consensus of a second round of thunderstorms moving into the Brazos Valley early (12 AM - 4 AM) Tuesday morning. This second round of thunderstorms could be the strongest weather seen coming from this cold front locally. The storms, however, are relatively isolated and will move out of the Brazos Valley quickly. The worst of the entire storm system continues to be to the Northeast of the Brazos Valley in Northeastern Texas and Northern Louisiana.
The image above is what the radar could look like come 3 AM Tuesday morning. These storms form as the actual cold front pushes through the Brazos Valley. We are watching the storm system tomorrow closely. If a storm breaks the cap, it could easily develop into severe weather. The atmosphere is primed to start rapid thunderstorm development but is blocked by the weak cap.
The start of the new year will be a quiet one for the Brazos Valley. One thing you will likely notice as you step out on January 1st, the air will grow thicker as the humidity quickly builds from the Gulf of Mexico. That will leads us to another storm chance on January 2nd -- one that the Storm Prediction Center is once again labeling the Brazos Valley for the possibility of a few strong-to-severe storms.
THE WHO
One day out from expected thunderstorms, the entire Brazos Valley has been placed in some sort of category for potential severe weather.
Green: A 1 out of 5 risk for very isolated instances of severe weather. This is placed on a line from Calvert to Caldwell to West Lake Somerville and points west
Yellow: A 2 out of 5 risk for a couple scattered strong/severe storms will be possible. This category currently encompasses the rest of the Brazos Valley and has been shifted slightly west to now include most of Burleson and Washington Counties
Brown: A 3 out of 5 risk for a few significant, severe thunderstorms. This is the highest threat for concerning activity, which starts just east and northeast of the Brazos Valley.
This will more likely be an event that the eastern side of the Brazos Valley will need to monitor, with a minimal (but not zero) amount of storm coverage expected west of the Navasota River or Highway 6 corridor.
DOWNLOAD THE KBTX PINPOINT WEATHER APP FOR UPDATED VIDEO FORECASTS, INTERACTIVE RADAR, AND SIGNIFICANT WEATHER ALERTS
THE WHAT
As of Sunday morning, the overall threat -- while not zero -- looks minimal for much of the Brazos Valley. As high-resolution forecast data continues to get a better handle on this event, it seems that our area will be ground zero / the start of this weather event that is expected to really unfold just east and northeast. More simply, storms that begin here will need to be monitored as they grow upscale and become a greater concern in East Texas, Louisiana, and Arkansas.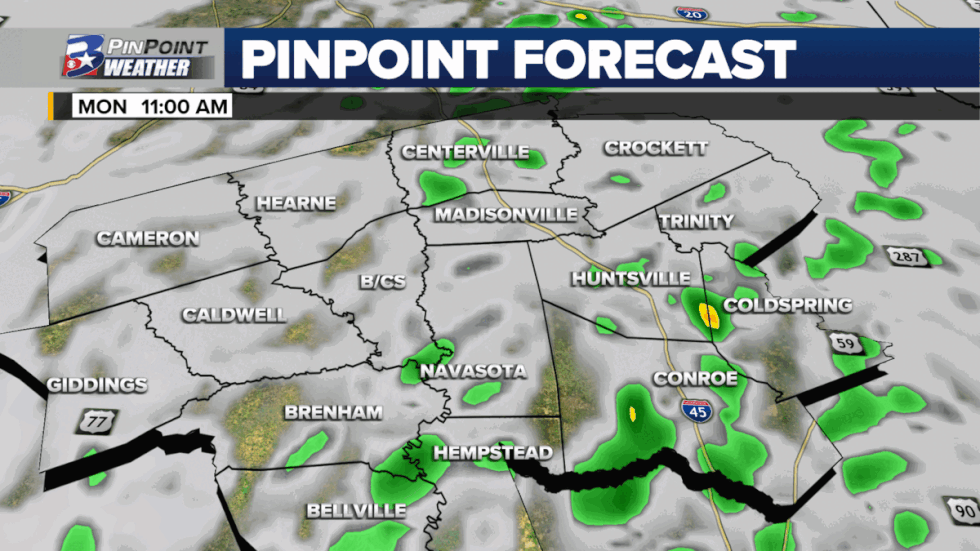 It should be noted, as storms develop, the atmosphere will be capable of rapidly developing this activity. Storms could become significant or severe shortly after forming. Forecast models have been persistent in keeping the CAP -- limiting factor for storm development -- very thin but in place for much of the day Monday. If more sunshine gets through or temperatures warm a bit more than expected, this could erode that layer of stability and allow a wider coverage of storms to develop as a disturbance passes overhead.
THE WHEN
Monday midday to early afternoon will be the main window of time that will need to be monitored for potential strong or severe storms. However, this event will develop multiple clusters of storms and line segments until a cold front passes in the very early hours of Tuesday morning. Here are the key times to remain weather aware locally:
Monday 12pm - 5pm (Eastern Brazos Valley): Isolated storms will develop, likely east of the Navasota River or I-45 corridor. These storms should quickly move east and out of the Brazos Valley by late afternoon or early evening
Monday 7pm - 10pm (Northeast Brazos Valley): New storm development will be likely across parts of Northeast and East Texas. While current forecast data suggests this activity remains just outside of the area, it will need to be monitored as they will likely become significant quickly
Tuesday 12am - 4am: As the cold front passes, a broken line of rain and thunderstorms are expected. A few could be strong with all hazards possible -- although the overall coverage and concern should be generally low for much of the area in the pre-sunrise hours of Tuesday.
While the overall concern is generally low locally, this is a forecast that will need to be monitored through the start of the week. Updates will be posted as new data comes into the PinPoint Weather Center.
Copyright 2022 KBTX. All rights reserved.