Pair connected to 'stash house' in College Station face additional charges
In addition to previous drug-related charges, Scott and Leslie Siddons are now charged with Engaging in Organized Criminal Activity.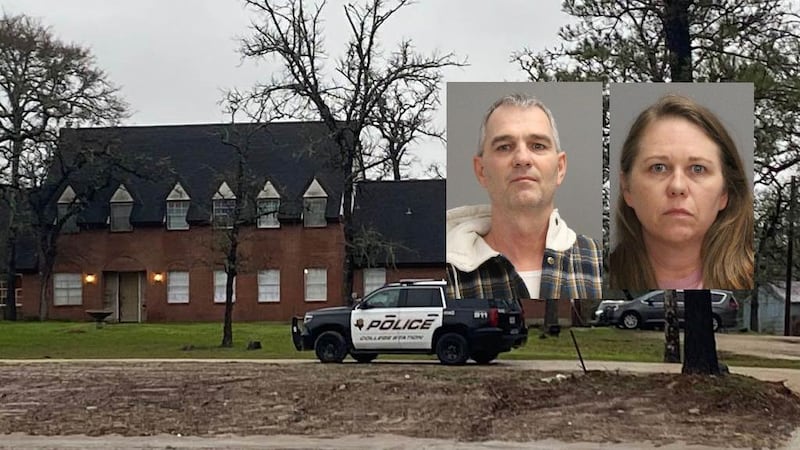 Published: Feb. 15, 2023 at 9:45 PM CST
COLLEGE STATION, Texas (KBTX) - A College Station couple linked to a fatal search warrant at a home last week is now facing new charges as police continue to expand their investigation.
Arrest reports for Scott Michael Siddons, 49, and Leslie Siddons, 45 confirm police were investigating drug-related activity at a home in the 1700 block of Greens Prairie Road near Arrington Road.
Following a search warrant that was executed last week, inside the house, police reportedly found marijuana prepackaged in wholesale increments and THC cartridges professionally packaged. In addition to previous drug-related charges, the pair is now charged with Engaging in Organized Criminal Activity.
Both remain in the Brazos County Detention Center.
New court documents obtained by KBTX accuse the Siddons of accepting $300 - $500 payments from Abraham Escobar to store drugs at their home. Escobar is the man police confirm was the primary target of several early-morning search warrants executed at multiple locations in the city on Wednesday, February 8th.
The arrangement between the Siddons and Escobar had been in place for approximately one year, said police.
The investigation also revealed the Siddons would deliver drugs to customers or would allow them to come to the home, at the direction of Escobar, according to probable cause affidavits.
Michael Siddons told police that he was "below Escobar in the chain of command."
On the same morning, police executed the search warrant at the home on Greens Prairie Road, they also searched Escobar's home on Tranquil Path, a storage unit, and a duplex on Spring Loop. At the home on Spring Loop, a 22-year-old resident was shot and killed by police after he reportedly fired a shotgun at officers when they forced entry into the home. Police said prior to entering the home, there was a knock-and-announce.
On Wednesday, Escobar was arrested in Houston after police publicly announced he was a wanted man.
Search warrants obtained by KBTX on Monday revealed the overall investigation involving Escobar and other "co-conspirators" dates back to August 2019 and police confirmed the man killed on Spring Loop was not the focus of their search warrants.
College Station police won't release body camera footage of the officer-involved shooting to the public but Chief Billy Couch said he would review it with the family of the man killed.
Copyright 2023 KBTX. All rights reserved.