Enjoy food, drinks & giveaways at Downtown Bryan's St. Patrick's Day Pub Crawl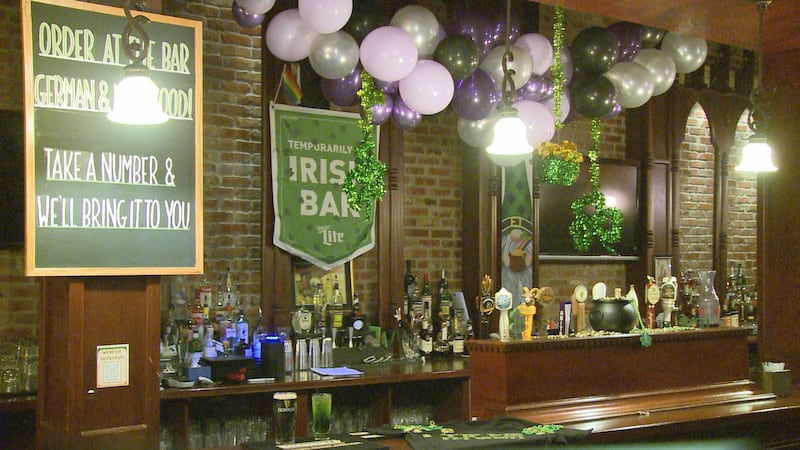 Published: Mar. 16, 2023 at 10:33 AM CDT
|
Updated: Mar. 16, 2023 at 4:22 PM CDT
BRYAN, Texas (KBTX) - Downtown Bryan will be painted green Friday for the 3rd annual St. Patrick's Day Pub Crawl. Bars and restaurants in downtown and surrounding areas will have drink and food specials along with live music, giveaways and other fun activities. The Destination Bryan and The 101 collaboration will feature The Station on 29th, RX Pizza, The Village, Vino Boheme, The Downtown Elixir & Spirits Company and Murphy's Law.
All the bars and eateries will have punch cards that you can have stamped after enjoying food and drinks at each one. Those cards should be taken to Murphy's Law by 8 p.m. to be entered in a giveaway, which all the businesses have contributed to. Some of the items in the giveaway include restaurant and Visa gift cards, t-shirts and show tickets.
You don't have to be present to win. Just make sure to have your name and number on the back of the card.
Take a look below at what you can expect from some of the stops Friday.
The Station on 29th
The Station on 29th is kicking off the celebration at 11 a.m. Friday. They'll have Irish nachos, corned beef and sauerkraut with a side of bangers and mash. The nachos will be $6 and the other two dishes will be $12.
The restaurant is also offering $1 off for Guinness beer, and green beer for $3. There will also be fun cocktails like the Luck of the Irish.
The 101
The 101 is opening at 2 p.m. Friday and will be offering $5 pints of Guinness beer and $5 shillelagh shots. They'll also have 300 pounds of crawfish from Remnant of Nawlins.
They'll have five bands performing, starting at 9 p.m. The event is $5 cash or $8 with a credit card at the door.
RX Pizza
RX Pizza will be offering some classic St. Patrick's Day specials including $4 shots of Jameson Irish Whiskey and $2 pints of green beer. These can be enjoyed with a Margherita pizza, which is the bar and eatery's pizza of the month.
Murphy's Law
There's a lot to look forward to at Murphy's Law Friday. The pub will have specials on cocktails, shots and Guinness beer. Some of the signature dishes will include fish and chips, cottage pie and Guinness stew.
There will also be live music starting at 3 p.m., a photo booth and karaoke.
Some other deals include the $5 Green Gin Smash from Downtown Elixir & Spirits Company along with $2 off Vino Verde and $5 Green Apple Sangria from Vino Boheme. In addition, The Village will have Pot of Gold Mimosas and Lucky Lattes.
You can learn more about the St. Patrick's Day Pub Crawl here.
Copyright 2023 KBTX. All rights reserved.