Brazos County Public Defenders office opens, takes on its first cases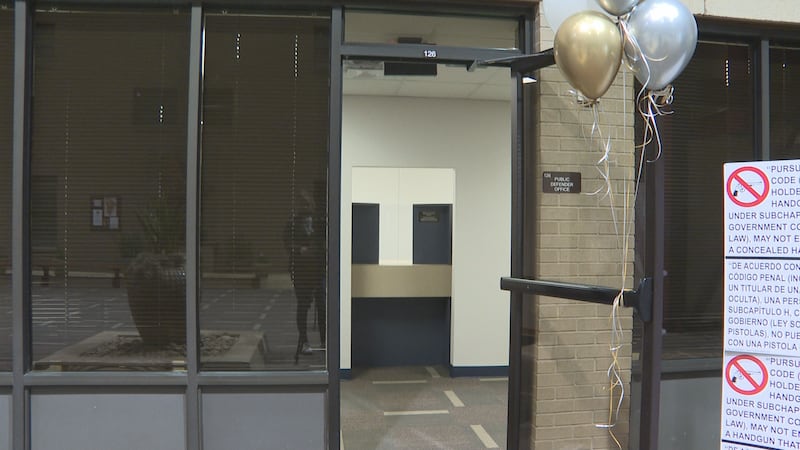 Published: Mar. 17, 2023 at 8:36 PM CDT
BRYAN, Texas (KBTX) - The Brazos County Public Defenders Office is officially open and taking on its first cases this week.
Not only will this office ensure residents receive a fair trial, but it will help with a backlog of cases in the current justice system. Nathan Wood, the Chief Public Defender, says this office is a game changer for the future of the Brazos County Justice System.
"A little less than two years ago there were some lawyers and judges and Brazos County leaders who recognized that the number of active criminal cases pending in our courts was on its way up and the number of qualified lawyers handling those cases was on its way down," Wood said.
Those Brazos County leaders were able to identify a grant that lead to the creation of the public defender's office.
And, the opening lands on a pretty special day according to Wood.
"This week marks the 60th anniversary of a landmark Supreme Court case called Gideon v. Wainwright. That's a case that promises every person in the United States that if the government's going to charge them with a crime, the government will also provide an attorney if they cannot afford to hire a private attorney," he said.
Attorney Shane Phelps and Brazos County Judge Duane Peters attended the office opening. Both men say this is a resource that will help the future of the justice system here.
Peters says after years of working with Wood, he's excited to see what he's able to accomplish.
"He's been with the District Attorney's office for a number of years and has been an attorney for a long time now and so he's going to be really good at it and I'm just glad we're open and ready to go to work," Peters said.
Phelps says no one is a better fit for the position than Wood.
"Nathan is one of the most thoughtful and fair-minded lawyers, prosecutors, and now public defenders that I've come in contact with in my 35-year career in criminal justice. I'm thrilled that he's in charge," he said.
Wood said his office looks forward to taking on more cases.
Copyright 2023 KBTX. All rights reserved.