'We never forget it': Two years later, Groesbeck community still mourning loss of Trooper Chad Walker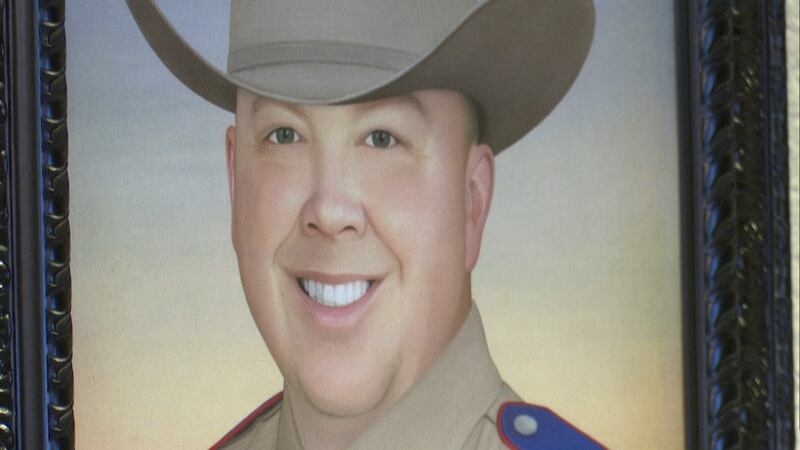 Published: Mar. 26, 2023 at 4:59 PM CDT
GROESBECK, Texas (KWTX) - Two years ago on March 26 2021, state trooper Chad Walker was shot and killed in the line of duty on a rural road in Mexia.
He was shot multiple times through the windshield of his patrol unit as he was stopping to help what he thought was a stranded motorist.
Those close to him in Groesbeck, his hometown, said they are still mourning the loss of one of their own. At the Living Proof Church pastor John Carabin said his congregation can still feel when Trooper Walker is not there at weekly Sunday service.
"There's empty chairs," Carabin said. "We don't have assigned seating, but a lot of people sit in the same seat every Sunday and you notice when someone's not there."
Trooper Walker was heavily involved with his church and even served as the brains behind the barbecue contest at their annual 9/11 service that recognizes local law enforcement.
"It has gotten so big we can't cook all the food ourselves," Carabin said. "Chad organized a barbecue contest and now we have a brisket cookoff. This last year we went through 52 briskets."
Meanwhile, inside the home of Trooper Walker's grandparents there are photos that serve as a somber reminder of what happened.
"For us it's a situation where you have to adjust and live with it, but for us we never forget it, it's always in front of you," Dennis Walker told KWTX.
Dennis, who previously served as the Limestone County sheriff, said he hopes his grandson's death can teach folks about the sacrifice law enforcement makes on a day-to-day basis.
"If I had a wish out of it, I'd wish that there'd be something that would help bring people together and particularly support law enforcement," he said.
DeArthur Pinston, Jr., the man accused of killing Trooper Walker, took his own life before he could be taken into custody.
Police previously connected Pinston Jr. to the murder of another man named Dustin Rogers, just a week before Trooper Walker pulled him over.
Copyright 2023 KWTX. All rights reserved.