Milam County Sheriff, 911 dispatchers lobby lawmakers for mental health leave
"In law enforcement, the dispatcher is our lifeline."
Published: Mar. 26, 2023 at 8:15 PM CDT
CAMERON, Texas (KBTX) -911 dispatchers across the Lone Star State are hoping to be designated as first responders through proposed House Bill 1486.
Despite being the first point of contact during emergencies, these telecommunication officers are not recognized as first responders like their peers.
House Bill 1486, introduced by Representative Stan Gerdes of House District 17, proposes to grant mental health leave for 911 telecommunicators and dispatchers.
This bill differs from Senate Bill 1359, which took effect on September 1, 2021, and requires law enforcement agencies to create and implement a mental health leave policy for peace officers who experience trauma on the job.
House Bill 1486 would require law enforcement and state agencies with full-time telecommunicators to implement mental health leave for those affected by workplace trauma. The bill would provide clear and objective guidelines establishing the circumstances under which a telecommunicator is granted and may use mental health leave, entitle a telecommunicator to mental health leave without a deduction in salary or other compensation, enumerate the number of mental health leave days available to a telecommunicator, and detail the level of anonymity for a telecommunicator who takes mental health leave.
Milam County Sheriff Mike Clore recently testified in front of the Texas House Committee on Homeland Security and Public Safety, voicing his support for the bill. He says telecommunication officers are the lifeline of numerous men and women who patrol the streets of Milam County.
"We count on these individuals to relay pertinent information, guide us into God-awful scenarios, expect them to stay on the line with victims of horrible crimes, hear all the madness, and continue to function without delay," says Clore. "A lot of people don't know what the dispatcher does. They don't realize that as a law enforcement officer, the dispatcher is our lifeline."
Clore contends that despite not being out in the field, telecommunication officers face similar challenges and difficulties while on the job. As they know and work with everyone, it is tough for dispatchers to send their colleagues or family members to dangerous situations and hear about them over the radio. This bill recognizes the impact such situations have on the officers and provides support for their mental health.
"We know everybody. We know each other. And for a dispatcher to have to send one of their family members, their deputies into a bad situation and have to hear what's going on over the radio, it's just as bad for them because they can't see it," says Clore. "They're gonna sit there and they're gonna think about it harder. They're gonna linger, they're gonna imagine what it was like there. They're gonna worry about their teammate, their friend, and their family members. So, I wanted to express that in this bill."
The issue hits close to home for Bettyna Cooper, a Milam County Telecommunications Officer who took the call when her colleague, Deputy Samuel Ferguson IV, was shot while responding to a mental health call last October. She says situations like these make her and fellow dispatchers feel vulnerable.
"Once they get on the scene everything goes quiet, and you kind of just there like what's going on, what's happening. I need to know why I feel helpless, and why can't I do more. I just need to know, someone, call me to let me know they're ok," says Cooper.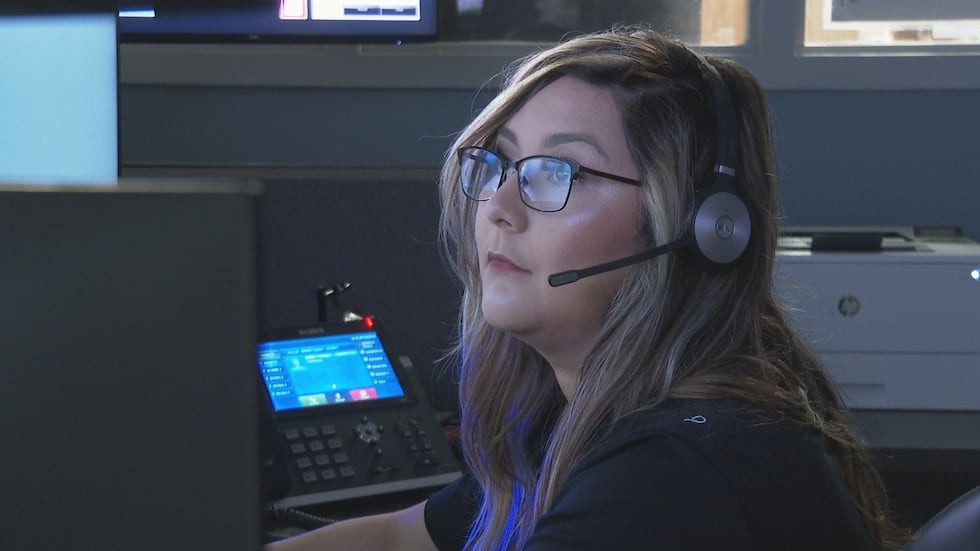 Cooper encourages everyone to support the legislation, but more importantly, she urges her fellow colleagues to seek the help they need.
"Don't hesitate, get help it's not embarrassing, it's nothing to be ashamed of, and hopefully, this bill is passed that we won't have to feel so small in an agency that we have the help and the resources," says Cooper.
Cooper says that working for a sheriff's department that advocates for and values its telecommunications team is a great feeling.
"My guys in blue, my girls in blue, they're family. I will do anything and everything, move heaven and earth to get them home safe," says Cooper. "So to know that they're willing to take care of family, to push for this bill, that's not something that was included in the bill that was already out. They are willing to create a bill or help create a bill to take care of us as well."
Clore thanked Gerdes for authoring the bill and pushing it through, emphasizing the importance of recognizing the crucial role that dispatchers and telecommunicators play in the community.
Sheriff Clore's testimony before the Texas House Committee on Homeland Security and Public Safety
Copyright 2023 KBTX. All rights reserved.