Storms continue. Severe weather threat over for the Brazos Valley.
Heavy rain and flooding are now the concern overnight.
Published: Apr. 25, 2023 at 9:33 PM CDT
|
Updated: Apr. 27, 2023 at 12:13 AM CDT
BRYAN, Texas (KBTX) - Hourly updates for Wednesday's storm potential can be found below.
12 AM UPDATE: The threat of severe weather is over for the rest of the evening. Heavy rainfall, flooding, lightning, and strong winds are still possible. However, storms should stay below sub-severe criteria. Small hail is possible as some storms gain intensity as the cold front passes through, but the hail should be non-severe and will cause little damage.
The TORNADO WATCH has also expired for all Brazos Valley counties.
Lee County, however, is the only county still included in a SEVERE THUNDERSTORM WATCH.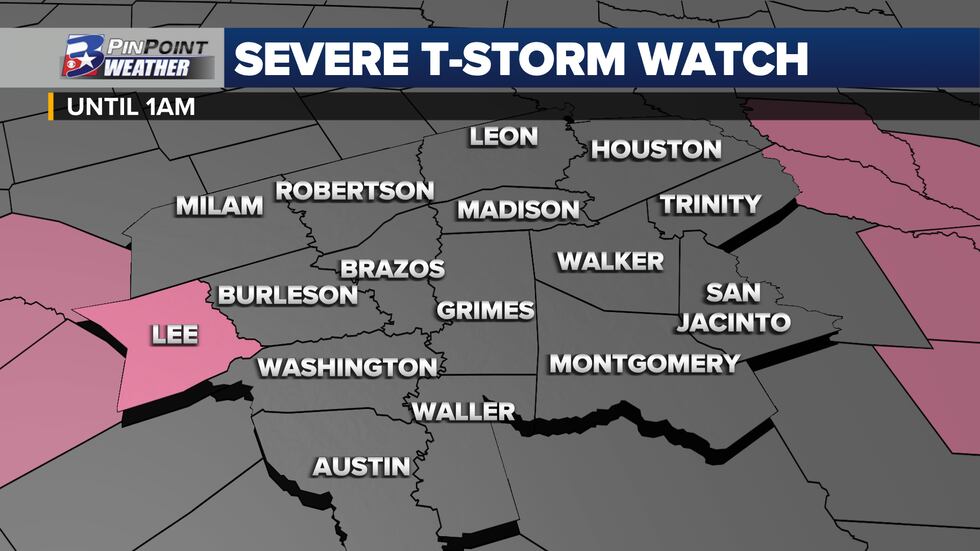 11:10 PM UPDATE: The threat of severe weather is continually showing up in our Eastern counties, while areas west of the Navasota river are only receiving heavy rain and sub-severe level winds. The eastern Brazos Valley is still under several severe thunderstorm warnings, and a storm spotter reported baseball-sized hail in Kennard.
With the exception of Trinity and San Jacinto counties, if it is raining heavily where you are, the threat of severe weather is mostly over. Rain-cooled air ahead of the line of storms should minimize the threat of severe weather throughout the rest of the evening.
Flooding, strong winds, and lightning are now the main concern throughout the rest of the evening. Heavy rainfall over the past several hours and a stalled cold front have allowed extraordinary amounts of rain to fall over the northern Brazos Valley. We'll see flood warnings continue throughout the rest of the evening.
A FLASH FLOOD WARNING is in effect for Leon and Robertson counties until 12:00 AM. A secondary FLASH FLOOD WARNING is in effect for Houston counties until 2:00 AM.
10:20 PM UPDATE: The Tornado Watch has been allowed to expire for Milam, Robertson and Leon Counties. The Watch remains in effect for the majority of the Brazos Valley until 1 am. For Lee County, the Tornado Watch has been traded for a Severe Thunderstorm Watch that is also in effect until 1am. It is likely counties will start to be dropped from this watch as the leading edge pushes past and the severe threat comes to an end.
9:30 PM UPDATE: A Flash Flood Warning has been issued for portions of Robertson and Leon counties until 12 am Thursday morning. Between 1 and 3 inches of rain had fallen at the time of issuance with an additional 1 to 2 possible as the line continues to move south. Multiple areas of road flooding, specifically around Hwy 7, have been reported.
8:45 PM UPDATE: Multiple severe warned storms moving into the Brazos Valley. Main concerns are gusty winds and hail about the size of pocket change up to half dollar and potentially egg sized.
8 PM UPDATE: One severe warned storm has moved into the very northeastern portion of the Brazos Valley in Leon County. That storm was warned for 60 mph wind gusts and quarter-sized hail. The line of thunderstorms is beginning to come together just about 20-30 miles up the road. Our atmosphere is pretty much untouched, so if storms can get in here and tap into it severe storms remain a possibility.
7 PM UPDATE: A new Tornado Watch has been issued for Lee, Burleson, Brazos, Madison, Houston, Trinity, Grimes, Walker, Washington, Montgomery, and San Jacinto Counties until 1 am Thursday morning. A few tornadoes will be possible, winds up to 80mph, and hail up to the size of a tennis ball. Main concerns will need to be monitored for along the leading edge of the line of storms that will pass through.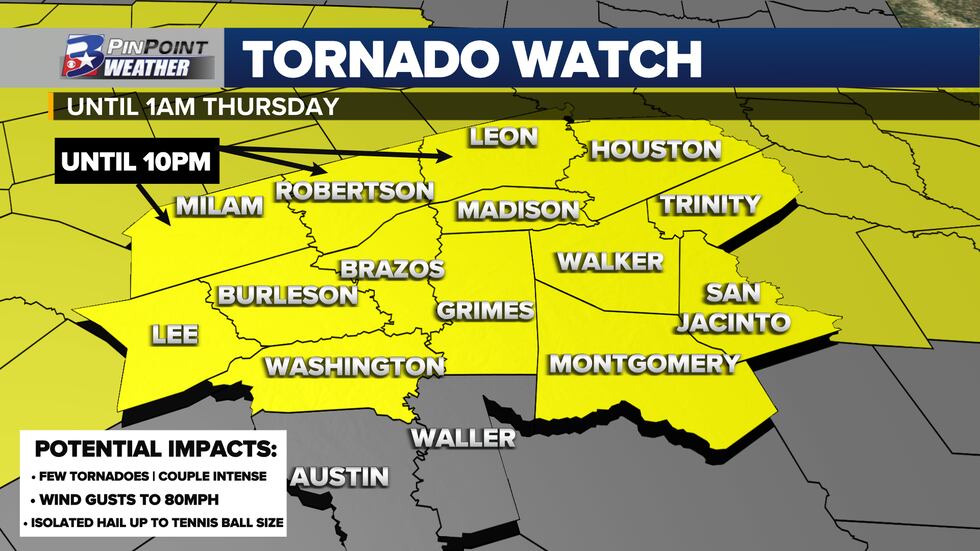 6:30 PM UPDATE: Activity locally has held below severe limits. Eyes go to storms just north of the Brazos Valley, where multiple tornado warnings are in place as storms move south from the Waco area.
3 PM UPDATE: A Tornado Watch has been issued and includes Milam, Robertson, and Leon counties until 10 pm. A few tornados will be possible, with the potential for a couple to be intense, wind gusts up to 75mph, and isolated hail up to the size of softballs. It is likely that more counties will be added to this watch in the coming hours.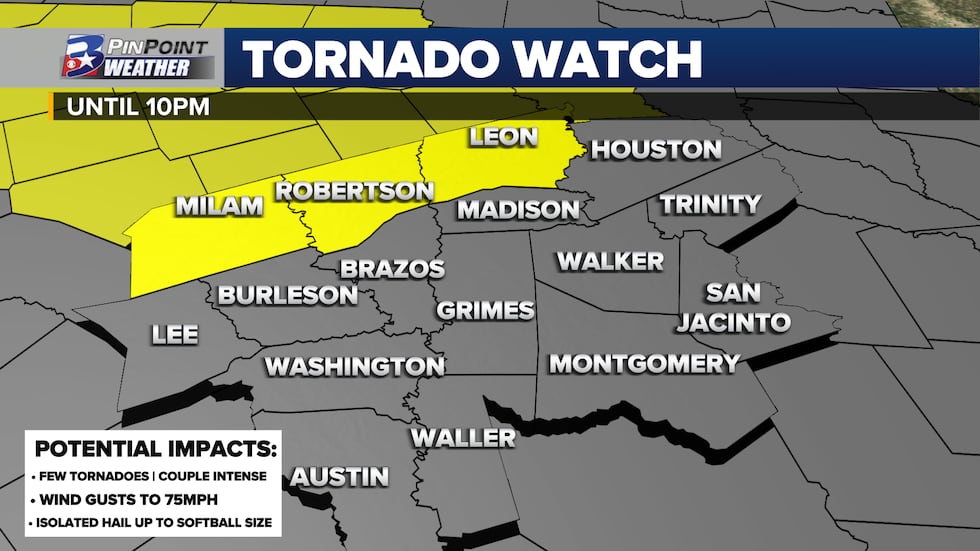 This watch covers the potential for an isolated storm through the afternoon and early evening, as well as the leading edge of the line of thunderstorms that will roll through later tonight.
After isolated thunderstorms roamed the Western Brazos Valley Tuesday evening, the next round of active weather is expected to be more wide-reaching, and potentially impactful. Intense thunderstorms are forecast to develop Wednesday afternoon and evening across parts of North and Central Texas. As that storm activity clusters into a complex of severe storms by late evening, it will push a line of storms through the Brazos Valley between 11 p.m. Wednesday and 4 a.m. Thursday.
The Storm Prediction Center has placed Brazos Valley under the following severe risk categories:
3 out of 5 "Numerous" Risk (Brown): Northeast Milam, Robertson, Leon, Madison, Houston, and northeastern Brazos counties.

2 out of 5 "Scattered" Risk (yellow): The majority of the Brazos Valley including Lee, Burleson, Brazos, Washington, Grimes, Walker, Trinity, San Jacinto, and northern portions of Austin, Waller, and Montgomery counties.

1 out of 5 "Isolated" Risk (green): the rest of the Brazos Valley to the south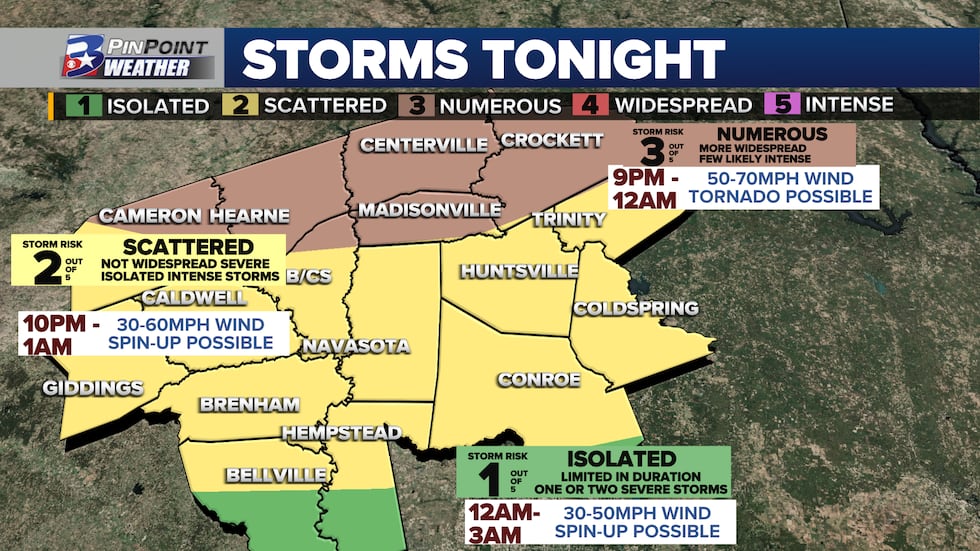 IMPACTS:
The main concern for this expected thunderstorm event will be the potential for destructive wind gusts in excess of 70 to 75mph. The highest risk is currently expected across the north and northeastern Brazos Valley, closest to where Central Texas storms join together to form this line of activity. As the line moves south in the first hours of Thursday, rain-cooled air is expected to rush out ahead and undercut the instability to keep the severe weather threat going. Still, as these storms weaken they could produce gusts as high as 40mph at times.
Before this main line arrives, isolated storms may reach part of the northeast Brazos Valley -- those under the 3 out of 5 risk -- between 3 p.m. and 9pm. These storms could rotate to produce quarter-to-half dollar-size hail and a possible short-duration tornado.
DOWNLOAD THE KBTX PINPOINT WEATHER APP TO RECEIVE SEVERE WEATHER ALERTS WHEN AND IF THEY ARE ISSUED PRE-SUNRISE THURSDAY
TIMING:
Below is a look at the estimated arrival time for the leading edge of this line of thunderstorms through the pre-sunrise hours of Thursday. It is here that strong or severe wind gusts will be possible as the line moves south. Once that edge passes by, ongoing widespread rain, noisy thunder, and flashy lightning will continue -- but the overall severe weather threat will quickly come to an end.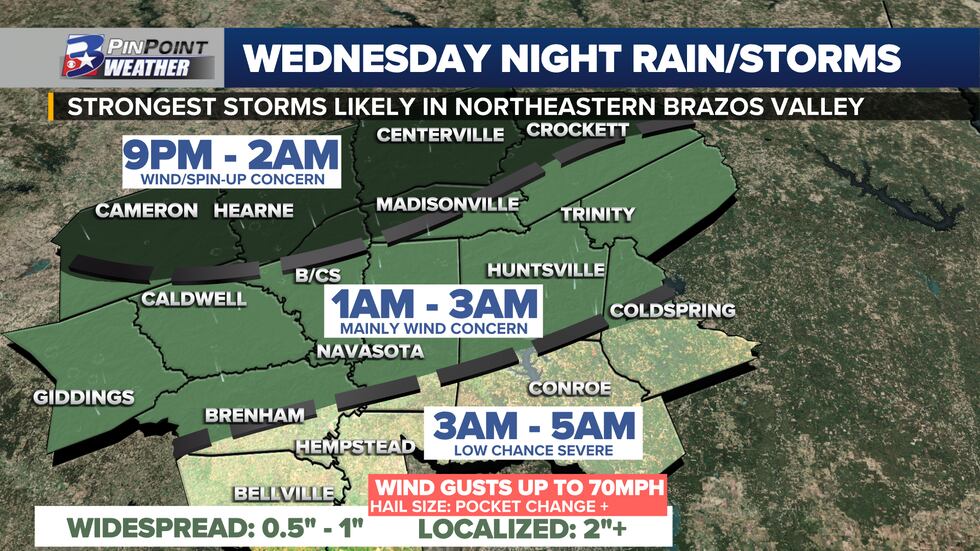 HOW MUCH RAIN WILL FALL?
Generally, half to an inch of rain should be common across the Brazos Valley in the wake of this round of rain and thunderstorms. Stroger thunderstorms could produce a quick 1.5″ to 2″ of rain over very localized spots. The overall rain chance will continue on the light side through mid-Thursday morning before drier air arrives and shuts off the potential for wet weather.
Copyright 2023 KBTX. All rights reserved.