Tornado & Severe Thunderstorm Watch issued for portions of the Brazos Valley
Tornado and significant hail baseball or larger possible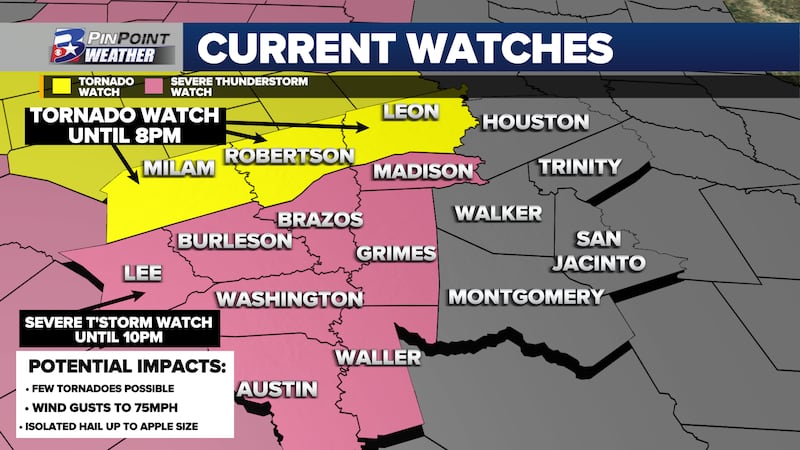 Published: Apr. 28, 2023 at 1:38 PM CDT
|
Updated: Apr. 28, 2023 at 8:40 PM CDT
BRYAN, Texas (KBTX) - 8:30 PM UPDATE: THe severe threat has come to an end for the Brazos Valley. Only Austin and Waller Counties remain in the Severe Thunderstorm Watch, but will likely be cleared in the coming hour. This will be the final hourly update, a log of past updates and details can be found below.
8PM UPDATE: The Tornado Watch has been allowed to expire for all remaining counties. Lee County has been dropped from the Severe Thunderstorm Watch. The rest of the area remains in a Severe Thunderstorm Watch.
7PM UPDATE: Milam County has been dropped from the Tornado Watch, Robertson and Leon Counties remain until 8pm. The remainder of the Brazos Valley has now been added to the Severe Thunderstorm Watch until midnight.
A Tornado WATCH has been issued for the following counties until 8 pm this evening.
• Milam • Robertson • Leon
A Severe Thunderstorm WATCH has been issued for the following counties:
• Until 9pm for Lee County
• Until 10pm for • Austin • Brazos • Burleson • Grimes • Madison • Washington • Waller Counties
A WATCH means conditions are favorable for development of tornado-producing or destructive storms. When and if a warning is issued, it means the threat is occurring or imminent for the warned areas.
Along with a tornado concern, significant thunderstorms arriving in the Brazos Valley by early evening could also contain the following:
Widespread large hail and scattered very large hail events up to 3 inches in diameter -- or roughly as large as a baseball to apple size

Scattered damaging winds and isolated significant gusts up to 75mph likely
RECEIVE WARNINGS AS THEY ARE ISSUED ON YOUR PHONE WITH THE KBTX PINPOINT WEATHER APP
Storms are expected to arrive in the watch area / northern Brazos Valley as early as 5pm, with the severe threat largely ending before 10pm tonight. Make alternate plans if Friday evening was to take you outside - while not all of us will see severe weather, a line of storms is expected to be all-encompassing for the area this evening.'
Additional counties will likely be added to this or a severe thunderstorm watch over the next few hours as storm development continues over Central Texas.
Copyright 2023 KBTX. All rights reserved.