Another round of big storms expected in Texas Saturday night
The Storm Prediction Center says "intense severe thunderstorm development is likely"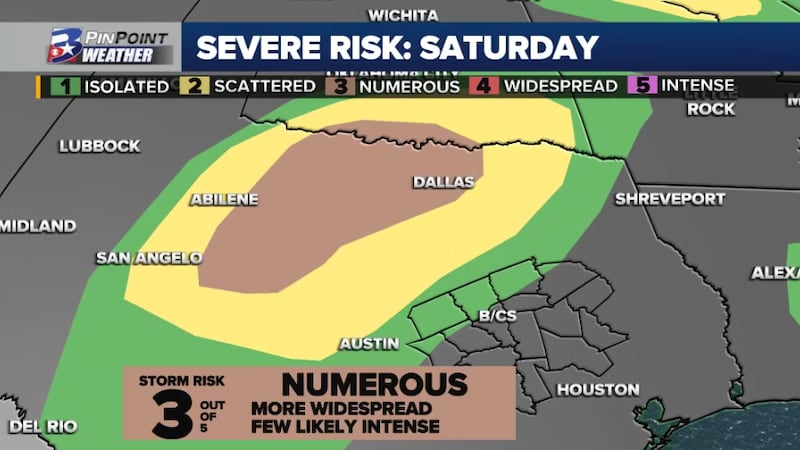 Published: May. 6, 2023 at 11:00 AM CDT
BRYAN, Texas (KBTX) - After the latest round of large hail and damaging winds impacted parts of Central Texas Friday night, forecasters at the Storm Prediction Center expect more significant weather to develop Saturday. Parts of North Texas and the Big Country are in a 3 out of 5 "Enhanced" risk that includes the potential of "very large hail and destructive wind events" per the agency. Locally, Milam, Robertson, and Leon Counties have been included in a lesser 1 out of 5 "Isolated" risk.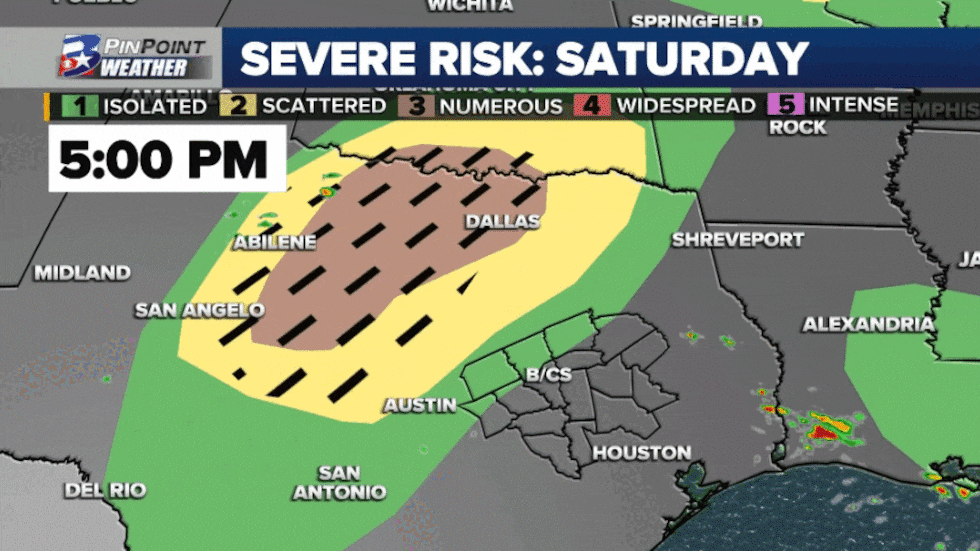 The dryline -- a boundary between muggy, Gulf of Mexico air and arid, desert air -- is expected to sit on the western edge of the Edwards Plateau and north into the Big Country by late Saturday afternoon. Storm development here will likely occur as afternoon temperatures reach the 90s in West Texas. What initially will be isolated thunderstorms capable of destructive hail up to baseball size, gusts to 70mph, and a few tornadoes will eventually grow into a line of storms. This change in storm structure would turn the primary threat into a damaging wind event for North-Central Texas.
CHECK INTERACTIVE PINPOINT RADAR ON THE KBTX PINPOINT WEATHER APP AS STORM ERUPT ACROSS TEXAS
As of Saturday morning, this round of storms and threat of severe weather is expected to remain north of the Brazos Valley. A few weakening, non-severe thunderstorms may come near or through parts of Robertson, Leon, or Houston Counites by/shortly after midnight.
FRIDAY NIGHT STORM DAMAGE
A complex of thunderstorms managed to survive out of Central Texas, making for a noisy and gusty night of weather in the Brazos Valley. Wind gusts were clocked up to 60mph in parts of Robertson and Brazos Counties. Damage was reported in Robertson County when a patio roof was lifted off the structure it was attached to. In Brazos County, a metal barn was dismantled due to the high wind that moved through the Cowboy Country area.
After the storm, Bryan Texas Utilities (BTU) outage map showed as many as nearly 1,800 customers impacted and without power due to the high wind and lightning. Rainfall totals ranged between a quarter and half an inch across much of the area by Saturday morning.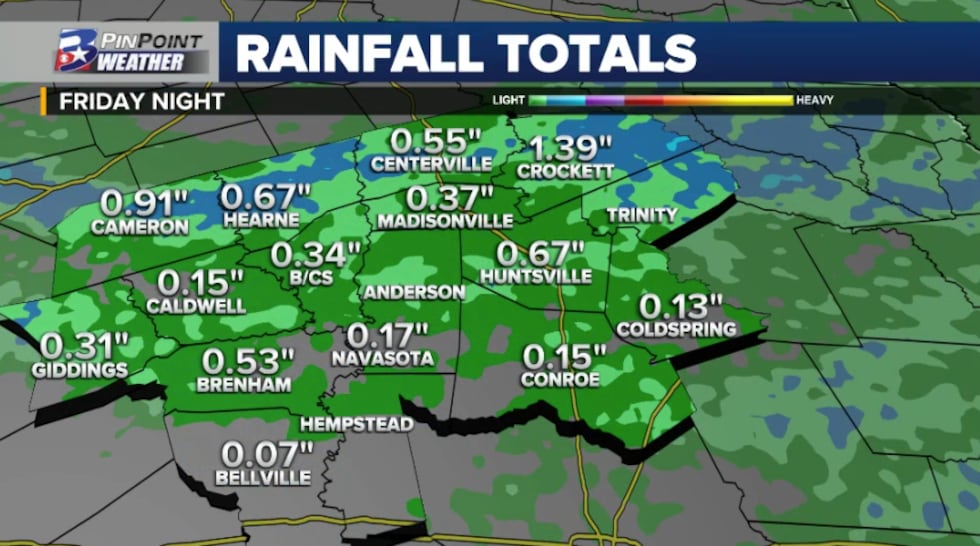 Copyright 2023 KBTX. All rights reserved.