Cameron Police Sergeant Josh Clouse remembered as man of faith, great leader during emotional service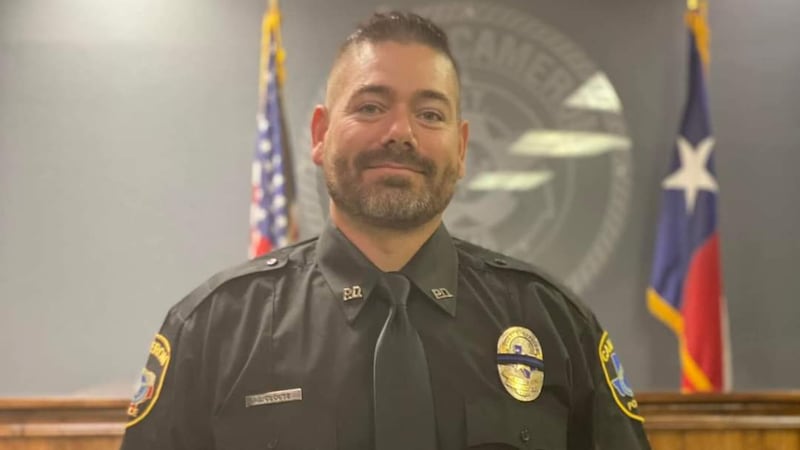 Published: May. 17, 2023 at 8:49 AM CDT
|
Updated: May. 17, 2023 at 9:25 AM CDT
BELL COUNTY, Texas (KWTX) - A Central Texas community honored slain Cameron Police Department Sergeant Josh Clouse as a man of faith, a great leader, and loving person who would go above and beyond to help those in need.
Clouse was fatally shot while his police department executed a search warrant on May 10 at a residence in the 700 block of North Travis. A gunman accused of shooting a woman opened fire at police officers approaching the residence.
The memorial service on May 17 was held at the Bell County Expo Center, and was led by Clouse's pastor, Brad Dussenberry, who spoke about the sergeant's character, and ability to lead with integrity.
Those who attended the service learned about Clouse's final - and selfless - moments. "He demanded he go first, but you know what he did, he got the guys together first and prayed," said Dussenberry as he recounted Clouse's actions during the execution of the warrant at the residence on North Travis.
WATCH: Memorial service for Josh Clouse
The funeral procession for fallen Cameron Police Sergeant Josh Clouse started at 11 a.m. Wednesday as his body was transported from Cameron to the Bell County Expo Center for a memorial service.
The procession started at the Marek-Burns-Laywell Funeral Home in Cameron, turning right onto US 77. It then headed right onto Highway 190, passing through Cameron, Buckholts, and Rogers. It then headed left onto FM 436 toward Little River Academy. After passing through the city, the procession turned onto Loop 121 toward Belton, crossing I-35 and turning onto I-35 frontage road before arriving at the Bell County Expo Center.
Hundreds of law enforcement officers and first responders from across Central Texas attended the service.
"I may not know an officer, personally. I may have not interacted with them, but anytime we lose a brother or sister in the line of duty, it feels like you're losing a family member," said Christopher Wilcox, a law enforcement officer in Bell County, "Anything we can do to honor him, and the sacrifice he made for his family and community, it's no price too large."
WATCH: Final call and salute in honor of Clouse
Copyright 2023 KWTX. All rights reserved.