Rain & storms could reach the Brazos Valley Friday night...they just have to survive the journey out of Central Texas first
Strong wind gusts could reach some as storms let out a last gasp
Published: May. 18, 2023 at 9:25 PM CDT
BRYAN, Texas (KBTX) - Another Friday. Another chance for a round of rain and strong thunderstorms to reach parts Central and Southeast Texas. The Storm Prediction Center has included the entire Brazos Valley in a risk that a severe thunderstorm may drift by during the evening and overnight hours. While severe weather is expected in other parts of Texas, and our atmosphere is certainly capable of supporting a stronger storm, the overall concerns and storm coverage are low as we start the weekend.
SEVERE WEATHER RISK AS ISSUED BY THE STORM PREDICTION CENTER
2 out of 5 "Scattered" Risk (Yellow): The Northern and Central Brazos Valley are included -- generally areas north of and along a line from Giddings to Bryan-College Station to Madisonville and Midway, to just south of Crockett.
1 out of 5 "Isolated" Risk (Green): Areas along and south of the line listed above
IMPACTS OF A STRONGER THUNDERSTORM
While the overall concerns for severe weather are low locally, a significant storm tumbling out of Central Texas could still be in the process of pushing out wind gusts in excess of 30 to 45mph. This is especially true for storms that are on a downward strength trend while moving south. While the severe weather concern may be ending, these storms could "exhale" the wind that was lofted into the atmosphere to support their structure in a dramatic fashion. If so, a downburst wind of significance or two is not ruled out.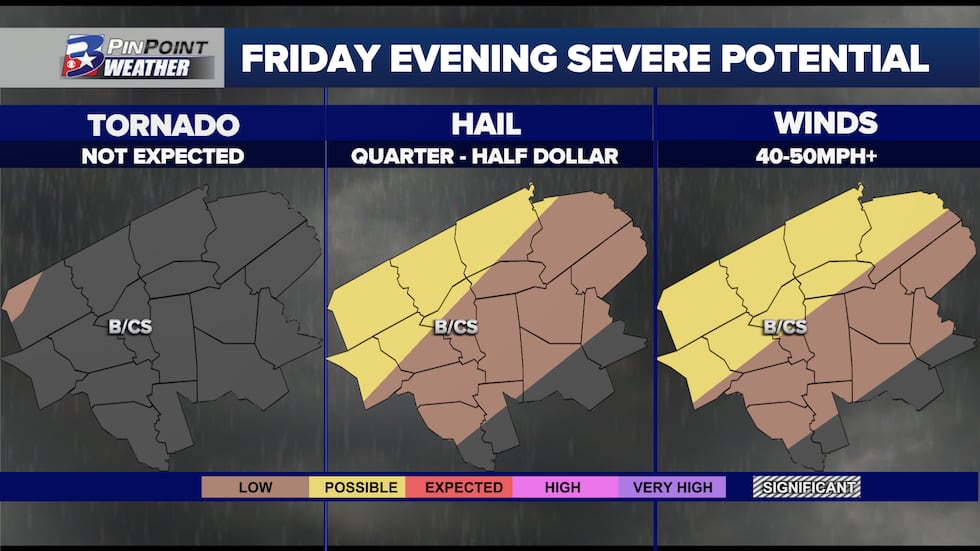 While it is a much lesser concern, pocket-change size hail up to one inch in diameter may be possible. More likely, by the time storms reach the Brazos Valley, that hail concern will have shrunk between pea and penny size.
WILL THIS STORM CHANCE ACTUALLY MATERIALIZE?
This is the question to ask! Storms will absolutely develop along the incoming weekend cold front in North Texas and west of I-35 by late afternoon and early evening. As these storms grow upscale, a few clusters are expected to become severe in Central Texas by the early evening hours. Between 6 pm and 9 pm, established storm activity will likely be confined north and northwest of the Brazos Valley.
As these storms approach our area, inhibition -- otherwise known as increasingly stable air -- will be reasserting itself over the Brazos Valley. Forecast data over the last 24 hours suggests this will act like a "brick wall" for storms and either stop their ability to carry into the northern and central parts of the area or quickly weaken as they continue south.
The highest potential for rain and thunderstorms falls across the far northern and western sides of the Brazos Valley. The further south and southeast you are located, the lower the chance that rumbles of thunder wake you before the Saturday morning alarm.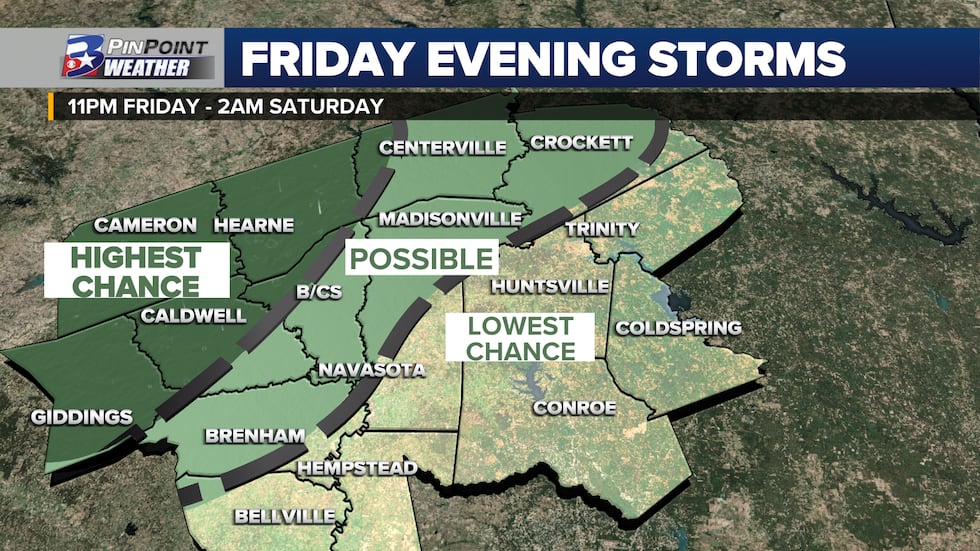 CHECK INTERACTIVE PINPOINT RADAR AND RECEIVE HEAVY RAIN AND LIGHTNING ALERTS BEFORE THEY REACH YOUR AREA WITH THE KBTX PINPOINT WEATHER APP
Friday evening plans? Absolutely keep them. No need to rearrange any outdoor activities. However, it will be an evening -- especially for plans after 9 pm -- to keep an eye on the weather.
Copyright 2023 KBTX. All rights reserved.