'Please help us bring our son home': Parents of missing Fort Cavazos soldier plea for help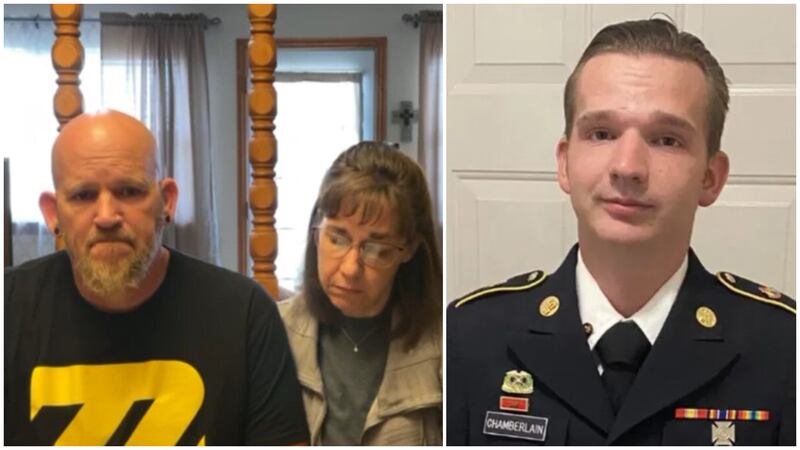 Published: May. 22, 2023 at 6:02 PM CDT
BORGER, Texas (KFDA) - In a video sent to NewsChannel 10, the parents of Specialist Craig Chamberlain are asking for the public's help bringing their son home.
According to the The Criminal Investigation Division of the Army, SPC Chamberlain was last seen leaving his home in Killeen on May 15.
Gordon Chamberlain and Virginia Chamberlain say the information being shared in this case are not all factual, and this is getting in the way of the actual investigation.
"Let us be very clear, the reports of why Craig has been depressed and did not report to Korea is not coming from a reliable source. That person has been hindering the case with inconsistencies and different stories, refusing help that was offered in the search of our son. Why, we do not know," the parents said in a statement.
"However, we do want answers to this. There are other underlying factors that contribute to the situation at hand that needs to be looked into before further being discussed. We ask that if anyone see something, hear something, know something, please bring it to the proper authorities or to us."
The Chamberlain's also shared a message for their missing son.
"Craig, if you're out there and watching this. We love you. We know you have a huge support system here. Nothing in this world could ever make us stop loving you," said Gordon Chamberlain. "Come home. Let your mother now stand beside you. Let us stand beside you. And face whatever is to come is not something you need to do alone."
Finally, the parents shared a message to the public, in hopes someone will share information that will help them find their son.
"We want to thank everyone that has reached out to us with prayers, love, food, etc. Thank you. We serve a mighty God and our faith is with him. As always with our family. All thoughts and prayers are welcome. Please help us bring our son home."
Chamberlain has brown hair, hazel eyes, is 5-foot-7, and weighs 156 pounds. Officials said he was last seen wearing a white T-shirt and gym shorts. The soldier is assigned to the 704th Explosive Ordnance Disposal Company, 79th Ordnance Battalion.
Craig has two distinct tattoos. One on his right arm has the "Love, Death, and Robots" logo. He also has a tattoo of a unicorn on his shoulder.
Copyright 2023 KWTX. All rights reserved.