Celebrating National EMS week with St. Joseph Health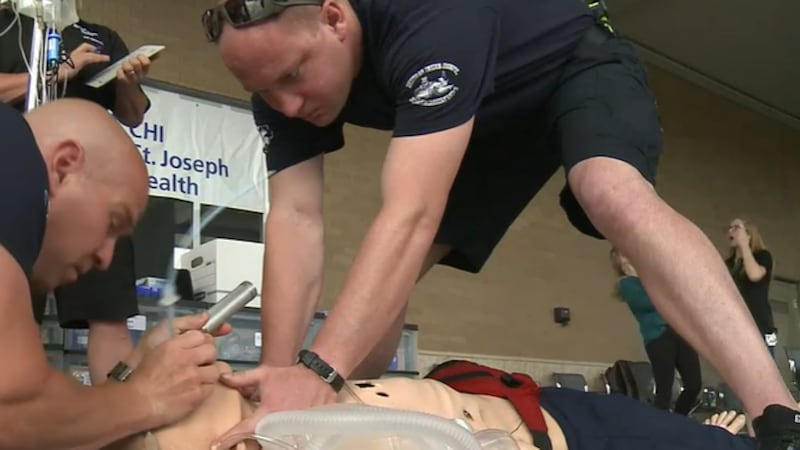 Published: May. 23, 2023 at 5:37 PM CDT
BRYAN, Texas (KBTX) - It's National EMS Week! The third week in May is designated to honor EMS clinicians and the important work they do in their communities.
St. Joseph Health EMS Director Billy Rice joined The Three to honor National EMS Week.
Rice began his work in the EMS field when he was just a teen. That led to him flying helicopters for most of his career.
"I got into it very young. At 18 years old, I joined the Volunteer Fire Department," said Rice. "I worked at A&M. I was actually a paramedic at the Bonfire collapse, so I go way back in the community."
Rice also helped render aid during Hurricane Katrina.
"It's been quite, I think, an interesting career for myself personally," Rice reflected. "And then I ran Air Med 12, which is the 18-year air medical program that's been here in the Brazos Valley."
Although the work can be grueling, Rice says it has its rewards.
"I think it's days like today. Air Med 12 is hosting a regional symposium where they bring in all of these agencies from all over the region. We just we see an element of regional collaboration today that I don't really think existed at the beginning of my career. "
Rice says, overall, the proudest moment for him is having watched so many people he's worked with achieve their dreams and goals.
"People that I've worked with, or who have worked for me throughout my career, have become leaders in the region. You look at the EMS chief of College Station, and of Bryan, and Robertson County. They've all come through Air Med 12."
Copyright 2023 KBTX. All rights reserved.