Rounds of scattered storms continue. A few could be severe Thursday & Saturday
Small disturbances set to kick off additional rounds of Texas thunderstorms
Published: Jun. 7, 2023 at 12:59 PM CDT
|
Updated: Jun. 7, 2023 at 10:44 PM CDT
BRYAN, Texas (KBTX) - Summertime heat and humidity are creeping back into the Brazos Valley's forecast as we stare down the weekend and upcoming week. At the same time, a spring-like pattern remains over Texas, allowing small disturbances to tap into those elements and kick off additional rounds of expected thunderstorms as we close out the week and get into weekend plans.
The Storm Prediction Center has placed the Brazos Valley, the Hill Country, and parts of Central/South Texas under a 1 out of 5 risk for isolated strong to severe storms Thursday. Another isolated risk may be an issue for the area Saturday afternoon to evening as a second disturbance tumbles south out of North and Central Texas.
THURSDAY STORM POTENTIAL
Widespread thunderstorms are expected to develop off the dryline in West Texas Wednesday afternoon and night, slowly moving east and fading before reaching I-35 early Thursday morning. While these storms are not expected locally, they will drape a lingering boundary to the west of the Brazos Valley, that could be used as a focal point for thunderstorms later in the day Thursday. High pressure to the west of Texas will keep a northwest to southeast mid-level flow (aka direction of moving weather) over the Brazos Valley. By Thursday afternoon, a small disturbance tumbles through that flow. As it attempts to tap into the heat and humidity of the day, the chance for -- at least -- scattered rain and isolated storms returns to the forecast.
While the overall odds are low, should a storm or two become concerning, the following impacts may occur:
Strong wind gusts in excess of 40-60mph
Isolated, brief hail between the size of a penny and a quarter
If these storms develop, the window to monitor falls between early afternoon and early evening.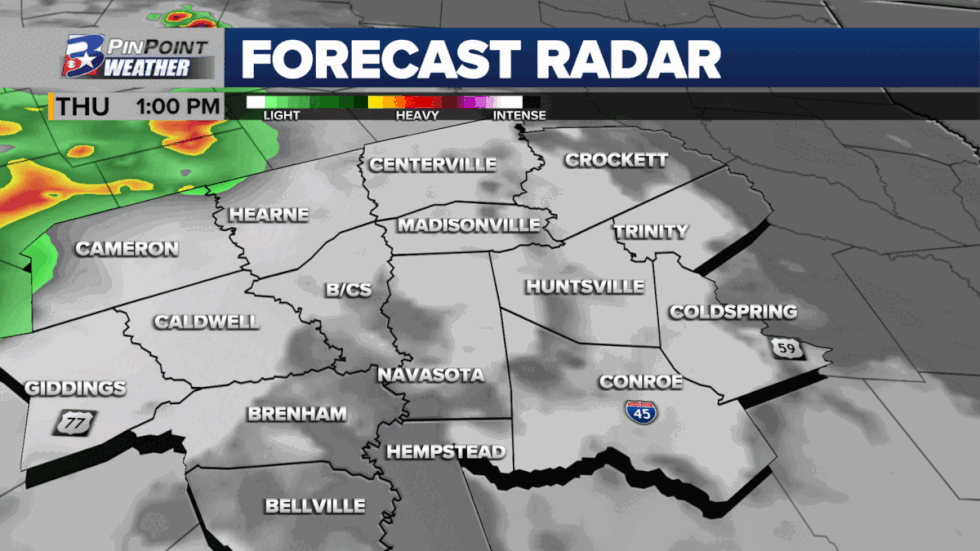 SATURDAY: ANOTHER STORM CHANCE TO MONITOR
Forecast models have consistently attempted to bring another cluster of thunderstorms out of North and Central Texas into the Brazos Valley between Saturday afternoon and Saturday evening. The Storm Prediction Center -- as of Thursday morning -- has the highest potential for severe weather over Oklahoma, North, and Central Texas, stopping just short of Milam, Robertson, and Leon Counties.
This is more of a wait-and-see to nail down the finite details of timing and coverage, but, like Thursday, we will monitor for the potential of strong, potentially damaging, wind gusts and occasional pocket-size hail. As hi-resolution forecast models get in range of this event, more details will be posted on the weather page and updated in the KBTX PinPoint Weather App.
Copyright 2023 KBTX. All rights reserved.