5 sought after shooting at Philadelphia playground kills 3, critically wounds 1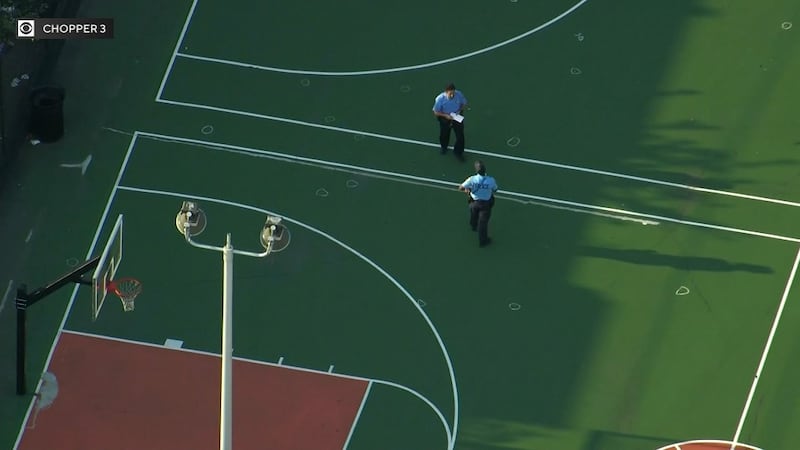 Published: Aug. 13, 2023 at 10:38 AM CDT
|
Updated: Aug. 13, 2023 at 12:03 PM CDT
PHILADELPHIA (AP) — Authorities are searching for five suspects after a shooting at a north Philadelphia playground left three men dead and another critically wounded.
Police said the victims were among a group of people gathered at the 8th and Diamond basketball courts when five males started shooting at the group just before 6 p.m. Friday and then fled.
Nyreese Moore, 22, and Naasir Folk, 24, were pronounced dead after the Friday evening shooting. Police said Sunday that 21-year-old Isiah Williams died shortly before 10 p.m. Saturday at a hospital.
A 23-year-old man shot twice in the abdomen was taken to Temple Medical Center and listed in critical condition.
Police told The Philadelphia Inquirer that spent shell casings from three different-caliber firearms were found on the courts.
Mayor Jim Kenney said in a social media post that he was "horrified" and "praying for the victims as well as their families and loved ones." He said the city offers a $10,000 reward for information leading to arrest and conviction in shootings near schools, recreation centers or libraries.
The union representing Parks and Recreation Department employees told WPVI-TV that workers have been asking the mayor's office for security guards, social workers and therapists at playgrounds to try to prevent the violence but such an effort hasn't received funding.
"They've been mugged, they've been beaten, they've had knives in their face, guns in their face, and that just keeps happening over and over again. They feel like they have PTSD from this job," said Brett Bessler, the vice president of AFSCME-Local 2186.
Kenney said officials added more than 100 new security cameras around city recreation centers and will make therapy available there.
"We will continue to work with the police department and parks and recreation on security, prevention, and surveillance to reduce and respond to crime in and around recreation centers," he said in a statement, WPVI-TV reported
In the East Germantown neighborhood of northwest Philadelphia shortly before 2 p.m. Saturday, a 27-year-old man was shot in the chest and died shortly afterward at Einstein Medical Center. No arrests were reported.
Copyright 2023 The Associated Press. All rights reserved.