Rain and storm chances return to the Brazos Valley
Just in time to get into the weekend
Published: Sep. 7, 2023 at 6:14 PM CDT
|
Updated: Sep. 7, 2023 at 6:30 PM CDT
BRYAN, Texas (KBTX) - For the first time since June, the Brazos Valley will need to watch for the potential for strong to severe storms as we roll into the weekend. While this is not a knock-down-drag-out severe weather event, it could disrupt plans for some.
The Storm Prediction Center is keeping tabs on this potential along with us, and has marked the eastern third of the Brazos Valley in a 2 out of 5 risk and the central portion of the area in a 1 out of 5 risk for strong to severe storms. We will track this system in two rounds, one Friday evening and night and the other Saturday morning through midday.
ROUND ONE: Friday 3pm-11pm
Friday will start like every day this last week, warm, muggy, and uncomfortable and bring record heat by the afternoon. As we move toward the evening, a few showers and isolated storms will start to pop up. While this first round is much more isolated in nature, where storms do pulse up could create very gusty winds as the intensely hot air rapidly cools. This round could also bring some lightning delays to some Friday evening high school football games.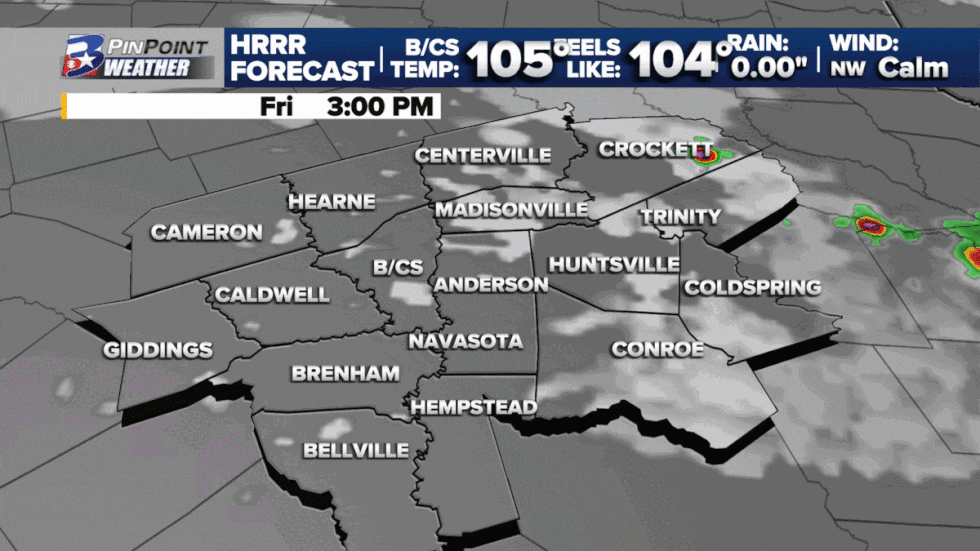 ROUND TWO: Saturday Pre-Sunrise - Noon
This next round comes as a disturbance falls out of northeast Texas. This system is expected to reach the Brazos Valley, specifically the eastern reaches. The timing on this round remains the largest question. There is potential that this round arrives as early as 12am-3am to as late as 5am-7am. This system looks to bring a higher chance of heavy rainfall alongside the potential for wind gusts 45mph+ and lightning that altogether could slow any early morning plans.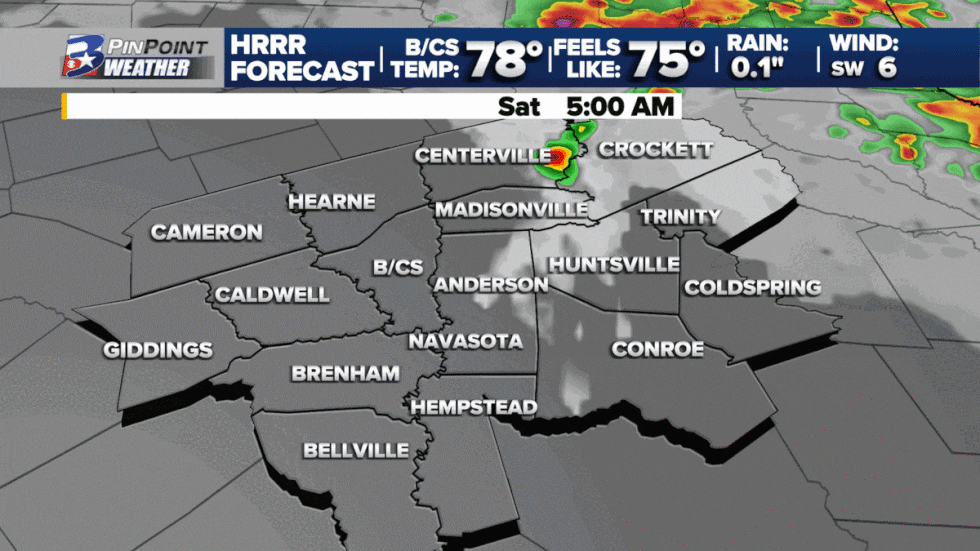 Let's manage expectations a bit, not everyone is going to see rain and storms getting into the weekend. In fact, the further west you go the smaller your chance gets. Both events, but especially Saturday morning, favor areas east of I-45. The most aggressive versions of PinPoint forecast put down isolated totals anywhere from 1″-2″. The majority of us are looking at dry accumulations to a couple of tenths of an inch. To keep tabs on the rain, make sure to download the PinPoint Weather App for the latest.
This rain is just the start of a pattern change the Brazos Valley is moving into as we head toward the middle of the month of September. As rain moves in, the excessive heat dome pulls away and it could be the end of the triple digits for the year.
Copyright 2023 KBTX. All rights reserved.