Route shared for College Station's new Christmas parade
The Dec. 2 parade will begin at Post Oak Mall, travel past Wolf Pen Creek Park, and end at Central Park.
Published: Sep. 20, 2023 at 3:06 PM CDT
COLLEGE STATION, Texas (KBTX) - The show must go on!
The City of College Station is hosting a new Christmas parade this year that is scheduled to begin Saturday, Dec. 2 at 3:30 p.m.
The city confirms to News 3′s Rusty Surette that it will start at Post Oak Mall and continue on a route that ends at Central Park where the city's annual Christmas in the Park celebration is planned.
The route will take the parade from the mall's parking lot to Holleman Drive then proceed to Dartmouth Street.
The parade will pass by Wolf Pen Creek Park, proceed south on Dartmouth, cross Southwest Parkway, and continue to Krenek Tap Road.
The parade will then turn east on Krenak Tap Road and end at Stephen C. Beachy Central Park.
Story Continues below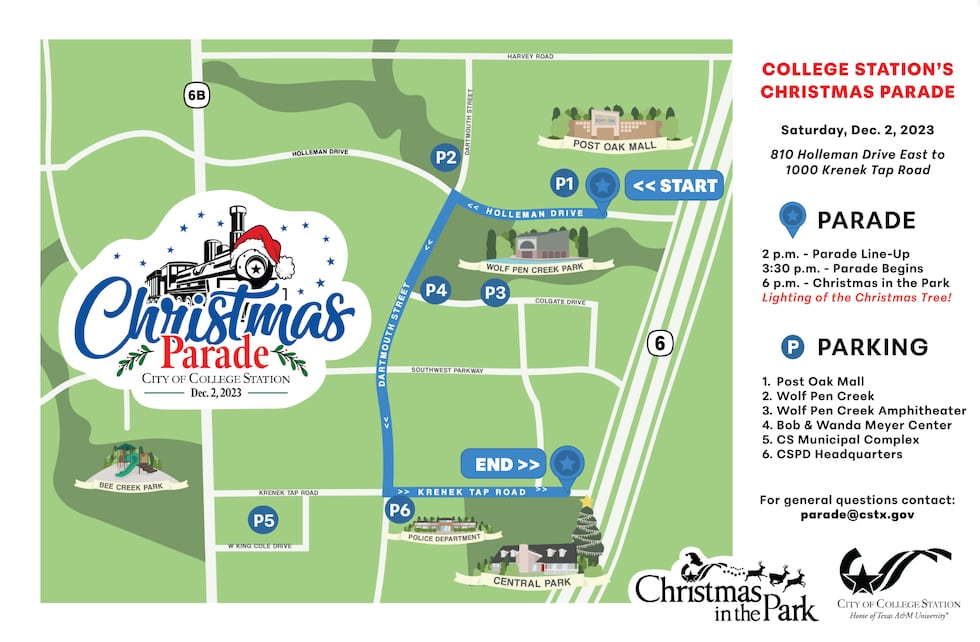 Participation is free. You can sign up to participate or volunteer online.
The new parade was announced last week after the annual BCS Christmas Parade traditionally traveled from Texas A&M to Texas Avenue and into Bryan was canceled by organizers. Organizers cited new medians on Texas Avenue as the reason it was canceled after 93 years of becoming a holiday tradition in Aggieland.
The City of Bryan is also hosting a Lighted Christmas Parade on Dec. 7 in Downtown Bryan.
Copyright 2023 KBTX. All rights reserved.