Suspect in fatal shootings of 4 people in suburban Chicago dead after car crash in Oklahoma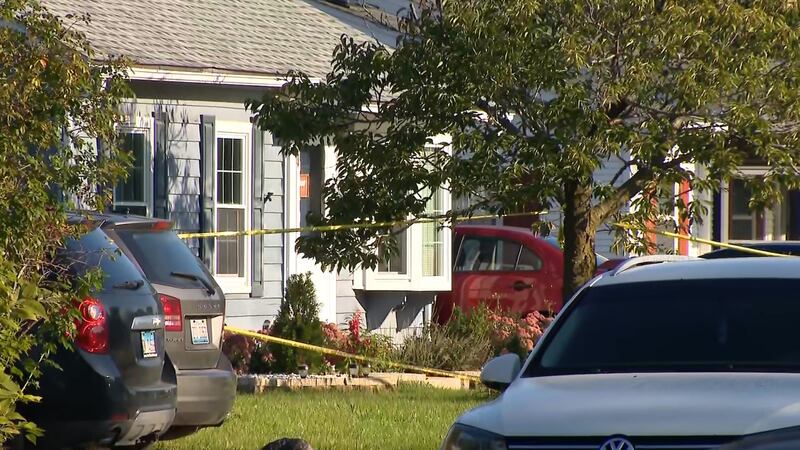 Published: Sep. 20, 2023 at 5:26 PM CDT
|
Updated: Sep. 20, 2023 at 9:21 PM CDT
ROMEOVILLE, Ill. (AP) — A suspect in the shooting deaths of a suburban Chicago couple and their two children died in a fiery crash Wednesday in Oklahoma, police said.
Nathaniel Huey Jr., 32, of Streamwood, Illinois, was suspected in the deaths of Alberto Rolon, Zoraida Bartolomei and their two sons, ages 7 and 9, whose names have not been released. The victims were believed to have been shot between Saturday night and early Sunday in their home in Romeoville, about 30 miles (48 kilometers) southwest of Chicago.
Police were asked to check on the family Sunday night after one family member failed to show up for work that morning and phone calls had gone unanswered, police said.
Three dogs were also found dead, multiple news outlets reported.
There was a relationship between the victims and Huey, Romeoville Police Deputy Chief Chris Burne told reporters at a news conference, without elaborating. Burne further said investigators have developed a possible motive for the shootings without disclosing what it is.
Huey tried to elude authorities after a digital license plate detector spotted the vehicle in Catoosa, Oklahoma, but he crashed the vehicle and it caught on fire, Burne said.
"Officers on scene heard two noises, believed to be gun shots. A female, with a gunshot wound, was located and removed from the passenger side of the vehicle and is listed in critical condition," Burne said. A man with a gunshot wound was found deceased on the driver side, he said.
The woman, described as having a relationship to Huey and who had been identified as a person of interest in the shootings, "was reported by family as a missing/endangered person out of Streamwood, Illinois," Burne said.
Streamwood, Illinois, is about 35 miles (56 kilometers) northwest of Chicago and the same distance north of Romeoville.
"Nothing in our investigation to this point leads us to believe that there are any other suspects," Burne said.
Hunter McKee, spokesman for the Oklahoma State Bureau of Investigation, told The Associated Press that the agency was called in to assist the Catoosa Police Department following the police chase.
McKee said police received two alerts: one for a missing female, the other for an armed and dangerous suspect.
Catoosa officers saw the suspect's vehicle, but no one was inside. As officers watched the vehicle, two people got in and drove away. Police initiated a pursuit, and the driver of the vehicle fled before crashing into a concrete barrier.
"We're still investigating the relationship between the two, and how the man died and how the woman was injured," McKee said.
The AP left several messages Wednesday afternoon seeking comment from people associated with Huey compiled from a public records search. One of those messages was left on a voicemail for Cristiana Espinoza, who then returned the call to AP.
Espinoza, 25, said she filed the missing person's report Tuesday afternoon for the woman found wounded in the vehicle in Oklahoma because she was concerned for the woman's safety.
"I know she left with him willingly about 4 p.m. Tuesday," Espinoza said. "When I saw her, she was scared. She was crying. I was in contact with her. We knew where she was. I was begging for her to come home. I honestly feel she left to protect her family."
Espinoza said she was acquainted with both Huey and the woman.
A GoFundMe page created to raise money for helping the Rolon-Bartolomei family with funeral expenses describes the victims as hard-working people who had just bought their first home.
"Their kids were the sweetest most innocent angels who could hug your worries away," the organizers said.
The incident represents the 35th mass killing in the U.S. this year, according to a database maintained by The AP and USA Today in partnership with Northeastern University. A total of 171 people have died in those killings, which are defined as incidents in which four or more people have died within a 24-hour period, not including the killer — the same definition used by the FBI.
___
This story has been corrected to remove that the suspect died of an apparently self-inflicted gunshot wound. Police have not said or suggested who fired the gunshot wound he suffered. It has also been updated to correct the age of Nathaniel Huey Jr. Huey is 32, not 31, as police originally stated.
___
Ken Kusmer reported from Indianapolis, Corey Williams reported from West Bloomfield, Michigan, and Lisa Baumann reported from Bellingham, Washington. AP researcher Jennifer Farrar in New York contributed.
Copyright 2023 The Associated Press. All rights reserved.