SEVERE THUNDERSTORM WATCH in effect for the Northern Brazos Valley
Strong, potentially damaging wind gusts the main concern. Isolated large hail not ruled out initially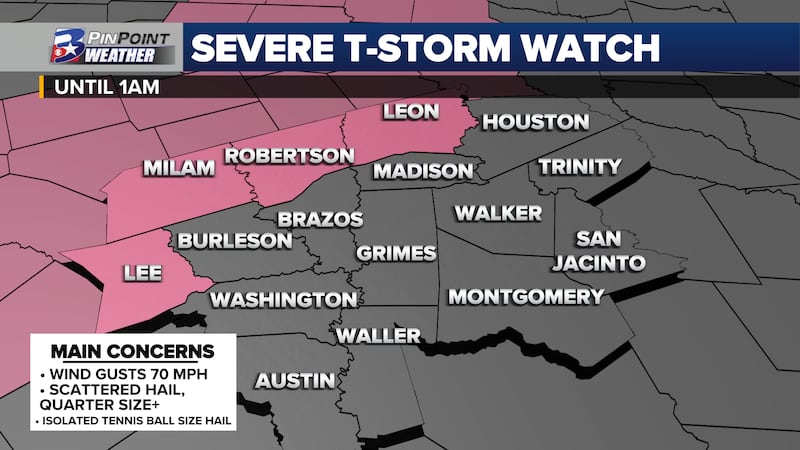 Published: Sep. 24, 2023 at 1:56 PM CDT
|
Updated: Sep. 24, 2023 at 11:18 PM CDT
BRYAN, Texas (KBTX) - The National Weather Service and Storm Prediction Center have issued a SEVERE THUNDERSTORM WATCH until 11pm for the Northern Brazos Valley.
WHO: Milam, Robertson, Lee, Leon Counties (this watch could be extended further south into the Brazos Valley if need be)
WHEN: Until 1am Sunday (this watch could be extended into early Monday morning if need be)
IMPACTS: Strong, damaging wind gusts in excess of 60-65mph. Hail up to the size of a quarter or half dollar could be common in storm activity. Isolated instances of hail to the size of an egg (2″) or tennis ball (2.5″) is not ruled out, although more likely north and northwest of the Brazos Valley
WHAT TO MONITOR: Developing thunderstorms along a boundary to the north of the area. Initial storms will bring the greatest severe weather concerns as they develop. Once storm activity forms into more of a line, this should transition the severe weather concern to more of a wind potential through the overnight and very early/sunrise hours of Monday.
More details on the storm chance & what to expect for the rest of the Brazos Valley through the overnight hours is below.
REMEMBER...A Severe Thunderstorm Watch means conditions are favorable for severe thunderstorms in and close to the watch area. Persons in these areas should be on the lookout for threatening weather conditions and listen for later statements and possible warnings. Severe thunderstorms can and occasionally do produce tornadoes.
EARLY SUNDAY AFTERNOON UPDATE
A weak cold front is headed to the Brazos Valley as we start this final week of September, helping to push thermometers away from the triple-digit mark. Ahead of that wind shift, thunderstorms are expected to fall out of North and Central Texas, into the Brazos Valley in the very early, pre-sunrise hours Monday. The Storm Prediction Center has placed the northern Brazos Valley under a 2 out of 5 risk for a few strong to severe thunderstorms.
WHAT: Strong-to-severe thunderstorms arriving from the north. While not every thunderstorm is expected to be concerning, some could prompt severe thunderstorm warnings through the middle of the night. A severe thunderstorm watch could be issued ahead of these anticipated storms, if the National Weather Service deems it necessary.
WHEN: Generally between midnight and sunrise Monday. This could come in two rounds of activity: first between 12am and 4am, with a second round between 5am and 8am
WHERE: Highest potential for impactful weather is expected along and east of I-45, particularly with the initial round of storms moving south out of Central Texas. Additional, more widespread rain and storm activity will be possible through the overnight further west into other portions of the Brazos Valley
IMPACTS: Damaging or strong wind gusts up to 40mph or higher. Any discrete storm that manages to move out of Central Texas could produce large hail between the size of a quarter or a small sporting ball (ping pong, golf ball, etc.) although this is a much lower risk locally. Heavy or repeating rain could create localized areas of minor, low-lying, or street flooding that could cause a few issues for the Monday morning commute.
DOWNLOAD THE KBTX PINPOINT WEATHER APP FOR INTERACTIVE RADAR AND TO RECEIVE ALERTS TO YOUR CELL PHONE OVERNIGHT IF / WHEN SEVERE WEATHER MOVES THROUGH YOUR NEIGHBORHOOD
The forecast radar above is not perfect, but it gives a very good example of how this weather event could play out through the overnight hours. There are some data sets that suggest scattered storms could reach parts of the northern or northeastern Brazos Valley a few hours sooner, potentially as early as 9 to 10pm Sunday. While this is more of an exception rather than the overall consensus, it is something that will be monitored with trends as storms develop in North and Central Texas between 5pm and 7pm.
Copyright 2023 KBTX. All rights reserved.