Texas A&M football player arrested on charges of violating protection order
Jordan Spasojevic-Moko becomes the third player to be arrested this season.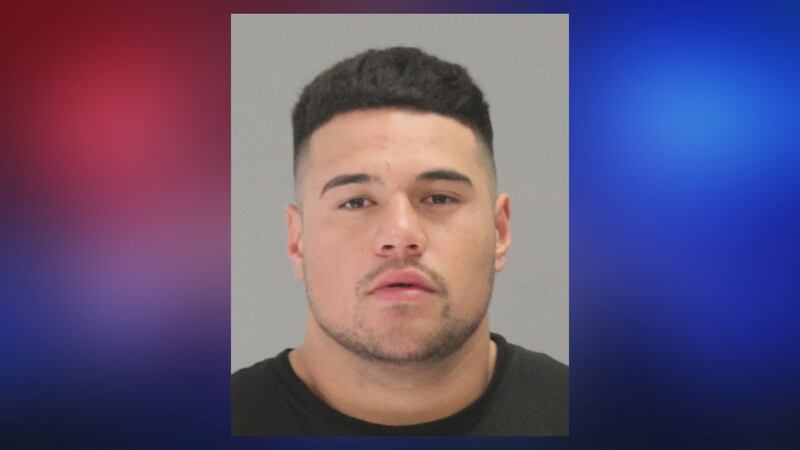 Published: Oct. 1, 2023 at 5:03 PM CDT
COLLEGE STATION, Texas (KBTX) - Texas A&M Athletics has confirmed the suspension of a football player following his arrest over the weekend.
Jordan Spasojevic-Moko, 22, of College Station, is charged with twice violating a protection order that was put in place last week by a Brazos County judge.
According to arrest reports, the first violation occurred just after midnight Saturday when Spasojevic-Moko entered a Northgate bar and remained despite knowing the woman he was ordered to stay away from was also inside the establishment.
Bar staff confirmed to police that Spasojevic-Moko was aware the woman was there and he stayed inside to take shots with other customers. The woman also told police that Spasojevic-Moko taunted her by sticking out his tongue at her.
Spasojevic-Moko was arrested by College Station Police and taken to the Brazos County Detention Center.
The second charge was filed later in the day after Spasojevic-Moko reportedly called the woman multiple times from inside the jail. She told police he called her three times in an effort to get her to drop the charges.
According to online jail records, Spasojevic-Moko was released Sunday on bonds totaling $50,000.
According to Texas A&M Athletics, the junior offensive lineman has been suspended indefinitely from the team per athletics department policy. Spasojevic-Moko had two starts last year before suffering a season-ending injury and this year he had limited playing time in the team's season-opening win against New Mexico.
Spasojevic-Moko became the third football player to be arrested by police in September.
Last month Shemar Turner was arrested for reckless driving and Micah Tease was arrested on drug-related charges.
Copyright 2023 KBTX. All rights reserved.