Amazon drone deliveries soaring as neighbors share concerns about noise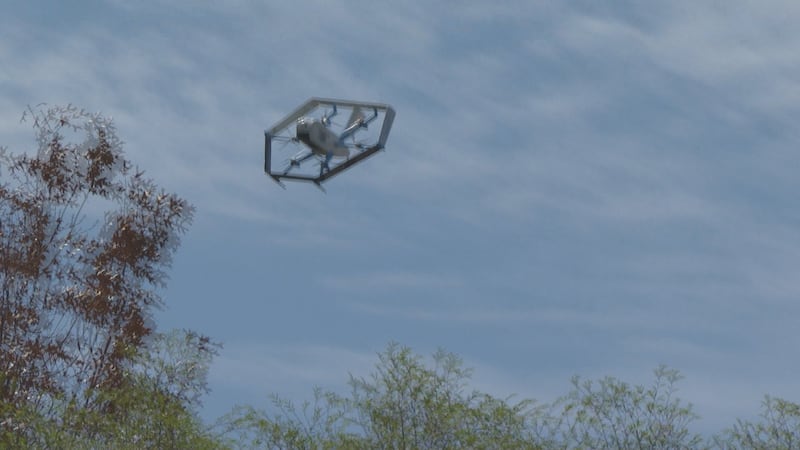 Published: Oct. 2, 2023 at 5:44 PM CDT
|
Updated: Oct. 2, 2023 at 9:22 PM CDT
COLLEGE STATION, Texas (KBTX) - Amazon drones continue making deliveries in College Station skies, giving customers a quick and convenient way to shop. But, some neighbors say they're fed up with the noise.
During a city council meeting, former College Station Council Member, Bob Brick, spoke to leaders about his concerns as more than half a dozen drones took off in a matter of minutes.
"I was sitting out in my backyard having morning coffee and watching the chickadees feed in the sunflowers and enjoying the morning and during the time that I sat there seven drones came overhead within I think maybe 100 feet of my house," Brick said to the council.
Over the last few months, Amazon Prime Air deliveries have been put on hold due to the heat and reports showed only around 100 deliveries were made in the first few months. Now, it appears the drone delivery service has picked up steam.
"I left there and to go back in the house another couple came over. So in a very short time, there were quite a few of these things flying overhead," Brick said.
Amazon and local leaders have teased the idea that there is local research being done in order to mitigate the sound of motors coming from the overhead vehicles, but there has been no mention of a plan.
"Our drones fly hundreds of feet in the air, well above people and structures. Even when they lower down to deliver packages, our drones are generally quieter and will be in the local vicinity for a much shorter duration than a range of common sounds you would usually experience in a typical neighborhood," Simone Griffin, an Amazon spokesperson said.
Until then, Brick asked the council what they were going to do in order to find a solution.
"Some of you may recall that I opposed this approval of the zoning to permit that action when I was on the council and my request for you this evening is to please convince me that this is not annoying to our neighbors in that area," he said.
When the City Council approved a zoning change to allow the Amazon Distribution Center, it was only focused on allowing for structures to be built. The approval for Amazon to fly drones for delivery comes from the Federal Aviation Administration.
"It's between [Amazon] and the FAA as to how fast they can do what they're doing. The city's only role in this was to create a land use change to allow for that location to be used. [Amazon] was eligible to do what they're doing in any of our industrial zones," College Station Mayor, John Nichols, said.
College Station Council Members were unable to respond during this portion of the meeting.
Copyright 2023 KBTX. All rights reserved.