Rain returns to the Brazos Valley this week, riding in on the first fall front
Localized flooding could become a minor concern at times Thursday
Published: Oct. 1, 2023 at 9:30 PM CDT
BRYAN, Texas (KBTX) - This is the one. The one the Brazos Valley has been waiting for since temperatures jumped above average in May and refused to come down. The first fall cold front of the season is expected to reach Central and Southeast Texas Thursday. Ahead of the front: warmer-than-average and humid conditions, but a chance for passing scattered rain and thunderstorms. As the cold front passes: a day of scattered, widespread rain and thunderstorms -- some of which may be heavy at times. Behind the front: a reinforcing push of mild air and the promise of seasonable early fall temperatures.
HOW MUCH RAIN IS POSSIBLE THIS WEEK
Short of the long: anywhere from 0.75″ to 2″ of rain is expected to collect in Brazos Valley rain gauges through midnight Friday. Localized totals of 3″ or more are not ruled out, particularly for the northern parts of the area.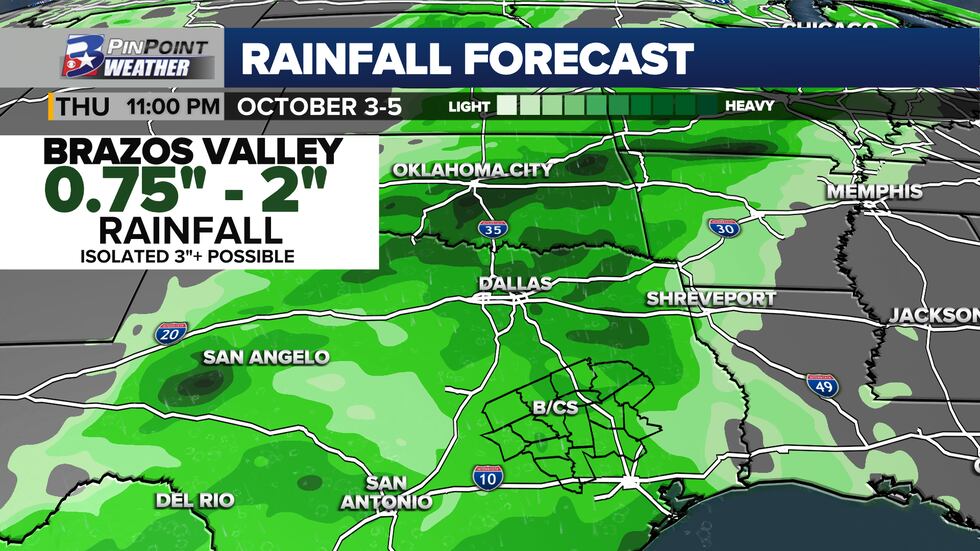 Early in the week, scattered rain and a few thunderstorms will attempt to survive a fling north out of the Gulf of Mexico and into the Brazos Valley. Tuesday that chance is only as good as a 30% coverage with the heat of the day. By Wednesday, the moisture in the atmosphere gets a boost, which in turn brings the chance for a better coverage of passing rain and thunderstorms. Rainfall up to this point will be highly uneven, but as much as 0.5″ could be left behind.
CHECK INTERACTIVE RADAR AND RECEIVE LIGHTNING/HEAVY RAIN ALERTS ON YOUR CELL PHONE WITH THE KBTX PINPOINT WEATHER APP
As a cold front sluggishly approaches and passes through the area Thursday, it will serve as the focal point for possible training thunderstorm activity. Combine that with an atmosphere holding moisture that is about 200% what is typical for early October, and you have the recipe for several inches of rain to fall for some parts of the area. While a drought-thirsty landscape is ready to drink this gulp of water up, there is a chance this comes down either too quickly or in repeated heavy rounds over the same area. The Brazos Valley has been marked in a 1 out of 4 risk for Excessive Rainfall by the Climate Prediction Center. Basically, ponding of water on roads, street flooding, low-lying flooding, and creek/stream flooding could briefly cause issues as we attempt to navigate what could turn out to be a sloppy Thursday.
SEVERE WEATHER POTENTIAL?
While we cannot and will not rule out a few strong storms capable of gusty wind and small hail, the overall chance of organized severe weather seems unlikely. Stronger thunderstorms -- particularly Wednesday afternoon -- could produce wind gusts in excess of 30-40mph and contain hail between pea and nickel size.
SEASONABLE AIR ARRIVES BY LATE WEEK
This is not a big-blast-of-chilly-air type cold front, but rather one that will bring temperatures back to where we expect them to be in early October.
While the current forecast holds highs in the 80s, starting Thursday, there are a few places where changes may be made as new data arrives in the PinPoint Weather Center. An all-day or most-of-the-day rain Thursday could hold afternoon highs to the rain-cooled mid/upper 70s. A secondary, reinforcing front arriving Friday night may have the push of mild air that it takes to keep highs in the upper 70s Saturday, too! That secondary front has the potential to bring morning lows down between the mid and upper 50s for much of the area as early as Saturday morning, if not Sunday through the start of next week.
Copyright 2023 KBTX. All rights reserved.