A&M United Methodist Church to celebrate historic landmark designation with dedication ceremony
Published: Nov. 1, 2023 at 3:54 PM CDT
COLLEGE STATION, Texas (KBTX) -A&M United Methodist Church in College Station has been a place where individuals can connect, not only to God but also to the community, for the last 100 years. In February, the church celebrated its centennial, and on Wednesday, the church took a moment to celebrate another significant milestone.
In 2021, A&M United Methodist was recognized as a historical site by the Texas Historical Commission (THC). On Wednesday, the church will dedicate the historical marker that will sit outside the front of the church.
According to the THC, A&M United Methodist Church now joins 14 other places of worship in Brazos County to have this honor.
Official Texas Historical Markers are those markers and plaques that the Texas Historical Commission awards, approves, or administers. They include Centennial markers that the State of Texas awarded in the 1930s, Civil War Centennial markers from the 1960s, and medallions and markers awarded by the THC's predecessor, the Texas State Historical Survey Committee.
In addition to the dedication, community members were invited to a meal and fellowship in the church's Great Hall.
The ceremony was emceed by Ben Down, General Manager of Bryan Broadcasting. College Station Mayor John Nichols was also on hand to read and issue a proclamation to commemorate the day's festivities. Current Senior Pastor, Preston Greenwaldt, former A&M United Methodist Pastor, now Conference Pastor and United Methodist District Superintendent Kip Gilts, were on hand to provide words of encouragement to church members and the community.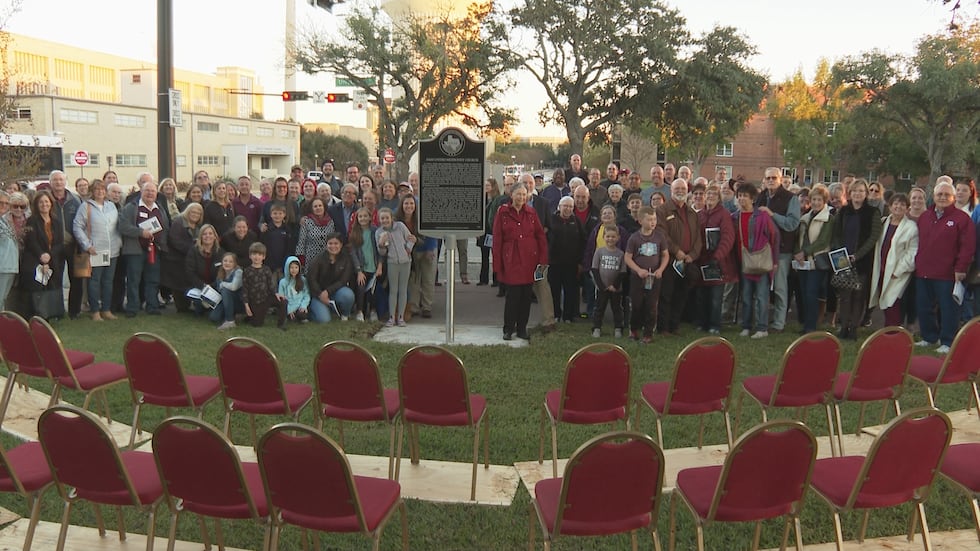 Church leaders say Wednesday's celebration is an opportunity to express gratitude for 100 years of ministry at A&M UMC. Pastor Greenwaldt says the last century is a testament to the church's faithfulness to the community and university.
"The mission of this church has always been about how we reach across the street to students, how we reach to professors. How today, how people who are coming back to Aggieland can involve themselves in a place where right here on campus where we believe that God is at work and God is at work through us," said Greenwaldt.
The unveiling of the historical marker on Wednesday held special significance for numerous families who have considered A&M United Methodist their spiritual home for decades. Margaret Godfrey, who grew up in the church, recounted the many significant life events that have taken place at the church.
"My sister and I were baptized and then, since then seven members of our family have been baptized in our sanctuary. We've had weddings in this sanctuary, we've had anniversaries in the sanctuary, many family celebrations as well as celebrations of life," said Godfrey.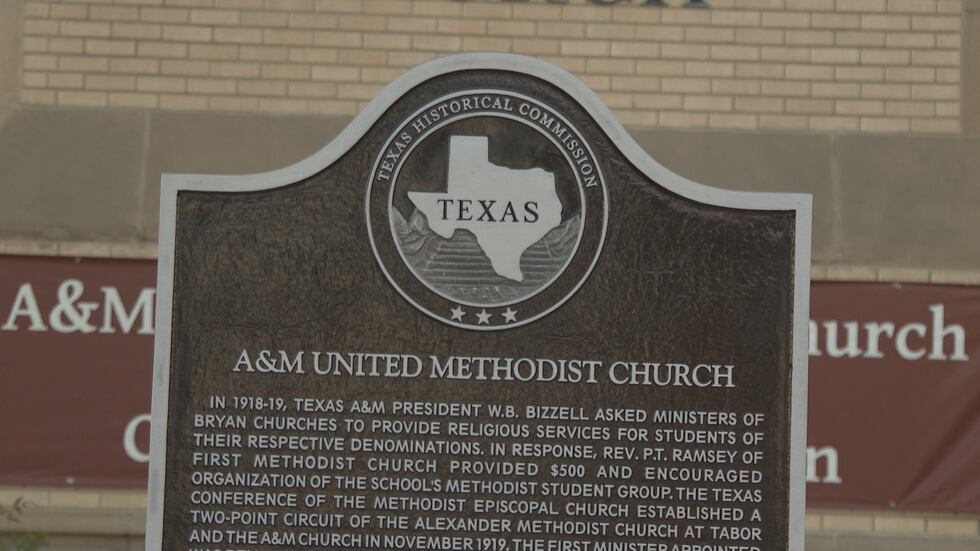 The church's unique location, right across from the campus of Texas A&M University, has been pivotal in shaping the lives of students. Paul Lambert, a member of the congregation, shared his personal connection, saying, "It goes back to the early eighties. My wife and I were both here at A&M students, both accounting students, and this church was the Methodist church nearby, near campus and an easy walk across the street."
Lambert says as the A&M United Methodist Church embarks on its next hundred years, its location, physical presence, and spiritual guidance will continue to be a beacon, drawing in students and neighbors alike.
"They're going to have that constant where when they come to this place at this university there's going to be a methodist church with a presence right here nearby that they can come to, they can lean on, they can worship and they can develop their faith," Lambert added.
Copyright 2023 KBTX. All rights reserved.