Aggies ride strong defense to victory over Ponies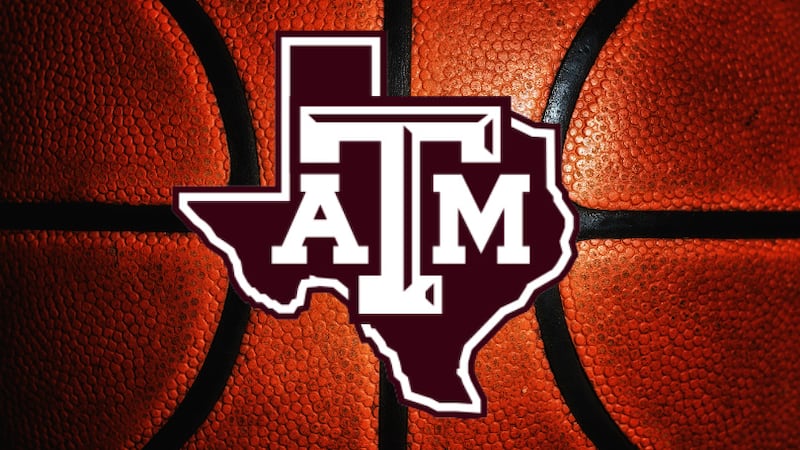 Published: Nov. 14, 2023 at 11:19 PM CST
DALLAS, Texas -- The Texas A&M men's basketball team leaned on its stingy defense to tally a 79-66 road victory over the SMU Mustangs on Tuesday at Moody Coliseum.
The Aggies improved to 3-0 with the last two victories coming on the road, while the Ponies suffered their first loss and fell to 3-1. Texas A&M limited SMU to 35% shooting for the game while holding the Ponies to 34 or fewer points in both halves of play.
Four Aggies posted double-digit points with graduate guard Tyrece Radford leading the way with 21 points for the second straight game as he connected 7-of -15 shots, including four 3-pointers. The Baton Rouge native filled the stat sheet with seven rebounds and three assists.
Senior forward Henry Coleman III was dominant in the middle as he posted his second straight double-double with 13 points and 15 rebounds, which matched his career high. It was the 12th double-double of Coleman's career. He was perfect from the line for a second straight game, going 5-of-5 from the charity stripe after connecting on all four tries against Ohio State.
Other Aggies in double figures were Dallas native Wade Taylor IV with 15 points while also dishing out a game-high five assists, and junior transfer Jace Carter with 10 points on 4-of-7 shooting.
Four players got to the line at least four times as the Aggies shot 27 free throws with 22 makes for a sparkling 81% success rate. Texas A&M was in single digits in turnovers for a second straight game with seven, while forcing 16 from SMU and converting them into 20 points. The Aggies had an out-of-character eight blocks with transfer Wildens Leveque, Carter and sophomore Solomon Washington each swatting a pair. It was the most blocks since posting eight rejections against the Ponies last season.
The Aggies return to action with a 7 pm matchup against 2023 NCAA Tournament team Oral Roberts at Reed Arena on Friday.
GAME NOTES:
MOVING ON UP: With the win over the Ponies, Texas A&M head coach Buzz Williams moved past Tony Barone (1991-98) and now ranks No. 6 on the school's coaching wins list with a record of 77-47.
DOUBLE TROUBLE: Henry Coleman III has registered a double-double in two consecutive games now. Coleman III scored 13 and grabbed 15 rebounds whole going 5-of-5 from the charity stripe. The senior forward is the only player to have a double-double this season.
DOUBLE DIGIT AGGIES: Four Aggies have scored double figures in two of the three games played this season. Tonight's double-digit scorers include Tyrece Radford (21), Wade Taylor IV (15), Coleman III (13) and Jace Carter (10).
MILESTONES: Coleman III hit the 500-rebound plateau for his career at Duke and Texas A&M after tying his career-high with 15 rebounds. The Richmond, Virginia native scored 13 points to put him at exactly 800 points scored in his career. Radford also cleaned the boards compiling seven rebounds and now has over 750 career rebounds at Virginia Tech and Texas A&M.
GIVE ME THAT: The Maroon & White forced 16 turnovers while only turning the ball over seven times. A&M capitalized off the takeaways by racking up 20 points from turnovers, while SMU only compiled eight points off of turnovers.
Copyright 2023 KBTX. All rights reserved.