A&M volleyball taking on Kentucky in road contest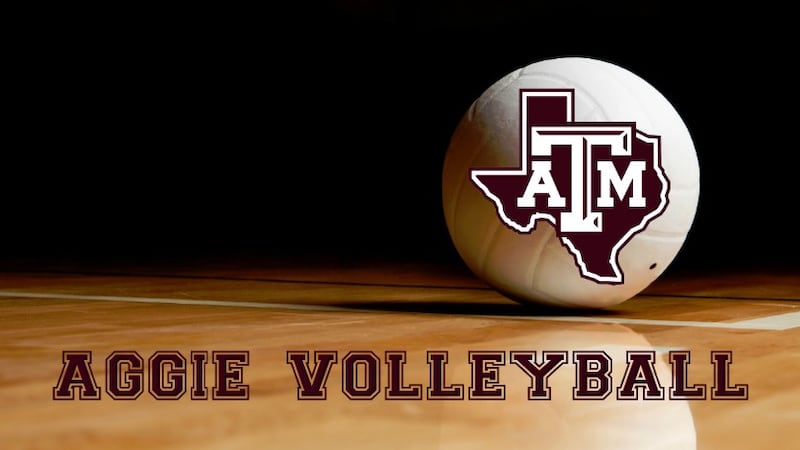 Published: Nov. 15, 2023 at 11:29 AM CST
LEXINGTON, Ky. – The Texas A&M volleyball team heads to Big Blue Nation for a road match in Rupp Arena with first serve set for 6 p.m.
The Aggies dropped a 3-1 road battle in Missouri last time out. The squads battled back-and-forth in every frame, as no set was won by more than three points. The Tigers took the opening two frames before A&M responded in the third, and after holding a late lead in the fourth, it ultimately came up just short. Despite the loss, the Maroon & White still sit seventh in the SEC at 7-7 in league play.
No. 12 Kentucky enters the match following a two-win week and most recently sweeping Georgia on Sunday. The Wildcats currently lead the conference with a 13-1 record and are on a 12-game win streak.
Kentucky holds a small advantage in the all-time series (14-10) and an 11-5 advantage in games since joining the SEC. The Aggies have two wins in Rupp Arena, their most recent came in 2019 where they claimed a 3-1 victory. Last season, A&M split a pair of home matches versus the then-No. 16 Wildcats. The Maroon & White swept the first game (3-0), while Kentucky won the second match the following day 3-1.
Bianna Muoneke led the Maroon & White with 18 kills in the game with Missouri, this brought her season total to 251. She is now the third Aggie this season to surpass the 250-kill mark, as Logan Lednicky (295) and Caroline Meuth (265) have also reached this milestone.
After another four-block match, Ifenna Cos-Okpalla continues to lead the conference in blocks (142) and blocks per set (1.67) across all matches, she also remains as the nation's leader in blocks per set which she has done all season.
Muoneke's versatility has been evident in the Maroon & White's last three matches, as the freshman standout has logged three consecutive double doubles with kills and digs. She ranks second on the team in digs this season (172) and third in kills (251).
Copyright 2023 KBTX. All rights reserved.