No. 13 Texas A&M Hosts the Art Adamson Invitational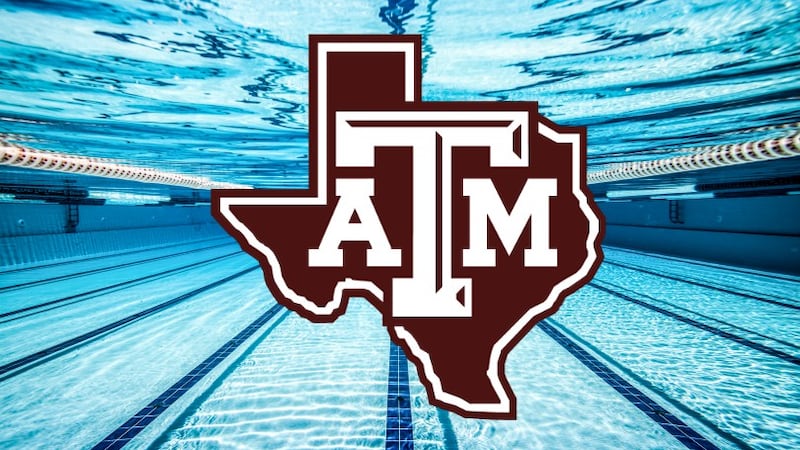 Published: Nov. 14, 2023 at 7:42 PM CST
BRYAN-COLLEGE STATION, Texas – The No. 13 Texas A&M men's swimming & diving team is set to host the 11thannual Art Adamson Invitational at the Rec Center Natatorium Nov. 15th-17th with swimming prelims beginning daily at 9:30 a.m., diving starting at 12 p.m. and finals getting underway at 5:30 p.m.
Texas A&M is looking to keep its undefeated season intact, welcoming Air Force, LSU, Utah and Rockhurst University to Aggieland. Rockhurst will only compete in diving.
The Aggies are coming off a pair of ranked home wins after winning the double-dual against No. 23 Georgia Tech (189-111) and No. 7 Texas (143-119). During the meet, 10 Aggies registered 16 NCAA B cuts in nine events.
Alex Sanchez swept the breaststroke events as he swam a 52.86 in the 100 breast and a 1:54.76 in the 200 breast. Connor Foote also claimed a pair of top finishes, recording a time of 19.92 in the 50 free and 46.01 in the 100 fly.
Baylor Nelson finished in the top spot in three individual events. The sophomore placed first in the 200 free (1:33.97), 200 back (1:42.34) and 400 IM (3:46.13). Nelson also contributed to the first-place finish in the 400 medley relay.
The diving team swept the springboards against Georgia Tech. Allen Bottego won the 1-meter scoring a 364.73 and Victor Povzner took first on the 3-meter board scoring a 431.18.
Prelims for the Art Adamson Invitational will be in long course meters and finals will be in short course yards. The 3-meter and platform finals will happen during Thursday's and Friday's finals sessions, respectively, and the 1-meter final will start at 4:15 p.m. prior to Wednesday's finals.
Fans will be able to stream finals on SEC Network+ and live results will be available on the Meet Mobile App.
Visit 12thman.com for more information on Texas A&M men's swimming & diving. Fans can keep up to date with the Aggies Facebook, Instagram, and on Twitter/X by following @AggieSwimDive
Art Adamson Invitational Schedule
Wednesday, November 15 - Watch
9:30 a.m. Swimming Prelims
12/4:15 p.m. Diving Prelims/1-meter final
5:30 p.m. Finals – 200 free relay, 500 free, 200 IM, 50 free, 1-meter, 400 medley relay
Thursday, November 16 - Watch
9:30 a.m. Swimming Prelims
12 p.m. Diving Prelims
5:30 p.m. 200 medley relay, 400 IM, 100 fly, 200 free, 100 breast, 100 back, 3-meter, 800 free relay
Friday, November 17 - Watch
9:30 a.m. Swimming Prelims
12 p.m. Diving Prelims
5:30 p.m. 1650 free, platform, 200 back, 100 free, 200 breast, 200 fly, 400 free relay
Copyright 2023 KBTX. All rights reserved.