No. 25 Aggies Set to Host Annual Art Adamson Invite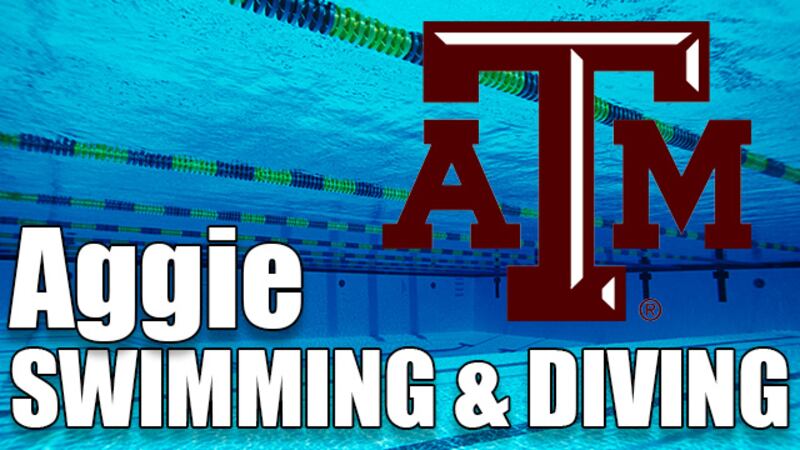 Published: Nov. 14, 2023 at 7:37 PM CST
BRYAN-COLLEGE STATION, Texas – The No. 25 Texas A&M women's swimming & diving team is prepared to host seven different teams at the Rec Center Natatorium for the 11th annual Art Adamson Invite running Wednesday, Nov. 15 through Friday, Nov. 17. Teams that will be travelling to Aggieland include Houston, LSU, San Diego State, UCLA, Utah and Washington State. Rockhurst University will bring only divers to compete.
The Aggies are coming off a successful double dual meet where they were victorious against Georgia Tech but fell in a tight battle with No. 2 Texas and saw multiple swimmers meet NCAA B cuts.
Chloe Stepanek led the charge for the Maroon & White, taking first place in the 200 free with a time of 1:44.15, and second place in the 100 free clocking in at 48.27. Both events resulted in season-best times for Stepanek and she was recognized as SEC Women's Swimmer of the Week.
Miranda Grana added to her impressive freshman campaign with two top times of her own, winning the 100 (52.01) and 200 back (1:53.30). Hayden Miller logged a big day at the pool, including a new school record in the 1000 free with a time of 9:33.45, also adding an NCAA B cut time of 4:44.22 to finish second in the 500 free.
Joslyn Oakley was spectacular on the springboards with a sweep of both events, registering a score of 309.15 on the 1-meter and a season-best 349.58 on the 3-meter. Oakley's notable performance earned her SEC Women's Diver of the Week honors for the second time this season.
Prelims for the Art Adamson Invitational will be in long course meters and begin daily at 9:30 a.m. Finals, in short course yards, will get underway at 5:30 p.m. each evening. Diving will start at 12 p.m. throughout the week with the 3-meter and platform finals happening during Wednesday's and Friday's finals sessions, respectively, and the 1-meter final will start at 4:15 p.m. prior to Thursday's finals.
Fans will be able to stream finals on SEC Network+ and live results will be available on the Meet Mobile App.
Visit 12thman.com for more information on Texas A&M women's swimming & diving. Fans can keep up to date with the Aggies Facebook, Instagram, and on Twitter/X by following @AggieSwimDive.
Copyright 2023 KBTX. All rights reserved.